Holiday Family Fun in Louisville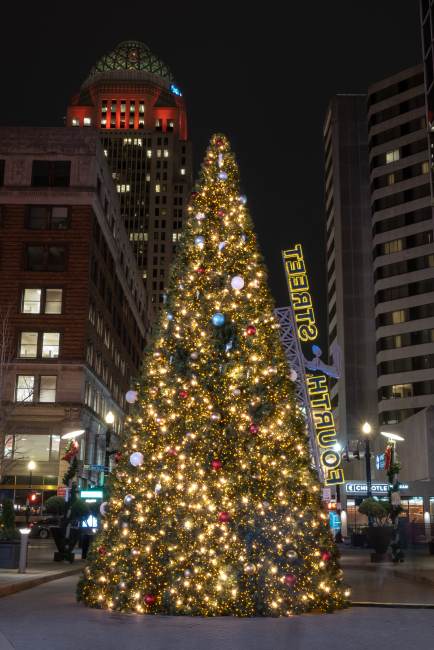 Warm up with the city's top holiday events & winter activities
LOUISVILLE, Ky. (Dec. 1, 2020) – Recently named one of "14 Winter Vacation Ideas in the U.S." by Travel + Leisure, Louisville is a great option when looking at where to spend a few days this holiday season. There are many outdoor options, both new and old, sure to provide fun and safe holiday memories this yuletide season.

From light shows and a laser dome to ice skating and igloos, the city, which has been named "One of the Best Winter Wonderlands in America" by LeafFilter Inc., has become an authentic destination for year-end fun. Some of the festive events for the holiday season include:

Winter Illuminations Trail Walk:
New this year, The Parklands of Floyds Fork is igniting an illuminated trail walk through beautiful Beckley Creek Park. Designed to be Louisville's premiere winter tradition, the one-mile trail features more than 10 light installations harmonizing light, music and nature. Family and friends are invited to experience the magic of this one of a kind illuminated trail. Open Nov. 20 through Jan. 3.

Gardens Aglimmer at Waterfront Botanical Gardens:
Head to one of the Butchertown neighborhood's newest additions, the Waterfront Botanical Gardens, for their second annual Gardens Aglimmer. This self-guided walking experience will take you through an illuminated outdoor wonderland of swans, snowflakes, deer, Moravian stars, oversized flowers, and a multicolor tunnel of lights. Wander the new Beargrass Creek Pathway under icicle arches and a waterfall stream aglow. Check out the fun, Friday's and Saturday's between December 4-19.

Holidays at the Big Bat at the Louisville Slugger Museum & Factory:
Among the festive highlights at this new event is the Grand Slam Wonderland, featuring décor, special programming, and children can test their indoor snowball-throwing skills. Runs through Jan. 5, 2020.

Igloos at 8UP Elevated Drinkery & Kitchen:
Cozy up and get toasty in a heated igloo at 8UP Elevated Drinkery & Kitchen. The downtown rooftop bar, located at the Hilton Garden Inn Downtown, has created a winter wonderland featuring six themed, all-weather igloos. Sip champagne in the elegant Diamonds & Fur igloo or get comfy in the flannel bedecked Winter Lodge

Lights Under Louisville:
One of the city's most popular attractions, Louisville Mega Cavern, undergoes its annual transformation into a festive underground light spectacular known as Lights Under Louisville. November 13 through January 3, holiday lovers can enjoy a 30-minute drive through a portion of 17 miles of underground passageways which sits one hundred feet beneath the Louisville Zoo. The event features more than 850 lit characters and over three million points of light.

Paristown's Fête de Noël:
Start a new tradition this holiday season at Paristown's Fête De Noël ("Festival of Christmas") Winter Holiday Festival, a 6-week Winter village featuring Louisville's only authentic outdoor ice skating rink. Skate, shop, eat, and drink in the heart of Paristown and enjoy holiday movie nights, karaoke and silent disco on ice, Stoneware & Co. ornament decorating and much more. The holiday memories begin November 25.

The Brown-Forman Nutcracker:
If you can't join us this holiday season, we will definitely miss you, but don't think you should miss out on the fun. That's why December 7-15 we invite you to join an online streaming of the Louisville Ballet's performance of the Nutcracker. The classic story of Marie, her Nutcracker Prince, and their journey to the world of the Sugar Plum Fairy is filled with magic, artistry, awe-inspiring sets and costumes, and distinctly Louisville touches.

Winter Woods Spectacular:
From the producers of the popular Jack O' Lantern Spectacular, this event is held in Louisville's scenic Iroquois Park through Dec. 31. It features a half-mile drive of lighting and artistry exploring and celebrating the holiday season.

Yuletide at Yew Dell:
Head outdoors to Yew Dell Botanical Gardens for their annual Yuletide at Yew Dell event! This year, they will have an enhanced light display with photo ops on the festively lit path, holiday shopping opportunities, a take-home craft for kids, and or course, Santa! Reservations must be made in advanced, as capacity is limited for Friday - Sunday, Nov. 27-29 & Dec. 4-6.

In addition, Louisville Tourism is offering a new promotion to area residents to save up to 50% off an overnight stay in a participating hotel, along with a $25 Visa gift card for dining at a local restaurant by booking at lou.ly/hotel. This promotion is for Kentucky and Southern Indiana residents and will run through the end of 2020.

For more festive fun in Louisville, visit GoToLouisville.com. Also look for dining options, including a list of heated patios, use check out our Louisville Eats page. To see Kentucky's current COVID-19 guidelines and restrictions click here. Additionally, for more things to do in Louisville be sure to check out our calendar of events.