Weather & What to Pack
Learn more about what to expect each season
Climate in Louisville

Four distinct seasons
Average summer temperature is 88 degrees
Average winter temperature is 37 degrees
43 inches of annual precipitation
Learn more about Louisville's climate.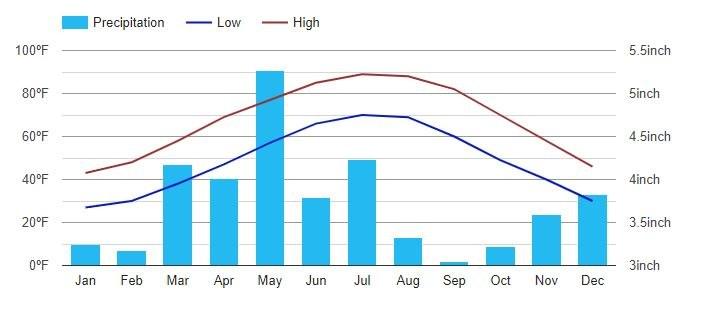 Know Before You Go
Although Louisville experiences four distinct seasons, summer tends to arrive early, fall lasts longer and the relatively short winters bring more rain than snow or ice. May is usually the wettest month, while October is the driest. When visiting Louisville, your trip will be more comfortable by packing the right things to wear.
Spring What to Pack
Spring can have warm days but cool nights can linger. To stay warm, long sleeve shirts or light sweaters are suggested. An umbrella, raincoat and light jacket may also come in handy.
Summer What to Pack
Summer can be very hot and humid. Bright, light clothing is a must.
Fall What to Pack
Fall, like spring, can have fluctuating temperatures between day and night, so pack sweaters or light jackets.
Winter What to Pack
Layering is the key to the winter months. Long sleeves, sweaters, medium to heavy coats, hat and gloves should be included if traveling to the city in winter.
Louisville Time Zone: EST
Eastern Standard Time: November to March
Eastern Daylight Savings Time: March to November
H: 82° L: 63°
light rain
H: 84° L: 61°
clear sky
H: 86° L: 63°
clear sky
H: 87° L: 63°
clear sky
H: 89° L: 67°
clear sky
H: 89° L: 68°
clear sky
H: 84° L: 69°
overcast clouds
H: 73° L: 61°
moderate rain