20+ Events to Attend in Louisville this June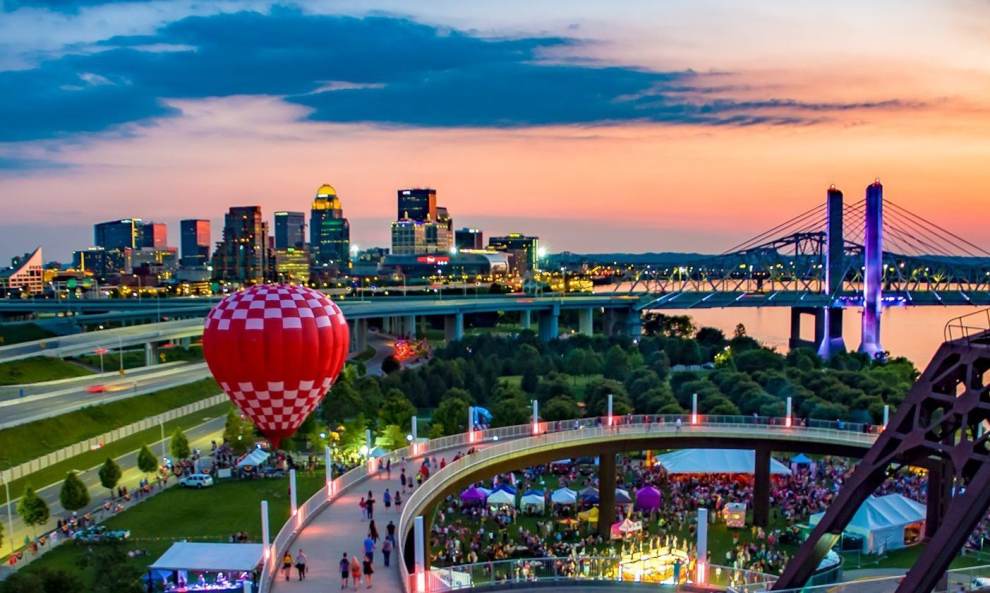 Pride month, the Ali Festival, and Juneteenth headline this month's diverse lineup of events and community celebrations. Below are some of Louisville's most anticipated events for June 2023.
Old Fashioned Fortnight | June 1-14
Named the official cocktail of Louisville in 2015, the Old Fashioned has a special place in the heart of Bourbon City. Every year during the first two weeks of June, Old Fashioned Fortnight shines the spotlight on this spirited bourbon concoction that was invented right here in Louisville. Participate in Bourbon themed events, find recipes, and even earn prizes along the city's Urban Bourbon Trail® the first fortnight in June. Find 14 different ways to celebrate the Old Fashioned, here.
Ali Festival | June 2-11
Seven years after the passing of Louisville's native son, the annual Ali Festival celebrates Muhammad Ali's impactful legacy and love for Louisville. The community celebration will include an array of events, including specialty tours, movie screenings, a community carnival, volunteer opportunities, music, and more. On top of a visit to the Louisville Muhammad Ali Center and the Champ's final resting place at Cave Hill Cemetery, other participating partners include Actors Theatre, Logan Street Market, Racing Louisville FC, and the Louisville Bats. If you can't be in town for the week of celebration, you can always follow in the Footsteps of Greatness while taking this self-guided tour around the city.
Germantown Schnitzelburg Blues Festival | June 2 & 3
The Kentuckiana Blues Society and Check's Cafe will play host to the twelfth Germantown Schnitzelburg Blues Festival at the corner of Hickory Street and Burnett Ave. The annual street fest includes an outdoor stage and will feature ten acts over two days. Admission is free, and a portion of the proceeds benefit The Academy of Music Production Education and Development (AMPED). Music kicks off at 7pm on Friday evening and plays until 11pm, while Saturday starts around 4pm.
Outdoor Movie Nights | June 2, 7, 9, 10, 16 & 30
Cinema lovers will have plenty of chances to catch an outdoor movie this June. Downtown, the Cinebus is bringing free movies to Waterfront Park's Brown-Forman Amphitheater with Shrek (June 9) and The Parent Trap (June 30). Snacks from Froggy's Popcorn and beer from local brewer Ten20 will be available for purchase. Located South of Beckley Creek Park, Pope Lick Park will set up a 40-foot movie screen for the horror-comedy film Tremors (June 10). Disney lovers will have two opportunities to watch and sing along to Encanto. See the first showing mid-week for free at the Iroquois Amphitheater (June 7), or head to Slugger Field (June 9) for a $5 Friday night feature. The Georgetown Drive-In Theatre will be hosting three nights of shows with Spider-Man: Across the Spider-Verse (June 2), The Flash (June 16), and Transformers: Rise of the Beasts (Date TBA). Ticket sales at the drive-in are cash-only and must be paid at the front gate (no advance or online ticket sales).
Louisville GreekFest | June 9 & 10
Celebrate Grecian hospitality and culture with Louisville's Greek community at the annual Louisville Greek Fest. Food vendors will be offering up popular Greek items like gyros, souvlake sandwiches, tiropitas, along with an assortment of pastries and desserts. Live music and traditional Greek dancing will also be performed from a number of local groups. Weather permitting the event will be held outside of the Assumption Greek Orthodox Church in the Lyndon neighborhood off of Ormsby Lane.

Buy Local Fair | June 10
Local retailers, organizations and artists will fill Waterfront Park's Festival Plaza for the annual Buy Local Fair. Festival-goers are invited to enjoy performances by local musicians, sip libations, watch cooking competitions, and let the kids run wild at the on-site kid zone. While admission is free, there is a $3 suggested donation to the Louisville Independent Business Alliance (LIBA)-- the organizers of the festival.
Old Louisville Hidden Treasures Garden Tour | June 10 & 11
For one weekend out of the year, Old Louisville residents welcome garden lovers into some of their private green spaces within the nation's largest Victorian residential neighborhood. See some of the areas best kept secrets as gardeners share glimpses of their personal retreats, tucked behind stately Victorian mansions and protected by vine-covered walls and privacy fences.

Juneteenth Celebrations | June 10-19
Louisville will be home to a variety of Juneteenth festivals and celebrations, marking the anniversary of the federal holiday. The annual Juneteenth Jubilee (June 10-19) will feature a Jazz Excursion aboard the Belle of Louisville, a game with the Louisville Bats, day camps, a Miss Juneteenth Pageant, special performances, and the annual Juneteenth Gala. The Louisville Juneteenth Festival (June 1-18) has a schedule that includes a HBCU night Brunch, bourbon-infused events, and a day-long festival on the Belvedere downtown. The MELANnaire Marketplace (June 17 & 18) will host a two-day event at Louisville's Fourth St. Live! highlighting local Black entrepreneurs selling everything from food, arts, and retail products. Celebrating 50 years of Hip-Hop, The Louisville Funk Fest (June 16 & 17) will take place at Waterfront Park with headliners including Jeezy, Juvenile, and Fantasia. Celebrate Juneteenth with Lil Jon (June 18) at the Jeffersonville Riverstage as part of the free summer concert series "Jammin in Jeff."
Kentuckiana Pride Parade & Festival | June 17
Held at Louisville's Waterfront Park, the Kentuckiana Pride Parade & Festival has been a tradition in downtown Louisville for more than 20 years. Start the day with the annual Pride parade down East Market Street in the popular NuLu neighborhood as it marches 1.5 miles toward the Ohio River and the iconic Big Four Bridge. Enjoy a pre-parade brunch at Hotel Genevieve's Rosettes from 10am - 3pm with performances from Leah Halston and Gilda Wabbit along with $5 Mimosas and Bloody Marys. Festival headliners for this year's entertainment include Vincint, Brooke Eden, Slayyyter, Morgxn, and Chris Housman. More than 20,000 people are expected to attend one of the state's largest LGBTQ+ events. You can learn more about Louisville's LGBTQ scene, here.
PNC Broadway Louisville presents: To Kill a Mockingbird | June 20-25
Held at the Kentucky Center in downtown Louisville, Aaron Sorkin's adaption of Harper Lee's iconic novel was picked "the most successful American play in Broadway history" by The New York Times Critics. This production tells the emotional story of Atticus Finch, a widowed lawyer working for the justice of his defendant while teaching his kids about the importance of avoiding prejudice.

Kentucky Craft Bash | June 24
For one day this summer, the Kentucky Guild of Brewers will transform Louisville's Waterfront Park into the state's largest, most exclusive taproom during the annual Kentucky Craft Bash - Kentucky's only craft beer festival by brewers, for brewers. Pouring only beers from breweries located in the Commonwealth, Craft Bash hosts over 50 local breweries and serves more than 150 different varieties of beer. Experimental beers and collaborations that don't go into widespread distribution and are rarely found outside of a brewery's taproom will also be available to sample.