Urban Bourbon Trail
Highlighting the city's best Bourbon bars and restaurants.
*Advanced reservations are highly recommended
After a day of exploring Kentucky's greatest distilleries it's time to put your knowledge to the test on Louisville's Urban Bourbon Trail®. This collection of local bars and restaurants have a wide knowledge of whiskies, Bourbon infused food menus and some of the city's largest collections of Bourbon.
To get your adventure started, download a digital Urban Bourbon Trail passport to your mobile device. Your goal? Dine-in at six participating locations to earn yourself an official Urban Bourbon Trailblazer t-shirt.

While traversing the Urban Bourbon Trail ask about the city's official cocktail, the Old Fashioned. All stops have their own version of Louisville's signature drink, which was said to have been created here in the 1880's at the local Pendennis Club. Be sure to stop and take a photo with Tom Bullock, located outside the Louisville Visitor Center, who worked as a bartender at the Pendennis club around the same time the Old Fashioned was invented. Coincidence? We don't think so.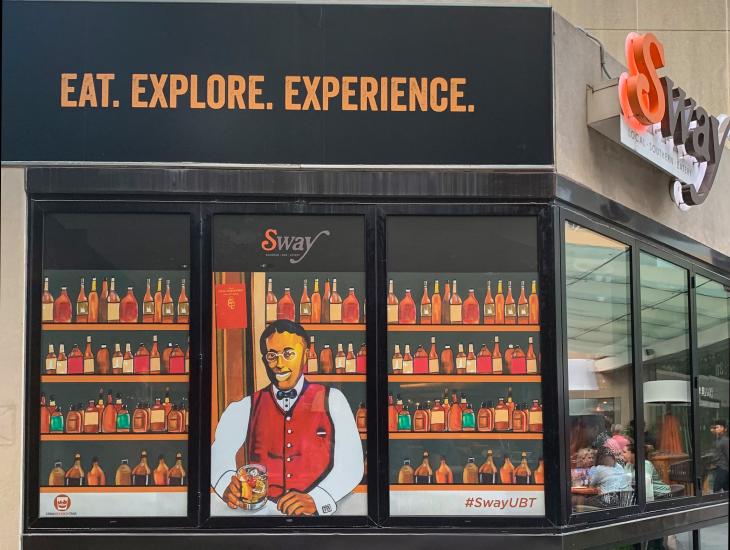 The establishments on the Urban Bourbon Trail vary from historic hotel properties that once served the likes of Al Capone and F. Scott Fitzgerald to cosmopolitan "scenes" where urban trend-setters are making retro drinks such as the Sidecar and Manhattan in vogue again. All stops offer bourbon flights, special bourbon cocktails and have at least 60 different bourbon varieties on the bar with trained staff that can explain the nuances and tasting notes in the varied offerings from Jim Beam Black to Elmer T. Lee.
Interested in having your establishment join the Urban Bourbon Trail? Contact us here for enrollment requirements and information.