Louisville's Main Street is Larger Than Life
From big bats to Jurassic giants there is a lot of public art to discover throughout Louisville.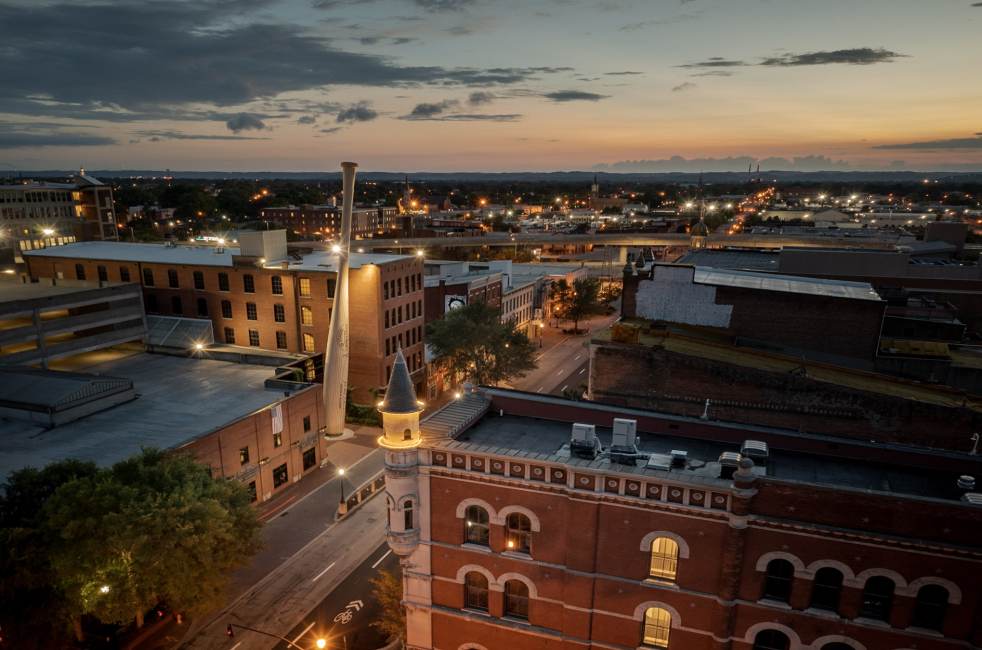 It's no secret that Louisville's historic Main Street – also known as Whiskey Row and Museum Row to locals – is home to some of the city's most iconic attractions, museums and Bourbon distilleries. In fact, the Downtown Louisville street has even been named "One of the Best Main Streets in America."

But what you may not know is that you'll find abundant public artworks, including seven larger-than-life attractions along Main Street. The best part? Not only are they all within walking distance of one another and free to see, but they also make the perfect backdrop for some selfie snapping.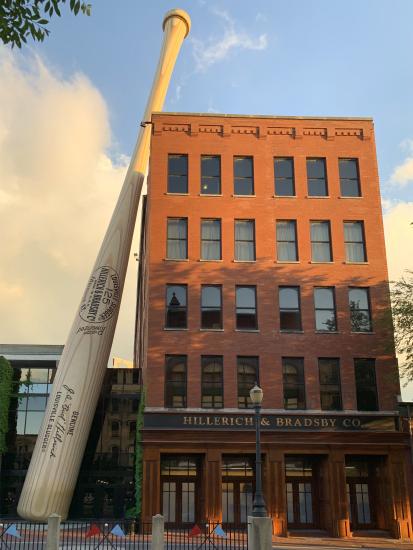 Location: 8th & Main streets

Supersized stats: 120 feet tall and weighing a whopping 68,000 pounds

Fun facts: The "World's Largest Baseball Bat," at the Louisville Slugger Museum & Factory entrance has been towering over Louisville's skyline since 1996. Made of steel, the famous bat is an exact-scale replica of the 34-inch Louisville Slugger bat that baseball legend Babe Ruth used to bat in the 1920s.
Bonus: The Louisville Slugger Museum & Factory is home to a second larger-than-life attraction. Venture inside to see a 17-ton baseball glove constructed out of 450-million-year-old Kentucky limestone.
Location: 8th & W. Washington streets
Supersized stats: 10 feet tall, 26 feet long, and weighing in close to 5,000 pounds
Fun facts: Commissioned as part of a nine dinosaur exhibit at the 1964 World's Fair in New York City, this treasured triceratops has called Louisville its home since the 1970s. Locals may remember her being on display at the Louisville Zoo or along River Road, but for the last 15 years, she has mostly been out of sight. After a $55,000 renovation to bring her back from near extinction, the to-be-named dinosaur will live safely above the elevator shaft connecting the Kentucky Science Center to its back parking lot.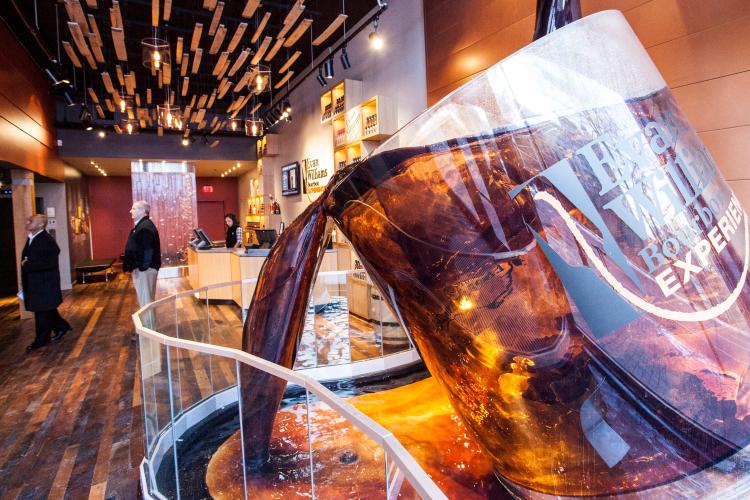 Location: 6th & Main streets

Supersized stats: 6-by-6-foot cylinder, totaling 53 gallons

Fun facts: What else would you expect to find on Louisville's Main Street other than a four-story bottle of Bourbon? The street is also known as Whiskey Row and this is Bourbon Country, after all. In the front window of its lobby, the Evan Williams Bourbon Experience features a giant Bourbon bottle pouring into an oversized rocks glass. If the glass were actually filled with Bourbon, it would hold 1,264 gallons – aka – 23 full barrels of Bourbon. That equates to more than 6,000 750ml bottles and more than 100,000 Bourbon shots. Let the good times pour! If you really want to sample some Bourbon, be sure and pop into the distillery to take the tour, which includes a Bourbon tasting.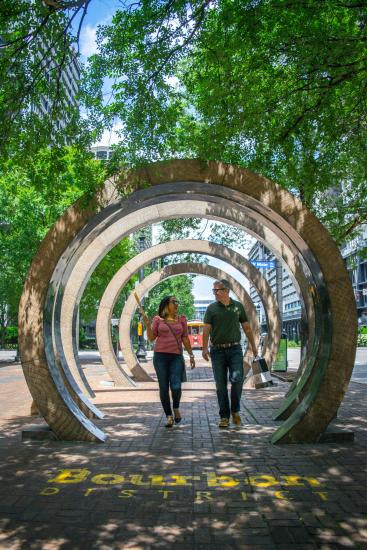 Location: 4th & Main streets
Supersized stats: 11-feet 3-inches tall and 15-feet 4-inches wide
Fun facts: Located in the center of Louisville's Bourbon District, the Barrel is representative of Louisville's spirited past which once proclaimed Louisville's Main Street the Wall Street of Whiskey. Now, with more distilleries lining Main Street since prohibition, The Barrel' is a perfect photo-op representative of the destination. With five rings made of Corten steel and black powder coated aluminum, the over-sized art installation is nearly nine times the size of a typical 53-gallon barrel.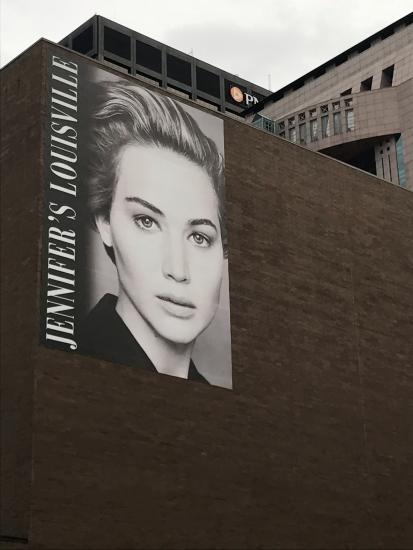 Location: 6th & Main streets (on the side of the Kentucky Center for the Arts building)

Supersized stats: 30 feet wide and 40 feet high

Fun facts: Known for her roles in movies such as "The Hunger Games," "X-Men," and "Silver Linings Playbook," Jennifer Lawrence's large-than-life personality has earned her a larger-than-life banner on the exterior of the Kentucky Center for the Arts building. As part of Louisville's Hometown Hero series, which recognizes famous Louisvillians, the Academy Award-winning Louisville native joins Muhammad Ali and Diane Sawyer, who also have larger-than-life banners on buildings throughout the city.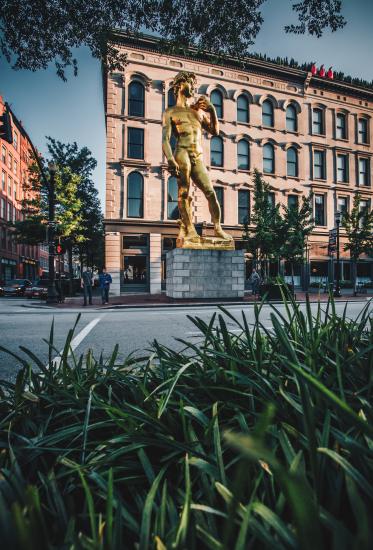 Location: 7th & Main streets

Supersized stats: It stands 30 feet tall in all its bronzed glory

Fun facts: Inspired by Michelangelo's 16th-century marble statue of David, artist Serkan Ozkaya created three double-sized, golden replicas of the world-famous sculpture, one of which landed on Louisville's Main Street in 2012. Its journey from Istanbul, Turkey, included a stop in New York City before it found its final resting place in front of the 21c Museum Hotel.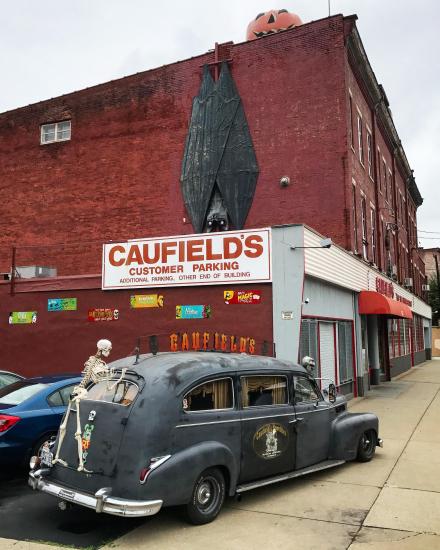 Location: 10th & Main streets

Supersized stats: 30 feet tall, 15 feet wide, and 1,500 pounds

Fun facts: With the world's longest-known cave system at Mammoth Cave National Park in south-central Kentucky (less than 100 miles away), it makes sense that a larger-than-life vampire bat made its way to Louisville's Caufield's. The novelty shop has been a local favorite since the 1920s for folks looking for a unique Halloween costume or festive New Year's Eve party favors. Built in-house in 2004, it's the second giant bat to make its way to Louisville's Main Street (The Louisville Slugger baseball bat is the first).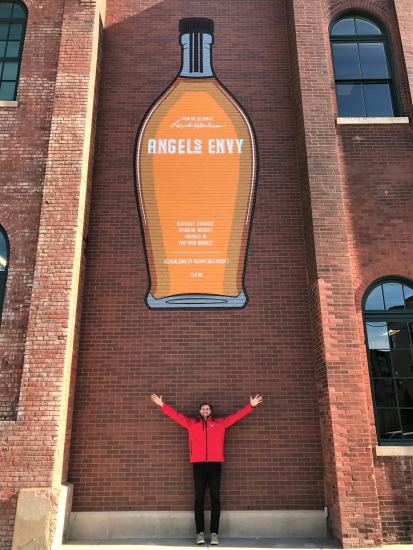 Location: 500 E. Main Street, at Jackson Street

Supersized stats: 8 feet wide and 30 feet tall

Fun facts: To get in the Louisville spirit, stop by one of Main Street's most popular distilleries to take a selfie with the anything-but-pint-sized Bourbon bottle mural created by Louisville artist Bryan Patrick Todd. Opened in Fall 2016, everything from milling of grains to blending and bottling take place on-site at Angel's Envy. You'll also find a striking bar and gift shop, but if you want a tour, be sure to make a reservation because spots fill up fast!
These larger-than-life attractions are just a few of the public art pieces found throughout Louisville. Spend more time exploring Main Street and you will find the Slugger Walk of Fame, a series of bronze caste Louisville Sluggers and bronze home plates commemorating the players inducted into the Walk of Fame. Stroll through the streets of Downtown Louisville to find colorful murals, sculptures, statues of historic Louisvillians, and more.