Muhammad Ali Around Town
From Downtown to Smoketown see some of the Muhammad Ali murals that liven up Louisville's neighborhoods.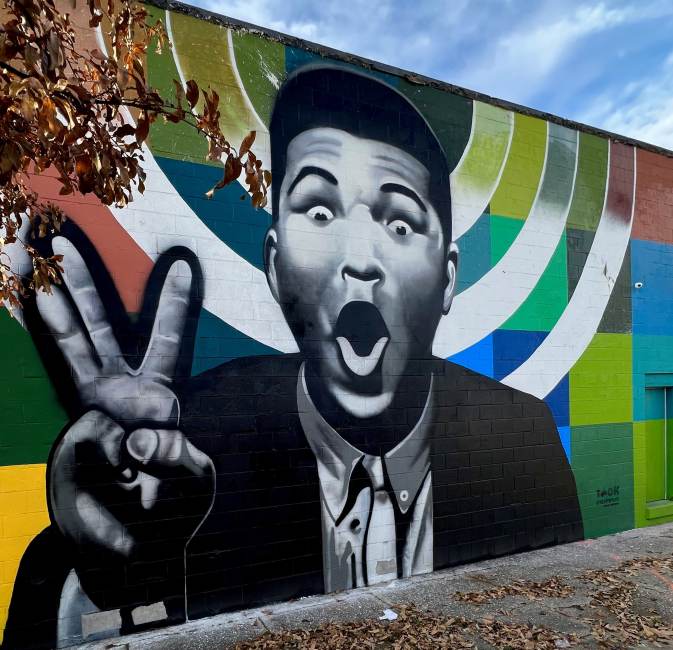 Muhammad Ali's life and career were greatly impacted by Louisville and his legacy left a permanent mark on the city. Numerous artists have paid homage to this famous Louisvillian through colorful murals in Louisville. Visit the locations listed in this guide to view incredible Ali street art.
Corner of 6th Street & River Road
Located across the street from the Muhammad Ali Center and created by @acatheyart, this mural packs a punch with an iconic pose from the Louisville Lip.
812 Preston Street
Artist Kacy Jackson captures The Champ along with one of his most famous quotes - "Don't count the days. Make the days count." on this colorful Smoketown mural. The mural made its international debut when it was featured in Joe Biden's 2021 presidential inauguration video.
1583 Bardstown Road
Some of the most famous Kentucky icons come together on this iconic Highlands mural by Margaret Morely which features Muhammad Ali, Abraham Lincoln, Colonel Sanders and a Thoroughbred.
427 Baxter Avenue
Float like a butterfly and sting like a bee at this Ali-themed mural by @9to5refusal. Head inside for another photo-op with The Greatest at the popular Mexican-inspired restaurant Agave & Rye.
300 South 3rd Street
Knock out three Louisville icons in one photo with these colorful murals on South Third Street. Located across the street from Porch Kitchen and Bar you'll find not only Muhammad Ali, but racing Thoroughbred horses and the historic Belle of Louisville steamboat.
615 West Main Street
Located in a pop-up event space behind a historic façade on Louisville's Main Street you'll find this comic book-style mural by @acatheyart with some of Ali's most notable quotes and pivotal moments throughout his lifetime.
301 South 4th Street
Located inside the Louisville Visitor Center, this small Muhammad Ali exhibit allows you square up with the heavyweight champ for a photo-op while also getting a glimpse of what was happening in Louisville during his internationally broadcast memorial service.
Known for creating the "Hope" poster for former President Barack Obama, artist Shepard Fairey painted this mural in the Russell neighborhood on the side of the Chestnut Street Family YMCA. A portrait encapsulating one of Ali's life ideals- "Everyone helps everyone."