Celebrate Louisville's Official Cocktail for a Fortnight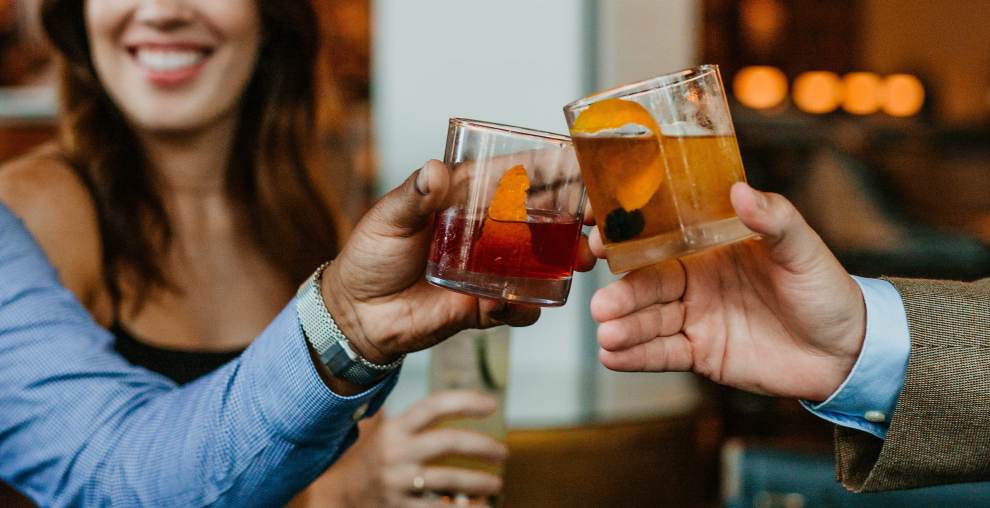 Bourbon City commemorates its signature drink with two weeks of events and specials
LOUISVILLE, Ky. (June 1, 2021) – Kicking off on Kentucky's birthday on June 1, Louisville's official cocktail – the Old Fashioned – will be celebrated for two straight weeks (a fortnight) with festivities culminating on National Bourbon Day on June 14. Six years ago, Mayor Greg Fischer proclaimed the spirited Bourbon drink as the city's official cocktail.

Here are some ways to participate in the Old Fashioned Fortnight celebration June 1-14:

The Ideal Bartender Experience: Head to Evan Williams Bourbon Experience's secret Speakeasy as an actor portraying Louisville native Tom Bullock takes you back in time to the prohibition era for a guided Bourbon tasting. Bullock was the first Black American to write and publish a cocktail book (in 1917) and tended bar at the Pendennis Club, where the Old Fashioned first originated. Book tours online, limited availability for June 1-14.
Bourbon City Cruisers: A group of up to six can hop on a three-wheeled tuk tuk with Mint Julep Experiences as a tour guide narrates your journey around Bourbon City - exploring Louisville's eclectic neighborhoods, Urban Bourbon Trail® trail stops and top insta-spots - all while sampling craft cocktails and bourbon-infused cuisine. Book tours online.
Whiskey Walking Tours – See key spots showcasing Louisville's unique Bourbon heritage on this 10-block trek through downtown Louisville. This free tour, held weekly on Wednesdays at 10:30 a.m., starts at the Louisville Visitor Center (301 S. 4th St.) and lasts about 90 minutes. Space is limited and online reservations are required.
Urban Bourbon Trail®:
Download
the new Urban Bourbon Trail® digital passport and visit some of Louisville's best local Bourbon bars and restaurants, many of which are offering discounts on Old Fashioned cocktails or other specials during the Fortnight celebration. Additionally, guests can 'make it a double' after checking in at six locations to earn a free T-shirt, along with a bonus gift from the Louisville Visitors Center when redeemed June 1-14. Visit gotolouisville.com/ubt for more information.
The Louisville Visitor Center (301 S. Fourth St.) will celebrate by offering 25% off bourbon-themed merchandise (with some exclusions) June 1-14. The visitors center stocks Bourbon-scented candles, bourbon body products like lotions, soaps and more in an Old Fashioned scent; as well as bourbon-themed t-shirts. Guests will also receive a free gift with any purchase.
For additional details surrounding the Fortnight, visit OldFashionedFortnight.com. To learn about the drink history and toast the celebration with a drink recipe, visit Louisville Tourism's Old Fashioned website.

Plan your 'spirited' visit to Louisville easy with help from Louisville Tourism's annual Visitor Guide. Download a copy of the guide to read about Louisville's top experiences, including culinary and bourbon. Travelers also can get attraction, lodging and dining assistance at www.gotolouisville.com along with information on the state's current covid-mitigation guidelines.

###

History of the Old Fashioned: The Pendennis Club in downtown Louisville has long claimed the invention of the Old Fashioned cocktail since the 1880s. It was popularized by club member and bourbon distiller, Col. James E. Pepper, who would go on to introduce the cocktail to the Waldorf Astoria in New York City, which led to its widespread popularity. Louisville native and pre-Prohibition mixologist Tom Bullock included his original Old Fashioned recipe in the preeminent cocktail book, "The Ideal Bartender," published in 1917.

Since 1968, Louisville Tourism's primary goal has been to enhance the area's economy through tourism development - to promote and sell Louisville as a world-class destination. Prior to the pandemic, Tourism was the third largest industry in Louisville hosting 19 million visitors in 2019. This peak of visitation had been generating an estimated economic impact of $3.5 billion which supported 60,000 local tourism-related jobs.