Small Batch Bourbon Candles
Get in the fall spirit with DIY bourbon scented candles!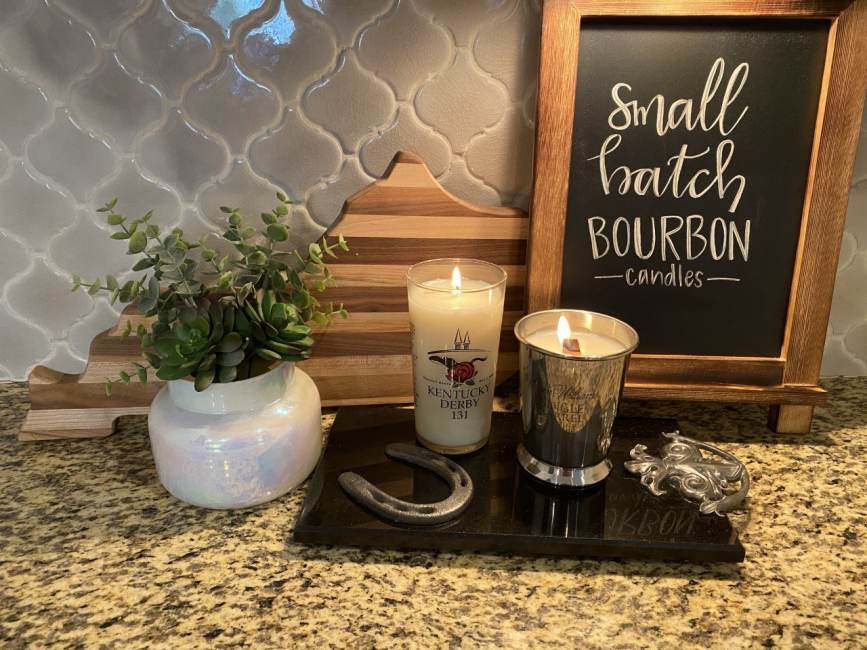 With most people now working from home, burning candles to keep houses smelling fresh is part of the new norm. It is no secret that budgets are getting tighter and our favorite scents from chain stores aren't getting cheaper, so why not make your own candles at home!? And in true Kentucky fashion, Just Add Bourbon while you stay cozy on the couch!

Suggested Bourbon cocktail pairing while making your candle – KY Stack Cake & Fall Fashioned
Supply List:
Vessel – empty bourbon bottles, reusable candle containers, cute decorative bowls, bourbon rocks glass.

If using an empty bourbon bottle:

Soak yarn in fingernail polish remover and tie around the breaking point of your bottle. Light yarn on fire and let burn for 20 to 30 seconds while rotating your yarn. Dip into ice water. Bottle will break where the yarn was tied. Sand bottle to smooth rough edges.
Pro tip: Be careful! 😉
Paraffin, Soy or Beeswax (We prefer soy – go ahead and get the five pound box because you're going to want to make another candle!)
Cotton Candle Wicks or Wood Wicks (The natural soy wax comes with cotton wicks! Linked above)
Instructions:
Make sure your vessel is clean, rid of any dust or water particles. Take your wood or cotton wick and hot glue, super glue or gorilla glue your wick to the bottom of your vessel.

Next, melt your wax in a double boiler. (Note: you can melt your wax in the microwave but be careful as the wax will need to be in a heat-resistant container to ensure that your container does not melt or explode when getting too hot. If opting for the microwave, be sure to microwave in short increments and stir frequently.)
Add in your Kentucky Bourbon fragrance oil (creator's discretion on how strong of a scent you prefer and size of your candle) and stir into your melted wax. If you notice your wax beginning to solidify with the addition of the oil, keep stirring until the mixture is melted all the way through.
Pour your prepared wax into your vessel. Be careful to not get any excess wax on your vessel as it can be difficult to remove once solidified. If you do have any spills or excess wax on your vessel, immediately use a wet paper towel to wipe off. (Pro tip: Keep your wick straight while your candle cools and hardens. Find anything near you to keep your wick straight – try wrapping your wick around a pencil or wood skewer and laying on top of your vessel. Wood wick should stay straight on its own.)
Enjoy your bourbon scented candle at home!
If this supply list and task seems too daunting, head over to Maddox & Rose, in Louisville's NuLu neighborhood, for a custom candle pouring experience. Pick out your vessel, grab a scent sheet and start sniffing the 80+ scents available to choose from, which change seasonally. Write down your favorite scents and let the Scent Stylists on staff help you curate your own personalized fragrance to take home! While you're in NuLu check out some of our other neighborhood favorites for shopping, dining and things to do.
Is candle making not your thing? Check out these local Louisville shops to purchase a Bourbon scented candle:
Distillery Gift Shops with Candles:
Are you a local business that sells bourbon scented candles and want to be linked on our blog? Contact Anna Lundy, alundy@gotolouisville.com, to get your business added to this post.