Outdoor Adventures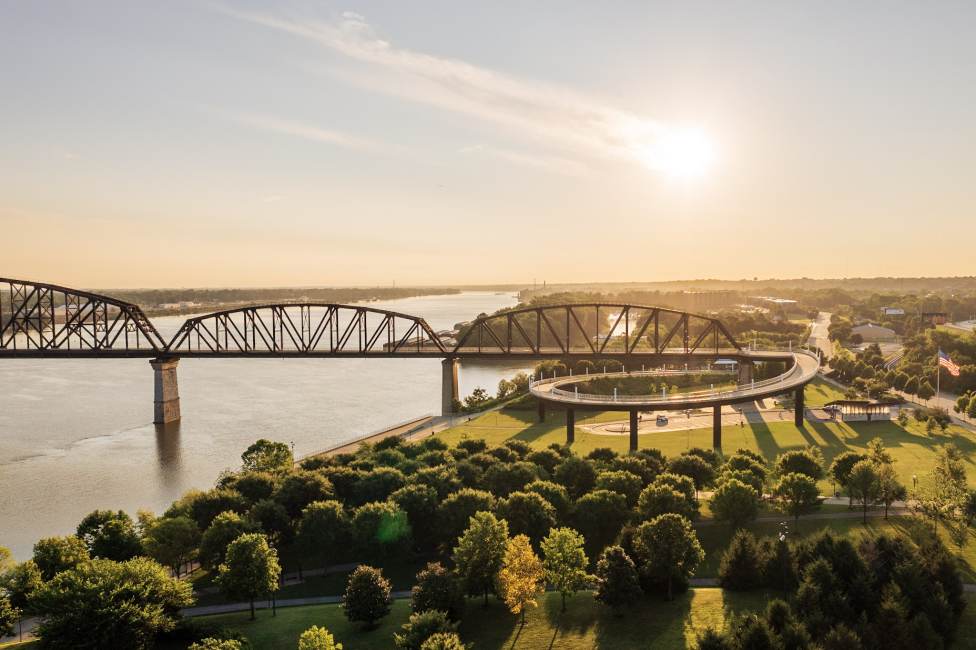 Beyond the iconic attractions and the distillery tours, outdoor (and underground) adventures are plentiful throughout Louisville. Reconnect with nature on a hike, cycling along the Ohio River, ziplining under the city, or paddling on a local waterway.
A "City of Parks"

Frederick Law Olmsted, designer of New York's Central Park and the Biltmore Estate, dreamed of creating a park system that included tree-lined parkways. That dream became a reality in 1891 when he was commissioned to design a park system with 17 parks and 6 parkways encircling the city. In the 2000s, Louisville's Mayor built upon Olmsted's design with the addition of thousands of acres of park land and green space over several years. In recent years Olmsted and his design provided the inspiration for the creation of Louisville's newest park system. With all there is to enjoy outside, it is easy to see why Louisville is called a "City of Parks."
Stretch Your Legs
The incredible number of parks around the city translates to a plethora of trails perfect for every level-- from those just starting out to weekend warriors and trail runners. Each park has its own story to share such as Cherokee Park's rolling hills dotted with sculptures by Louisville-born artist Enid Yandell; the Louisville Nature Center and the Beargrass Creek State Nature Preserve across from the Louisville Zoo; a waterfall to traverse and four-legged friends to meet at Blackacre State Nature Preserve; the largest municipal urban forest-- Jefferson Memorial Forest; and Iroquois Park with an overlook with expansive skyline views that early park goers referred to as Louisville's own "Yellowstone."
If you want to stick to a paved pathway for your walking or running excursions, not to worry there are several around town. The Beargrass Creek Greenway runs parallel to the new Waterfront Botanical Gardens and can easily connect you to Waterfront Park (Tip: an entrance off the Greenway allows guests to explore the gardens for free). A rope swing perfect for selfies is situated along the Anchorage Trail. And a multitude of paths connecting the four parks that comprise the Parklands of Floyds Fork are perfect for exploring. If you are looking to cross two states off in one visit, start in Louisville at the 85-acre (and growing) Waterfront Park then cross over the Ohio River by way of the Big Four Pedestrian Bridge to hop on the Ohio River Greenway for spectacular views of Louisville's skyline. Take a trip back in time with a visit to the Falls of the Ohio State Park where Lewis & Clark met prior to their westward expedition and venture out on the fossil beds that are more than 390-million-years-old.
Wheel-powered Fun
Multi-use paths and the 100-mile Louisville Loop encompassing the city is perfect for two-wheeled adventures. Local cycling hot spots include Waverly Hills Park with over 7 miles of trails to loop, Cherokee Park (great for both road and mountain bikers), and the Silo Center Bike Park within Turkey Run Park with almost 17 miles of trails and a pump track for all levels. E.P. Tom Sawyer Park, named in honor of journalist Diane Sawyer's father who was a County Judge, has been welcoming BMX riders since the 1980s with the annual Derby City National races where more than 1,200 riders (including international racers and Olympic medalists) compete. If a leisurely bike ride is more your speed, Wheel Fun Rentals at Waterfront Park has rental options such as bikes (including tandems and electric), two-seater coupes, and surrey bikes that can fit up to six people—plus self-guided bike tours.
The Life Aquatic
Aquatic adventurers can explore Louisville by canoe, kayak, or stand up paddle board on the Ohio River or on the streams and creeks that meander through the parks. It is easy to spend an entire day or half a day leisurely floating along the waterways that connect the city to the Ohio River. Outfitters around town include Endless Summer Paddle Company, Louisville Kayak Company, Nachand Canoe & Kayak and Kayak on a River.
Underground Adventure
A former manmade limestone quarry that extends for 17 miles underneath parts of Louisville, including the Zoo, found a new life as the world's only underground adventure park. Technically classified as Kentucky's largest building, the Louisville Mega Cavern is home to a zipline course, tram tour, ropes course, bike tour, and more provide adventures for all ages. (Fun fact: before becoming an adventure park, in the 1960s the Cavern was prepared to function as shelter for 50,000 people including Colonel Sanders and his secret recipe.)
For adventures just a short drive from Louisville, check out:
Morgan Conservation Park
Tioga Falls
Bernheim Arboretum & Research Forest
Otter Creek Outdoor Recreation Area
Charlestown State Park & the former Rose Island Amusement Park
Fort Duffield
Creasey Mahan Nature Preserve
Squire Boone Caverns
Indiana Caverns
No matter what kind of adventure is appealing to you, there is something for everyone in your group-- whether it is skipping rocks along the shoreline, flying a kite in an open field, birdwatching, or hanging out in a hammock in the woods.