Kentucky Derby Party Recipes
Recipes to make at home for an authentic Kentucky Derby party!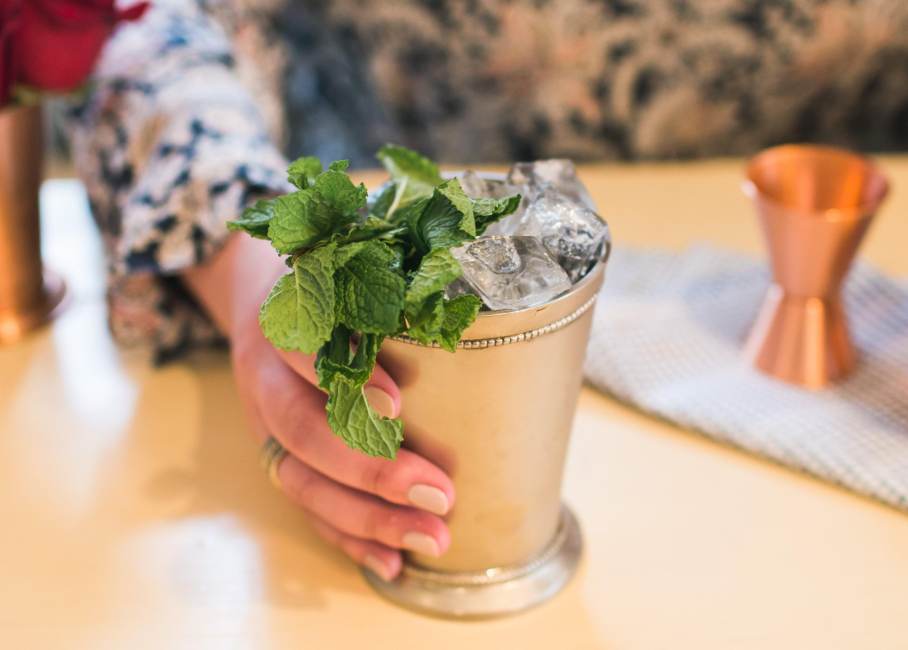 Louisville and Kentucky have rich culinary traditions steeped in Bourbon, which is the inspiration for the online video series, Bourbon & Biscuits. On the show, hosts Stacey and Jessica share their favorite local food and Bourbon cocktail recipes. Here are our picks from the series for a Derby Party at home.
Mint Juleps

The mixture of four simple ingredients (Bourbon, mint, sugar and water) has been a first-Saturday-in-May tradition since 1938. More than 120,000 mint juleps are served every year during the weekend of the Run for the Roses.
1 ounce mint simple syrup
2 ounces Bourbon
Fresh mint
Pack a julep cup – preferably silver or pewter – full of crushed ice. Strain in the mint simple syrup (not getting any of the mint leaf) and add the Bourbon. Grab a bunch of the fresh mint and "spank it" between your hands to release the essential oils. Garnish your julep with the mint.

Mint-infused Simple Syrup
1 ½ cups packed fresh mint leaves
1 cup sugar
1 cup water
Bring water to a boil and add sugar – stir to dissolve. Toss in your fresh mint and stir. Allow to cool and infuse the mint flavors before you add to your cocktail.
Mini Hot Brown Quiche
This miniature version of the famous Kentucky Hot Brown is perfect for a Derby party. Whether you serve them for brunch or as an appetizer, this bite-size version of Louisville's signature dish is a perfect taste of Derby City.
4 eggs
1 cup milk
Salt and pepper to taste
¾ cup roast turkey (diced)
4 strips of cooked bacon (crumbled)
2 Roma tomatoes (diced)
4 – 6 slices of toasted sourdough bread (cut to fit mini muffin pan)
½ cup to 1 cup of Mornay sauce (see Hot Brown recipe)
¼ cup shredded Romano
Paprika and Parsley for garnish
Cut toast with small cookie cutter to fill bottom of a 24-count mini muffin pan. Whisk together eggs and milk. Salt and pepper to taste. Add turkey bacon and half of tomato. Slowly pour mixture into each cup, pressing down bread as adding to fill. Bake in a 325 degree oven for 10 – 15 minutes or until just set. Top each mini quiche with ½ to 1 tsp. of Mornay, then sprinkle with Romano and evenly distribute remaining tomato. Return to oven, baking an additional 5 – 10 minutes until golden brown. Garnish with a dusting of paprika and a pinch of parsley.
Pimento Cheese
Pimento Cheese is a fixture on Louisville menus and every good Kentucky cook has their own version with slightly varied ingredients. The spread is most often served as a sandwich or on crackers, celery or chips, but for a Derby party display we like to serve alternating pimento cheese and Benedictine finger sandwiches on crustless white bread cut into triangles.
2 cups grated cheddar cheese
1 10-ounce tub of whipped cream cheese
1 4-ounce jar pimentos, chopped
1-4 tablespoons Frank's Hot Sauce (personal to taste)
Mix together cheeses and hot sauce to taste. Gently fold in pimentos.
Benedictine
Miss Jennie Benedict invented her savory spread in a one-room kitchen in the family backyard around the turn of the 20th century and now it's a Louisville tradition.
8 ounces of cream cheese softened
3 tablespoons cucumber juice
1 tablespoon onion juice
1 teaspoon salt
A few grains of cayenne pepper
2 drops green food coloring (optional)
To get the cucumber juice, peel and grate a cucumber. Then wrap with a clean dish towel and squeeze juice into a dish. Discard pulp. Do the same for the onion. Mix all ingredients with a fork until well blended. Add a couple drops of green food coloring to make it extra festive. This can be served as a dip or as the aforementioned finger sandwiches.
Pimento Cheese Biscuits
These perfectly southern biscuits make a great appetizer when served with a slice of country ham.
1 teaspoon salt
1 teaspoon baking soda
4 teaspoons baking powder
1/2 cup shortening
2/3 cup milk (or more to desired consistency)
2 cups flour
1 cup prepared pimento cheese
Cut shortening into flour with pastry blender or two forks. Add everything but pimento cheese and mix into dough consistency. Fold in pimento cheese. Drop by spoonfuls or lightly hand roll into balls onto greased baking sheet.
Bake in 400 degree oven for 10 minutes or until golden brown.
Mint Julep Kisses
These pastel meringues are an adorable, miniature treat for your Derby day dessert spread!
2 egg whites
½ cup sugar
1 drop green food coloring
1 drop crème de menthe extract (or peppermint)
6 oz. mini chocolate chips
Whip egg whites into stiff meringue. Slowly add sugar, then food coloring and extract.
Fold in chips. Pipe "chocolate kiss" shape swirls out of a pastry bag onto foil-lined cookie sheet.
Put into a pre-heated 325 degree oven. Immediately turn off oven and let sit overnight.
Makes 2 dozen.
Bourbon Balls
The bite-size sugary treat was created by Ruth Booe of the Rebecca Ruth Candy Co., in 1936, in Frankfort, the state capital. The story goes that the bourbon-filled chocolate balls were born as a result of a comment by the Kentucky governor, who remarked that there was no better taste than a bite of chocolate followed by a sip of bourbon.
1 stick butter
1 1-pound box powdered sugar
1 cup chopped pecans + whole pecans for decorating
4 tablespoons Kentucky Bourbon
4 ounces semi-sweet chocolate
4 ounces bittersweet chocolate
One day ahead: Cream the butter and sugar. Add the chopped pecans, mixing well with a spatula. Add the bourbon and quickly shape into small balls. Refrigerate overnight.

Next day: Melt both the chocolates in a double boiler until the chocolate has a smooth consistency. Dip the chilled bourbon balls into the chocolate. Decorate each bourbon ball with one whole pecan on top. Place the candy on waxed paper in the refrigerator to harden.

View complete episodes of Bourbon & Biscuits and get more Kentucky cuisine and cocktail recipes at CulinaryLouisville.com.