Yelp's #LouAdventureChallenge Offers Unique Summer Explorations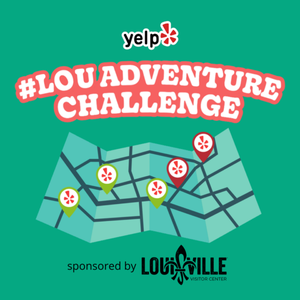 Yelp's #LouAdventureChallenge enlists residents and visitors to discover the weird & wonderful around town
LOUISVILLE, Ky. (August 12, 2021) – Yelp, the well-known website and phone app famous for its online user reviews and recommendations, is partnering with the Louisville Visitor Center to offer free virtual events and Yelp experiences to promote interesting adventures in the Louisville and Southern Indiana area.

Yelp's #LouAdventureChallenge enlists residents and visitors to discover the weird, wonderful and impactful attractions, businesses and nonprofits in the area to help connect local businesses with new customers.

August upcoming events, RSVP required for each event:
https://www.yelp.com/events/louisville-yelps-louadventurechallenge

Yelp Elite Experience: Louisville Independent Business Alliance's (LIBA) Buy Local Fair
Yelp Lou Elites will receive local goodie gift bags at the Buy Local Fair
Aug. 14, noon-4 p.m.

Virtual Event: Healthy Home Cooking with Change Today Change Tomorrow
Make a healthy meal using produce from a local Black-owned farm.
Aug. 23, 7-8 p.m. EST

Virtual Event: Black Biz Roundtable, Change Today Change Tomorrow's Pocket Change
Hear from Black business owners on experiences and how to support them.
Aug. 26, 7:30-8:30 p.m. EST

Any participant who completes three activations can enter a special giveaway featuring Louisville Tourism's Unfiltered Truth Collection. The prize pack, worth more than $1,000, includes a hotel stay and tickets to several local attractions.