World's Largest Brewery Collectibles Show Pops in Louisville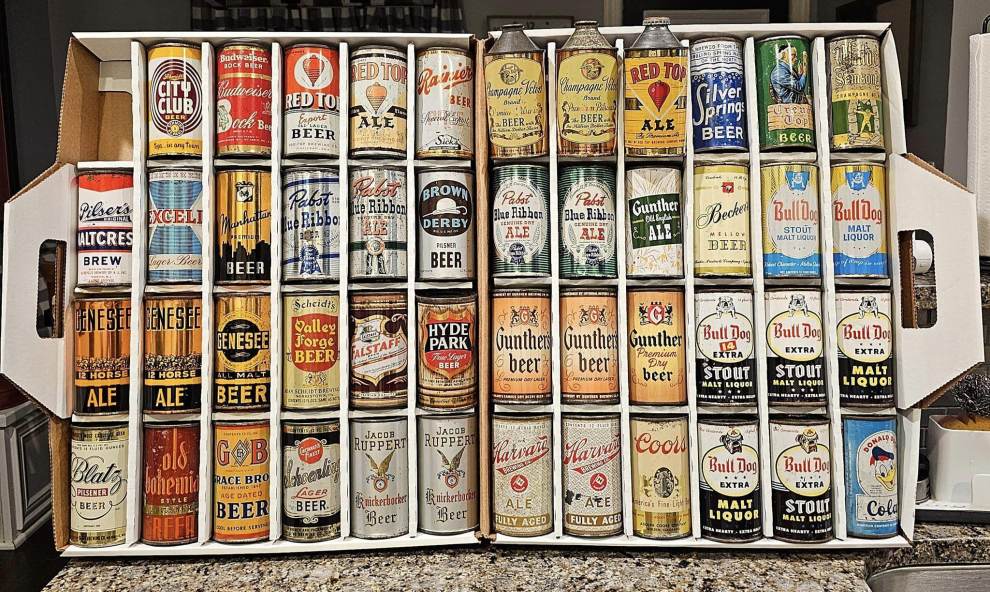 The show will be held on Friday & Saturday, September 1 -2 in the Galt House East Tower
LOUISVILLE, Ky. (August 25, 2023) – The world's largest beer cans and brewery collectibles show will be on display in Louisville during the 52nd CANvention of the Brewery Collectibles Club of America. The show, which is open to the public, will be held on Friday & Saturday, September 1 and 2 in the Grand Ballroom of the Galt House East Tower, Louisisville's largest hotel. Kentucky.

Guests interested in brewery advertising, beer cans, "Man Cave" decorations or brewery history—from ardent collectors to the curiosity seekers—will have an opportunity to see this unique hobby in action. It is called a CANvention because the founders began by collecting beer cans.

Dazzling displays of beer-related collectibles will fill tables on the show floor including:
- Beer cans: From every era since 1935—the first commercial beer can was marketed in Richmond, VA that year—including those issued by craft breweries.
- Beer advertising: Neon, light-up and metal signs, tap handles, mugs, steins, trays and much more that were issued by craft and defunct traditional breweries. We call it breweriana
- Beer-related items from breweries based in Louisville—Falls City, Fehr's, and Oertel—will be available, as well as collectibles from the region's three dozen craft breweries. Expert collectors and brewery historians will be available to answer questions about the breweriana and the BCCA.

The show's most unusual spectacle is the always-entertaining Rusty Bunch Chapter beer can dump. Starting at noon in the ballroom foyer, collectors will frantically wade into a gigantic pile of thousands of empty beer cans to gather as many as their hands, boxes or bags can hold.

Show hours are Friday from Noon - 5 p.m.; Saturday: 9 a.m. - 1 p.m. Admission is $20 for Friday and Saturday; $10 for Saturday only, payable at the registration table near the Grand Ballroom. $10 of the admission fee can be applied towards an annual BCCA membership when joining during this CANvention. Walk-in visitors will receive a badge that must be worn at all times while attending CANvention. No outside collectibles are allowed to be brought onto the trade floor by walk-in visitors. Show organizers are estimating over 500 U. S. and international BCCA members and their guests will travel to Louisville.

Seminar information for Friday, September 1:
Educational seminars are an integral part of CANventions. They are not open to the general public, but media representatives are welcome to attend. This year's seminar, A Discussion of Bourbon from Grain to Barrel to Glass will be presented by Maker's Mark Distillery on Friday September 1st from 2-3 p.m. near the Main Ballroom.

BCCA Information:
On April 15, 1970, seven St. Louis collectors founded the Beer Can Collectors of America. To reach out to collectors of beer advertising and related items, the name was changed to the Brewery Collectibles Club of America in 2003. The BCCA is a non-profit, international organization. Its primary mission is to inform and educate its members about beer collectibles and the history of breweries, including the cultural roles they have played. It has more than 3,000 members from the United States, Canada and 17 other countries in 94 active chapters and publishes the Beer Cans & Brewery Collectibles magazine six times a year. Please visit www.BCCA.com for membership information.

Media information and contacts:
Media representatives are welcome to visit the show floor Thursday through Saturday. Press badges are required before entering and will be available at the BCCA registration table on the 2nd floor near the Grand Ballroom. Members will serve as guides and be available for interviews and photo ops.

The BCCA welcomes coverage prior to and during the CANvention. Upon request, we can set up entertaining and informative interviews with collectors who are experts in their specialties.

"Beer Dave" Gausepohl, CANvention planner, will be available to answer your questions. His vast working knowledge of the beer industry and breweriana history, and a quick wit, make for entertaining interviews. Beer Dave is also a native Kentuckian hailing from the Northern Kentucky region.

For more information or media requests, call or text 859-750-4795 or e-mail beerdave@fuse.net. Upon request, she also will provide photos that were taken of show floor displays at recent CANventions. Ask for her at the BCCA registration table.