Waterfront Botanical Gardens Blooming in Louisville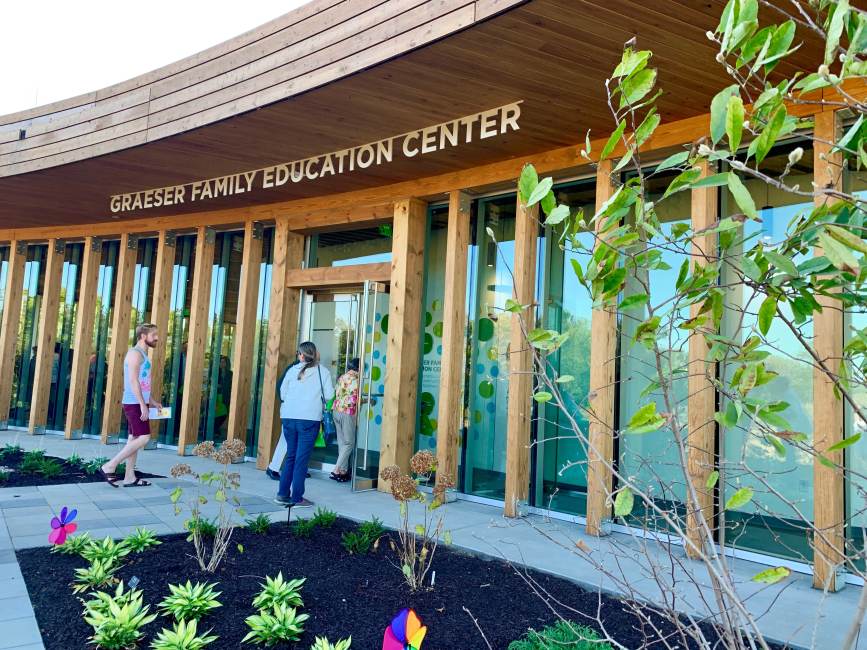 Phase I officially opens to the public
LOUISVILLE, Ky. (Oct. 8, 2019) – The first phase of the Waterfront Botanical Gardens – a 23-acre, urban botanical garden – has officially opened in Louisville's Butchertown neighborhood.
Sitting atop a hill offering a clear view of the downtown Louisville skyline, the Gardens have been in the works since the early 2000s. The Graeser Family Education Center, part of the initial phase of the multifaceted development, offers visitors a first glimpse of the project. The 6,000-square-foot center serves as an introduction to both the beauty and sustainability of the surrounding gardens. It's also the site of educational programming and will be available for event rentals.
Louisville's Waterfront Botanical Gardens, located at the intersection of River Road and Frankfort Avenue, just east of downtown Louisville, sits on the site of a former landfill that was closed in the 1970s after operating for more than 30 years. It was capped at that time with approximately 25 feet of dirt and fill material covered with grass planting.
The master plan for the Waterfront Botanical Gardens, designed by renowned architecture firm, Perkins + Will, includes three phases. The first phase, which is currently in the works, also includes a shaded walkway lined by two dozen trees known as the Beargrass Creek Overlook that's slated to be complete by the end of 2020. Additional native and pollinator gardens are also on the horizon.
The timeline for the rest of the project is reliant on funding, but plans for the second phase include a Visitor Center (featuring a restaurant and gift shop), a Children's Garden and a Water Filtration Garden.
The final phase (Phase III) will include the Japanese Gardens, Medicinal Meadow and the Conservatory, which is touted as "the crown jewel of the Waterfront Botanical Gardens."
Admission to the Waterfront Botanical Gardens is currently free. It's open Wednesday, Friday and Saturday, 10 a.m. to 4 p.m.; Thursday, 10 a.m. to 7 p.m.; and Sunday, noon to 4 p.m. Winter hours (Dec. 1 through March 1): Friday and Saturday, 10 a.m. to 4 p.m.; and Sunday, noon to 4 p.m.
Individual, family and business memberships are available (which include free admission to exclusive member-only events, discounts on tickets to speaker events, lectures, workshops and a complimentary subscription of the Waterfront Botanical Gardens newsletter). More info: WaterfrontGardens.org.
end