Update on Omni Construction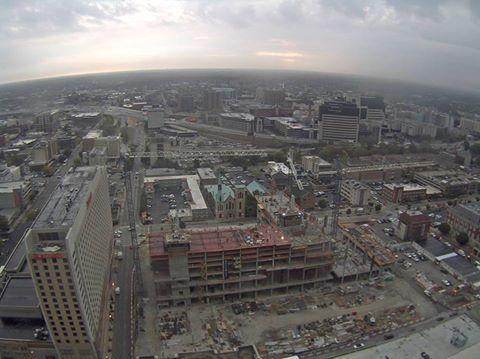 October Construction Update for Omni Louisville
Construction Milestones
Construction teams are adding a new floor to the hotel every eight days.
Precast concrete for the building's exterior will begin arriving on site in December 2016 – it will arrive at night to avoid traffic.
Traffic and Pedestrian Advisories
Work on the Second Street median is complete. There are no expected impacts or delays for traffic or pedestrians this month.
Fast Facts
About 150 workers are on the construction site each day, mostly concrete workers and electricians.
So far, the project has used 16,531 cubic yards of concrete – enough to build a sidewalk that's 62 miles long.
The Omni Louisville includes 2,214 tons of reinforcing steel. That's the weight of nearly a dozen 747 airplanes!
Omni Louisville unveiled model guest rooms in September, showcasing local inspirations from bourbon, bridges, the Ohio River, and local architecture.
Follow Omni Louisville on Facebook and Twitter (@OmniLouisville) and Instagram (@OmniLou) for more insider updates throughout construction!
Follow Eamon O'Brien, Omni Louisville's director of sales and marketing, on Instagram @EOBourbonCity.
To download the full release, Click here.