Triple Crown Enhances Breeders' Cup Week Event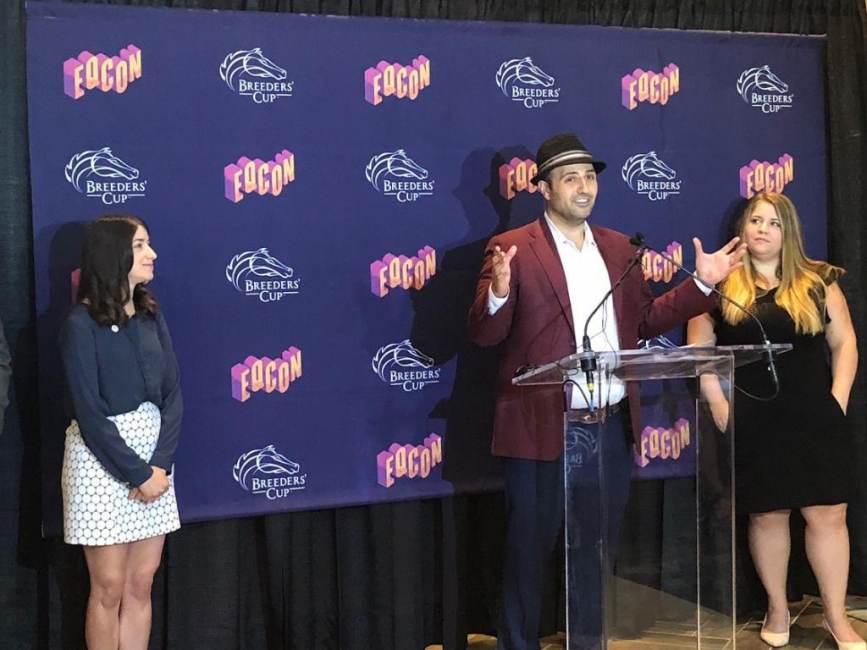 Justify's Connections to Greet Equestricon Fans
LOUISVILLE, Ky. (June 18, 2018) – This year's Triple Crown champion brings a special treat to Equestricon with the winning jockey, Mike Smith, horse trainer Bob Baffert and WinStar farm personnel together for meet and greets. Louisville is hosting this event, which gives the first public access to seeing all four trophies together from Justify's win in the Kentucky Derby, Preakness Stakes, Belmont Stakes and Triple Crown.
Dan Tordjman, Co-Founder of Equestricon, explained the event as "a conference, a fan fest and an equestrian industry trade show all in one." Equestricon will serve as the anchor event for the Breeders' Cup Festival and will be held at the Kentucky International Convention Center (KICC) October 29-30. Churchill Downs Racetrack is the site of the 35th Breeders' Cup November 2-3.
In addition to the Justify trophy exhibit, photo opportunity and autograph signings benefiting the Permanently Disabled Jockeys Fund (PDJF), Equestricon will also feature Breeders' Cup trophy photo opportunities, along with dozens of leading jockeys, trainers and other major racing personalities who'll be available during signings, meet-and-greets, workshops and panels.
This is the second year for the Equestricon event which is estimated to fetch $460,000 in economic impact to Louisville adding to the Breeders' Cup tourism impact by bringing fans in earlier in the week.
Equestricon is open to the public and tickets are on sale. A single day trade show ticket is $10 while a two-day all-access convention pass is $65. In addition to the trade show exhibits that the single day ticket allows, the convention pass also includes Track Talks Speaker Series with panels and dozens of workshops. The trade show ticket is free for kids. The website to purchase tickets is https://equestricon.com/ticket-packages.
For those planning a visit to Louisville for Equestricon and Breeders' Cup, the Louisville CVB provides several planning resources, including suggested itineraries at GoToLouisville.com/myexperience, the monthly Lookin' at Louisville video series, a searchable list of events at www.gotolouisville.com, a free Louisville Visitors Guide and complimentary hotel booking service via 1-888-LOUISVILLE.
###
Since 1968, the Louisville Convention & Visitors Bureau's (LCVB) primary goal has been to enhance the area's economy through tourism development - to promote and sell Louisville as a world-class destination. Tourism is the third largest industry in Louisville generating an estimated economic impact of $3.5 billion which supports over 27,000 local tourism-related jobs. Guests are coming from around the globe to attend a meeting, convention, special event, as a leisure guest or a combination. More than 16.4 million visitors are experiencing Louisville's authenticity, bourbon and culinary scenes and our unique brand of Southerness. The LCVB was one of the first Destination Marketing Organizations in the country fifty years ago and was one of the first to become accredited in 2006, by the independent, international standards program developed by the Washington, D.C. based Destinations International.