Trifecta of Free Bourbon Tours Launched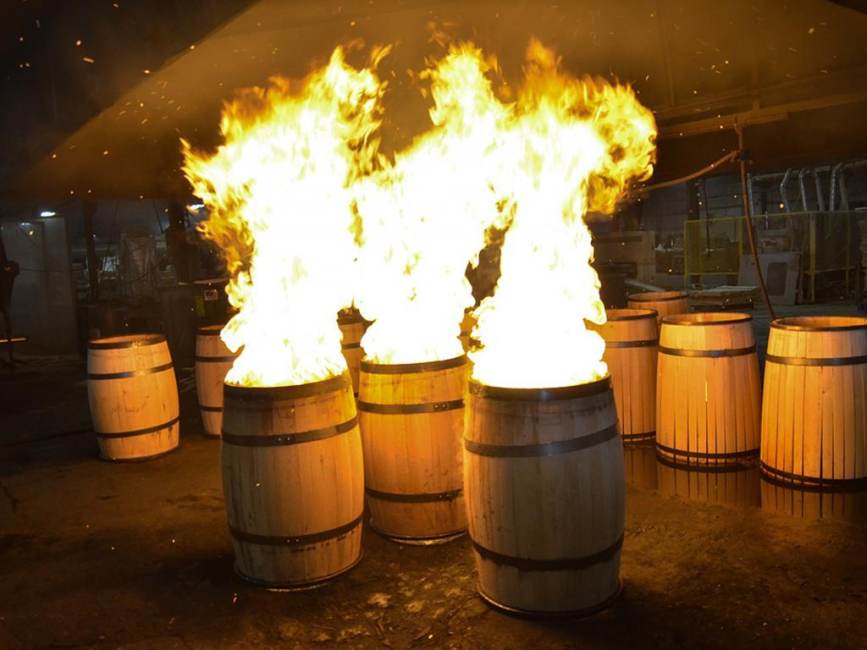 Buffalo Trace, Copper & Kings and Barton 1792 Launch Barreled & Bold Distillery Tours 3 Trailblazing Kentucky Distilleries Offer Complimentary Spirits Adventures
LOUISVILLE, Ky. (March 20, 2019) - Frankfort-based Buffalo Trace Distillery, Louisville-based Copper & Kings American Brandy Co. and Bardstown-based Barton 1792 Distillery have announced the combining of forces to provide enthusiasts of all Kentucky spirits an exciting new collective tour experience.
The spirited adventure takes in three of the most iconic distilleries in the state within easy driving distance of each other, bringing forth the cities of Frankfort, Louisville and Bardstown. All tours are complimentary at all three locations, booking is advised, and a progressive discount will be offered on merchandise, excluding liquor. The first discount will be 10%, the second stamped stop will be rewarded with a 15% discount, and the final stamped visit will receive a 20% discount and a commemorative gift.
Guests can register online at BarreledAndBold.com where they can plan their adventure. The B&B pass can be collected at the first distillery stop and used thereafter.
"Bringing together the union of the world's most award-winning distillery, Kentucky's oldest fully operating distillery in the Bourbon Capital of the world, and perhaps the most imaginative new distillery in America, is something akin to the aligning of stars," says Mark Brown, Buffalo Trace Distillery and Barton 1792 Distillery president and chief executive officer. "However, this is not just serendipity, this is allowing for a partnership that can provide an exciting, adventurous window to the past, present and future of distilling in America, well beyond the borders of Kentucky."
Copper & Kings founder, Joe Heron says, "Ok, wow, all-star line-up for sure. What a proposition! Bourbon Pompeii to Rock & Roll Brandy, Warehouse X, maybe not SpaceX, but it does feel like a rocket about to take off. Three completely unique perspectives of adventurous Kentucky spirits, Bourbon, American Brandy, Gins and Absinthe. From the barrel for the bold, bold from the barrel. Its Kentucky hospitality distilled. Our guests will be surrounded by Kentucky's unique, welcoming charm, and the distinctive educational experiences will hopefully keep them coming back for more."
"It's exciting to partner with Copper & Kings on this new adventure," says Meredith Moody, homeplace development director, Buffalo Trace and Barton 1792. "All three teams are positioned to provide visitors with exceptional tours, combining three truly unique destinations into one unforgettable distillation experience."
After visiting these three innovative distilleries, visitors will see the full spectrum of Kentucky's spirits manufacturing, as each distillery has a varied and distinctive story to tell. It's easy to see why people are flocking to Kentucky to see where and how these award-winning products are made. The Barreled & Bold tour program makes this experience more accessible than ever before.
About Copper & Kings American Brandy Co.:
Copper & Kings uses small batch copper pot-distillation to forge untraditional, non-derivative, pure pot-distilled American apple and grape brandies, absinthe, gin and Destillaré liqueurs that are non-chill filtered with no added sugar, colors, artificial flavors, or synthetic chemicals. The state-of-the-art distillery exclusively focuses on the distillation of brandy-based spirits. Copper & Kings, located at 1121 E. Washington St. in Butchertown, is owned by beverage entrepreneurs Joe and Lesley Heron. For more information, visit www.copperandkings.com or follow @CopperAndKings on Facebook and Twitter.
About Buffalo Trace Distillery
Buffalo Trace Distillery is an American family-owned company based in Frankfort, Franklin County, Kentucky. The Distillery's rich tradition dates back to 1773 and includes such legends as E.H. Taylor, Jr., George T. Stagg, Albert B. Blanton, Orville Schupp, and Elmer T. Lee. Buffalo Trace Distillery is a fully operational Distillery producing bourbon, rye and vodka on site and is a National Historic Landmark as well as is listed on the National Register of Historic Places. The Distillery has won 21 distillery titles since 2000 from such notable publications as Whisky Magazine, Whisky Advocate Magazine and Wine Enthusiast Magazine. Its Col. E. H. Taylor, Jr. Four Grain Bourbon was named World Whiskey of the Year by "Jim Murray's Whiskey Bible 2018." Buffalo Trace Distillery has also garnered more than 500 awards for its wide range of premium whiskies. To learn more about Buffalo Trace Distillery visit www.buffalotracedistillery.com. To download images from Buffalo Trace Distillery visit http://www.buffalotracedistillery.com/media
About Barton 1792 Distillery
Barton 1792 Distillery is part of Barton Brands. Barton Brands has facilities in Bardstown, Ky., Carson, Calif., and Baltimore, Md. Barton Brands is owned by the Sazerac Company, an American family-owned company based in New Orleans, La. Barton 1792 Distillery was established in 1879 and continues today as the oldest fully-operating Distillery in the "Bourbon Capital of the World." The Distillery is located on 196 acres and includes 28 warehouses, 22 other buildings, the Morton Spring and the Tom Moore Spring. Distilling, aging and bottling fine Bourbon whiskey are hallmarks of the historic Barton 1792 Distillery. 1792 Small Batch Bourbon Whiskey is produced at Barton 1792 Distillery. This whiskey is named for the year Kentucky became a state and is the recent gold medal winner at the 2017 Los Angeles International Spirits Competition. To learn more visit www.1792bourbon.com.