The Dalai Lama returns to Louisville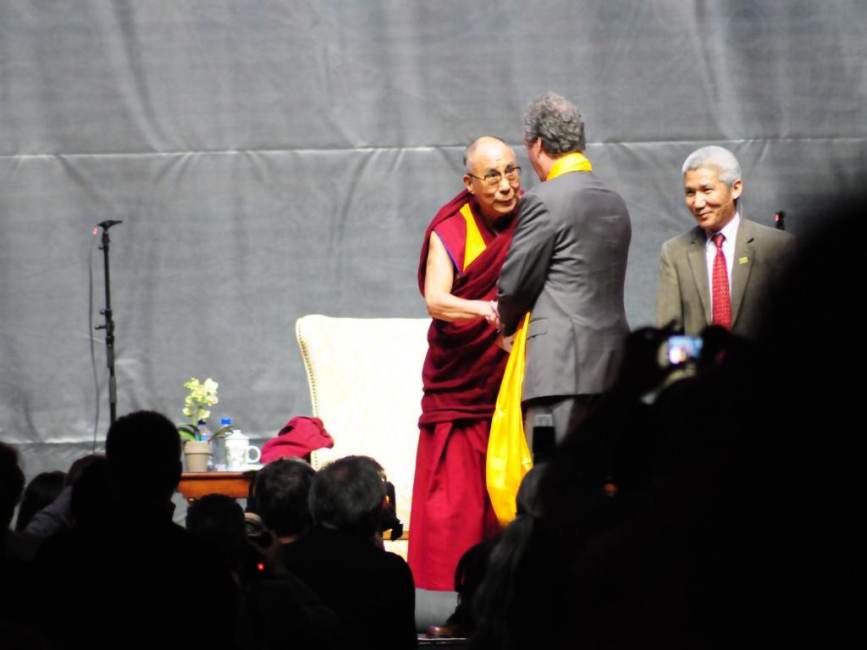 The Dalai Lama is returning to Louisville to be part of the 2017 Festival of Faiths
LOUISVILLE, KY. (Nov. 21, 2016) – Louisville Mayor Greg Fischer has announced that His Holiness the XIV Dalai Lama will return to Louisville in April 2017. And to spotlight the significance of the visit, the 22nd annual Festival of Faiths will move to April 19 – 24 and culminate with talks by the Dalai Lama.
The title of the 2017 Festival is "Compassion: Shining like the Sun." His Holiness the Dalai Lama will deliver talks on universal human values and nonviolence at the Yum! Center on Sunday, April 23, and at a large youth event on Monday, April 24.
The Festival of Faiths is a nationally acclaimed interfaith event of music, poetry, film, art and dialogue with internationally renowned spiritual leaders, thinkers and practitioners. It is designed as a platform for holding conversations on meaning in a time of multiple crises of meaning; and respecting the essential union between thinking globally and acting locally.
Theologian Richard Rohr calls the Festival "the Sundance of the Sacred," and the Huffington Post included it among America's top 7 spiritual travel destinations.
This will be His Holiness the Dalai Lama's third visit to Louisville.
For more information on the visit and the Festival of Faiths, visit www.DalaiLamaLouisville.org or www.FestivalofFaiths.org.
More details about themes and programming, as well as ticketing, for the April event will be released in January 2017. Visitors can get more information about Louisville and hotel accommodations at www.gotolouisville.com or by calling 1-888-LOUISVILLE (1-888-568-4784).