Cracking Open a Summer Beer Fest at Frazier History Museum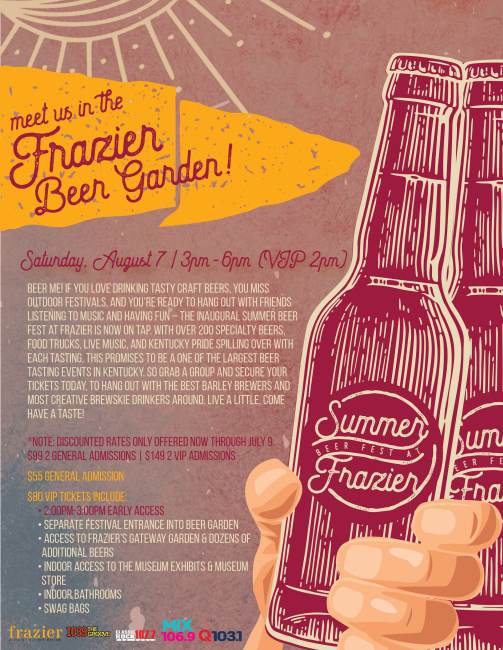 Craft beer vendors, food trucks and live music acts to draw thousands of visitors August 7
LOUISVILLE, Ky. (June 9, 2021) – To celebrate the rich and vibrant history of brewing in the Bluegrass State, the Frazier History Museum is hosting its inaugural beer festival on August 7 from 3-6pm.

Over 200 craft beers will be on tap at the festival, provided by brewers from the Kentucky Guild of Brewers, which represents over 90 brewers, as well dozens of brewers from out of state.

The festival will take place in a pop-up Beer Garden located behind the museum. The beer garden will extend from the north side of the building to the flood wall, occupying parking lots and sections of Ninth and Washington Streets.

"With over 200 specialty beers, food trucks, live music, and Kentucky pride spilling over with each tasting, this promises to be one of the largest beer tasting events in Kentucky," said Frazier President and CEO Andy Treinen.

HISTORICAL CONNECTION

In 2018, the Frazier became the official starting point of the Kentucky Bourbon Trail®, opening the Kentucky Bourbon Trail® Welcome Center and The Spirit of Kentucky® Bourbon exhibition. But the building the museum occupies, 829 West Main Street, has a history with the brewing industry, as well.

On August 7, 1934, the Courier-Journal ran an ad for Quest & Seaman Co., a beer distributor located at 829 West Main. That May, Kentucky's legislature had repealed the state's Prohibition statutes — which dated back to 1919 — officially bringing Prohibition to an end. The ad reads:

"Retail dealers in the Louisville territory will be supplied with Anheuser-Busch Fine Beers, both in bottles and draught by Quest & Seaman Co., Inc., who have been appointed distributors for these leaders in the quality field. Budweiser Draught Beer is now available in Louisville for the first time since Prohibition."

Coming full circle, the firm operating in what is now the Frazier Museum was the first to reintroduce one of America's best-selling beers to the city of Louisville.
TICKET INFORMATION

The Frazier is selling tickets for VIP and general admission to the festival. VIP perks include access to the Gateway Garden and the museum's interior, including three floors of galleries and exhibitions as well as early festival access, dozens of additional beers, and more for $80. A general admission ticket is also available for $55. Both tickets include up to (40) 2oz tastings with discounted admission sales underway through July 9. For more information and to purchase tickets, visit fraziermuseum.org/beerfest.

Plan your visit to Louisville with help from Louisville Tourism's annual Visitor Guide. Download a copy of the guide to help plan your itinerary around Louisville's top experiences, including culinary and bourbon. Travelers also can get attraction, lodging and dining assistance at www.gotolouisville.com along with information on the state's current covid-mitigation guidelines.