Raising the Bar on Louisville's Historic Whiskey Row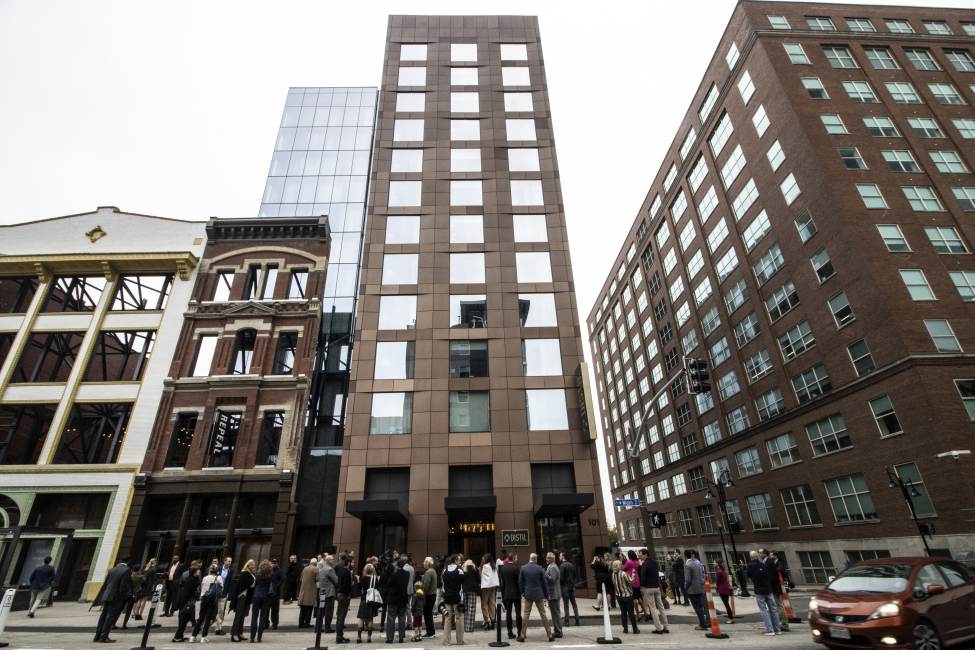 Dual-branded Marriott properties Hotel Distil and Moxy open with 'spirited' style
LOUISVILLE, Ky. (October 30, 2019) – Bourbon City's city skyline has two new additions as both the Hotel Distil and Louisville Downtown Moxy open their doors simultaneously - bringing two new, distinct boutique hotel experiences to Louisville's visitors. Sharing the same building and located on historic Whiskey Row, both properties are Marriott branded, operated by White Lodging.
Hotel Distil, an Autograph Collection Hotel, is a 205-room boutique hotel celebrating Louisville's bourbon heritage. Hotel Distil incorporates an original 1860's era façade, which was saved following a fire in 2015, and was the original location and barrel house for J.T.S. Brown and Sons. From the moment guests walk in the door, the homage to bourbon culture is subtle, but clear, as many of the design cues are taken from bourbon barrels and the distilling process, including wood tones, staves, black metal accents and copper fixtures. Other cues are taken from Louisville's glass blowing community, including pre-Prohibition style globe light fixtures and blown glass flask art pieces.
The hotel has more than 11,000 square foot of event space including a 5,000 square foot Grand Ballroom which can accommodate up to 500 people or be divided into three separate spaces. Hotel Distil's three other meetings rooms range from 775 square feet to 1,000 square feet while the 2,000-square-foot outdoor rooftop boasts an open-air, all-season terrace.
A unique experience guests can participate in is a celebration of the repeal of Prohibition. Hotel Distil guests will be offered an invitation via a 'prescription card' at check-in to join in the hotel's lobby for a nightly toast at 7:33 p.m., which is 19:33 Universal Time, the year Prohibition was repealed, where they will be treated to a celebratory whiskey cocktail and a tribute to the repeal of Prohibition.
The hotel's three dining options include Repeal, a 72-seat oak-fired steakhouse, Bitters End, an open-air rooftop bar, complete with a retractable glass roof and The Barrel Room, a private 15-person space with a separate bar.
Moxy Louisville Downtown is aimed at the young-at-heart traveler. With the social heart of a hostel, the property offers buzzing social spaces, stylish and affordable guest rooms, co-working spaces, and a 24/7 taco counter. The property has 110 guest rooms featuring an industrial chic style.
The hotel features Bar Moxy on its ground-floor level, a playful bar that also operates as the hotel's front desk – with a complimentary cocktail upon check-in. Bar Moxy features a curated music program with activations including spinning DJs.
Located alongside Bar Moxy, Zombie Taco is 24 hours a day, 7 days a week food truck-inspired concept to serve Louisville's darkest taco desires. The made-to-order menu items satisfy cravings whenever they strike. This is the restaurant concept's second location following its opening in Chicago in 2018. The hotel will also house a resident mascot, Goose, a bulldog who will often be spotted in the lobby area.
The addition of these 315 rooms bring Louisville's hotel inventory to 20,874, with 6,180 rooms in the city center adjacent to the 300,000 square foot Kentucky International Convention Center (KICC), which re-opened August 2018 after a $207 million dollar renovation.