Old Forester Returns to Whiskey Row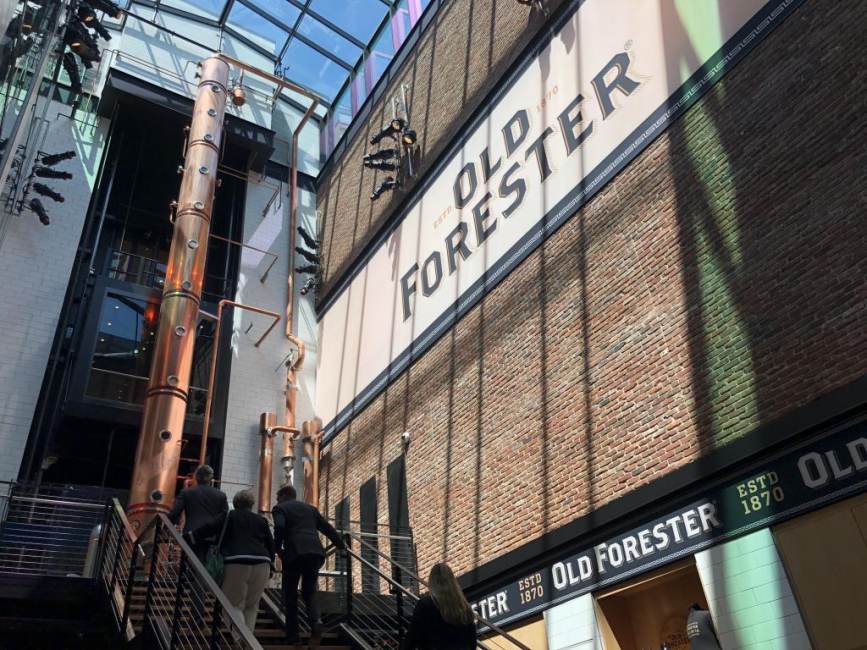 Nearly 100 years later, the First Bottled Bourbon returns to the building it once called home in state-of-the-art distillery and visitor experience
Returning to the same building it once called home, Old Forester Distilling Co. opened to the public on June 14 at 119 W. Main Street in Louisville, Kentucky. The $45 million, 70,000 square foot distillery will guide guests through the brand's rich history and Bourbon making process of Old Forester, a brand sealed in history as America's First Bottled Bourbon™.
The distillery is the culmination of a nearly 150-year legacy that began in 1870 when George Garvin Brown, a young pharmaceutical sales rep, changed the spirits industry forever when he sealed whisky in a glass bottle. He signed his name - as a guarantee of consistency and quality, declaring "there is nothing better in the market." It was an innovative approach at a time when whisky was commonly sold by the barrel. He set up shop on Louisville's Main Street - dubbed Whiskey Row - the hub of the Bourbon business in Kentucky.
Old Forester Distilling Co. will add production capacity of approximately 100,000 proof gallons annually. Visitors will follow the Bourbon making process in an immersive experience that leads them from fermentation and distillation, to the on-site cooperage where handcrafted barrels will be raised and fired, then aged in an on-site maturation warehouse before bottling and shipment across the globe.
Distillery tour follows whisky's journey from grain to glass
The tour experience at Old Forester begins with a primer on Bourbon history and the role played by both Old Forester and its hometown of Louisville, Kentucky. From there, guests follow the whisky's journey through the distillery.
Four 4,500 gallon tanks guide guests to a glass elevator, where they ascend through a light-filled atrium in full view of the 44-foot-tall copper column still, designed and constructed by Vendome Copper & Brass Works in Louisville, bringing the distillation process to life.
Guests then make their way to the cooperage. Brown-Forman is the only major spirits company to craft its own new barrels, and the process is seamlessly integrated into the new downtown distillery. Tour guests will look on as coopers hand raise each barrel and will feel the heat as they witness the charring of a barrel. In full view, barrels are tested and filled before making their way to the aging warehouse.
Down a charred, wood-lined hallway, guests are guided through the colors, flavors and aromas that whisky takes on during its time in a barrel. Unique to Old Forester Distilling Co., guests enter the on-site, three-story warehouse from the highest rack, offering a bird's eye view. A catwalk leads guests down through the warehouse, where roughly 900 barrels will age.
Old Forester Distilling Co. joins eleven other distilleries as an official member of the Kentucky Bourbon Trail® tour. Distillery tours will be offered seven days a week, with production Tuesday through Saturday 10 a.m. to 6 p.m. The tour and tasting will be offered at $16. Online reservations are suggested, though not required. Full tour details and tickets are available at OldForester.com.
In 2013, Louisville's first distillery since Prohibition opened in the heart of downtown, signaling a new era in Bourbon that Louisville Mayor Greg Fischer coined as "Bourbonism" for its convergence of economic development through manufacturing and tourism. The Evan Williams Bourbon Experience became the first distillery with public tours in Louisville and by fall of 2018, Louisville will have nine open distillery attractions including The Bulleit Frontier Whiskey Experience, Kentucky Artisan Distillery showcasing Jefferson's Reserve, a brandy distillery Copper & Kings, Kentucky Peerless Distillery- a father and son team who resurrected a family label, Jim Beam Urban Stillhouse at Fourth Street Live!, Angel's Envy, originally a family label now owned by Bacardi Ltd. and Old Forester.
Two additional highly anticipated bourbon attractions under construction on historic Whiskey Row include Michter's Fort Nelson Distillery, slated for this fall, and Frazier History Museum's Welcome Center & Exhibit, serving as the official starting point for the Kentucky Bourbon Trail®. This will bring the total number of "Urban Bourbon Experience" attractions in the Bourbon City to 10, more than any other in Kentucky's Bourbon Country. The pub crawl that is the Urban Bourbon Trail continues to grow alongside the popularity of bourbon with 39 stops, each well-stocked with at least 50 bourbons; some as many as 300. For more information and to plan a trip to Bourbon Country visit www.bourboncountry.com or www.gotolouisville.com.