New 'Village Market' Open in Paristown Neighborhood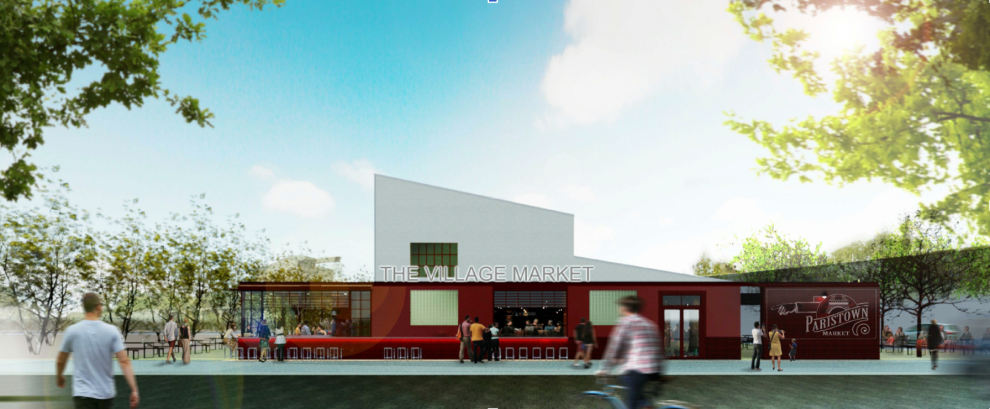 Five restaurants represent a variety of local dining along with indoor/outdoor bar
LOUISVILLE, Ky. (September 29, 2022) – Paristown's highly anticipated Village Market is now open. The 5,376 sq. ft. eatery features five local restaurant concepts and a large bar with service to both the inside and Paristown's outside spaces where large festivals, concerts, and events often take place.

The transformed building provides casual indoor dining, as well as open outdoor dining on a 3,000 sq. ft. patio that will flow seamlessly from the Village Market to Christy's Garden. The Village Market is open seven days per week for lunch and dinner, with one concept open for breakfast. Jeff's Donuts is open every morning making fresh donuts onsite. Jeff's Donuts is a long-time staple just across the river in Jeffersonville, IN and has another location on Dutchman's Lane in Louisville.
Additional food stalls include:
Bunz Burgerz, known as one of 'America's Best Hole-in-the-Wall Burger Joints' will be serving up their signature flat-top -grilled smashed burgers with house-made specialty sauces. After 11 years, Bunz Burgerz is moving from its location on Bardstown Road but plans to have the same menu and staff.
Ramble, a fried chicken sandwich concept offering nontraditional dishes such as chicken parmesan, General Tsao's chicken and buffalo chicken.
Sarap Filipino Eatery, Louisville's only Filipino restaurant, offering a taste of the Philippines with an approachable menu like Chicken Adobo, BBQ Port Skewers, Siopao, Lumpia and more. Sarap is Filipino for delicious and the food stall will be run by the owners of the Bamba Egg Roll Company food truck - voted the #1 Food Truck by the Leo Weekly's Readers' Choice Awards in 2021.
Tacorito, featuring tacos, burritos and bowls with beef BBQ, chicken verde, rojo chicken, bang bang shrimp among other options. Both Ramble and Tacorito will be run by Philippine-born and raised chef Emil David, owner of Square Cut pizza, the Sugar Room and Hot Buns Food Truck, the first Bao concept in Kentucky.
The Village Market also includes a bar with beer, wine and spirits. The market is located in the building which formerly housed The Café, which moved across the street to the renovated Stoneware Art Building in 2020.

The Paristown revitalization celebrates the authentic and often challenging history of Louisville and the small village of Paristown. As a result, developers focused on attracting local restaurant concepts and entrepreneurs who possess the same spirit of grit and determination that is pervasive now and throughout Paristown's long history. According to Johnson, "Our restaurant partners come from all walks of life and are all experienced operators who have worked hard perfecting their food in small brick and mortar shops and even food trucks."

The Village Market offers a unique opportunity for restaurateurs who want to focus on becoming better, smarter, and more successful operators. While each restaurant is a separate entity, restaurant owners will be able to benefit from collaborating with their Village Market peers to improve sustainability with fewer delivery trips, a smaller carbon footprint, and experience less food waste. In addition, restaurants can join together to create collective purchasing power with vendors that will result in lower costs for them, and fresher ingredients for their customers. All restaurants will utilize common service items, providing opportunities for smart and efficient, bulk replacement of necessary items as well as a common prep kitchen.
The Village Market Food Hall & Bar's hours will be 11am-9pm Sunday through Thursday and 11am-10pm Friday and Saturday with Jeff's Donuts open daily at 7am.

Paristown is celebrating Halloween with a variety of events leading up to the 'Ultimate Halloween Fest' on October 29, which includes a parade on Broadway, ending at the Paristown entertainment district. Each Friday in October, Paristown Point will be showing a free classic horror movie on an outdoor projector screen at Christy's Garden. Admission is free and food & beverages will be available for purchase. Movie nights are family and pet friendly and start at dusk. For more information, visit www.paristown.com/happenings.