New 'Village Market' Food Hall Concept Opening Soon in Paristown Neighborhood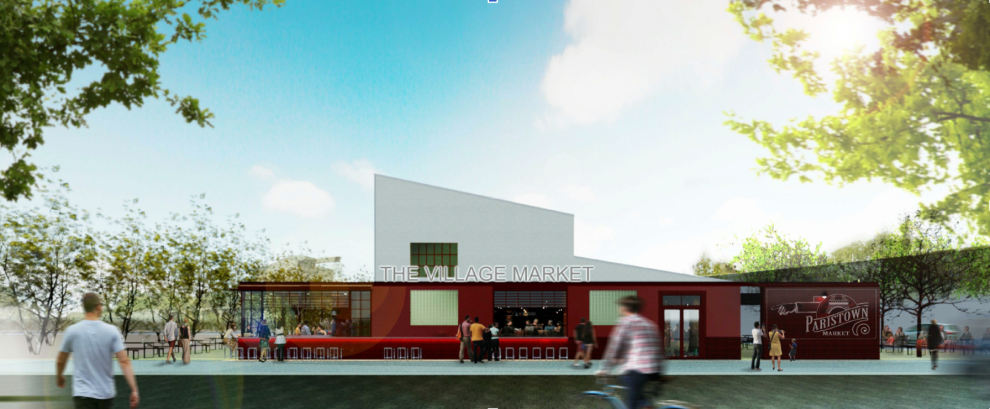 Five restaurants will represent a variety of local dining along with indoor/outdoor bar
LOUISVILLE,
Ky. (July 19, 2022) – Paristown's highly anticipated Village Market is under construction and expected to open later this summer. When completed, the 5,376 sq. ft. food hall will feature five local restaurant concepts and a large bar with service to both the inside and Paristown's outside spaces where large festivals, concerts, and events often take place.

Upon completion, the transformed building will provide casual indoor dining, as well as open outdoor dining on a 3,000 sq. ft. patio that will flow seamlessly from the Village Market to Christy's Garden. The Village Market will be open seven days per week for lunch and dinner, with one restaurant concept open for breakfast. The Village Market will be located in the building which formerly housed The Café, which moved across the street to the renovated Stoneware Art Building in 2020.

The Paristown revitalization celebrates the authentic and often challenging history of Louisville and the small village of Paristown. As a result, developers focused on attracting local restaurant concepts and entrepreneurs who possess the same spirit of grit and determination that is pervasive now and throughout Paristown's long history. According to Johnson, "Our restaurant partners come from all walks of life and are all experienced operators who have worked hard perfecting their food in small brick and mortar shops and even food trucks."

The Village Market is pleased to announce Jeff's Donuts – a long-time staple just across the river in Jeffersonville, IN – will be the first concept to begin operations in the Village Market. Jeff's Donuts will be open for breakfast and makes their donuts fresh from scratch every day.

Four of the five restaurant spots are already filled with a great variety of local food. "We're excited about the operators and concepts we've already joined forces with, and are confident we'll soon fill the last spot," Johnson said. In the weeks ahead, Paristown will be making individual announcements on new restaurants as each concept firms up details and shares the news with their existing customers.

The Village Market offers a unique opportunity for restaurateurs who want to focus on becoming better, smarter, and more successful operators. While each restaurant is a separate entity, restaurant owners will be able to benefit from collaborating with their Village Market peers to improve sustainability with fewer delivery trips, a smaller carbon footprint, and experience less food waste. In addition, restaurants can join together to create collective purchasing power with vendors that will result in
lower costs for them, and fresher ingredients for their customers.

There will be one point of sale for all food purchases and all restaurants will utilize common service items, providing opportunities for smart and efficient, bulk replacement of necessary items as well as a common prep kitchen.