New City Guide to Louisville Just Released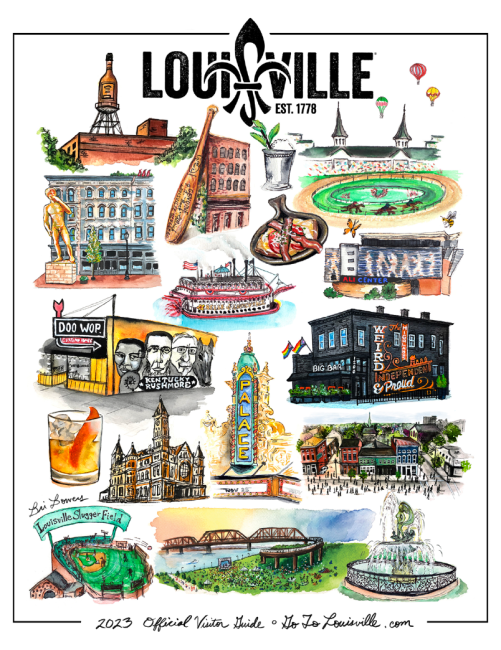 Popular Local Artist Illustrates Cover
LOUISVILLE, Ky. (February 24, 2023) Louisville Tourism has released the most recent edition of its annual Visitor Guide, a 96-page magazine highlighting some of the city's top places to visit. Published in time for the city's busy Spring travel season, the 2023 guide features a cover illustrated by popular Louisville artist Bri Bowers.

Bowers is widely known for depicting Louisville-area restaurants, bars, and landmarks, and has recently collaborated with Grammy-nominated rapper Jack Harlow, helping design the Louisville native's tour art and merchandise. Bowers' works on the front of the Louisville Visitor Guide highlight a variety of Louisville's most iconic events, locations, and traditions including the Kentucky Hot Brown, Louisville Slugger Museum & Factory, and horse racing at Churchill Downs. The illustrated cover is a departure from the Louisville Visitor Guide's standard covers, which typically feature a photograph of one prominent Louisville location.

"Being asked to illustrate the cover of the Louisville Visitor Guide was an honor," said Bowers. "I have so much pride in Louisville and knowing that my work may be someone's first impression of our city is a really powerful. My career was built from the people in this city fiercely supporting me and it's an honor to represent it to locals and visitors alike."

Highlights of the 2023 Louisville Visitor Guide include stories showcasing Louisville's Urban Bourbon Experience, century-old Louisville businesses, mural selfie spots, architectural styles around Louisville, ways to enjoy the city's official cocktail, the Old Fashioned, and tips for having a year-round Kentucky Derby Experience.

The Louisville Visitor Guide is a comprehensive resource for planning a full trip or just an afternoon in the city, and includes listings of accommodations, attractions, restaurants, shopping, and entertainment, in addition to a 2023 event calendar and maps.

The free guide is available at the Louisville Visitor Center (301 S. Fourth St.), as well as select Louisville hotels and attractions, and at welcome centers throughout the state. A total of 150,000 copies of the guide were printed and will be distributed worldwide to help inspire travel to the city.

Interested parties can order a 2023 Louisville Visitor Guide or browse its nearly 100 pages on the Louisville Tourism website here: www.gotolouisville.com/travel-tools/visitor-guide/

For more illustrations by artist Bri Bowers visit bribowers.com. Look for a print of the 2023 Louisville Visitor Guide cover to become available in the coming weeks.