Month-Long Kentucky Derby Festival Celebration Kicks Off April 1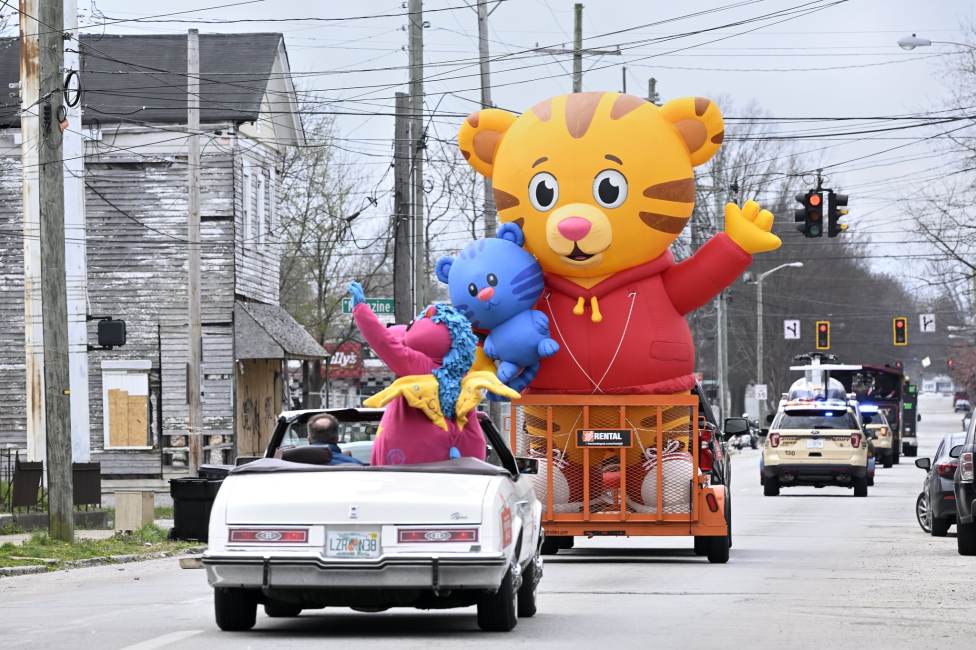 Fan favorite event parades through area neighborhoods
LOUISVILLE, Ky. (March 28, 2023) — The Kentucky Derby Festival is kicking off its month-long celebration by traveling around the community with the 3rd
annual touring parade. Set for Saturday, April 1, the traveling display with nearly 20 units will cover over 80 miles and drive through more than 30 neighborhoods around Louisville and Jefferson County. The traveling parade will last from noon until around 6 p.m.

The traditional Pegasus Parade returns on a Sunday for the second year to help kick off Derby Week. It steps off at 3 p.m. on Broadway on April 30. This year's theme is celebrating "Derby Traditions" and will feature nearly 100 units, including inflatables, floats, marching bands and equestrians.

The Touring Parade will be traveling around the community on Saturday, April 1, from noon to 6 p.m. (rain or shine). Below are some of the areas and neighborhoods where the parade will travel. The Festival invites residents to line the sidewalks as the parade travels through the community. Fans can share photos of the travelling parade on social media using the hashtag #KyDerbyFestival as part of this year's festivities.

- Between Noon – 1:30 p.m.: Graymoor-Devondale, Lyndon, Norwood, Beechwood Village, Woodlawn Park, Bellewood, Druid Hills, St. Matthews and Broadfield
- Between 1:45 – 3 p.m.: Seneca Park, Seneca Gardens, Belknap, Strathmoor Village, Hawthorne, Wellington, Strathmoor Manor, Deer Park, Cherokee Park, Cherokee
Triangle, Highlands-Douglass, Bonnycastle, Original Highlands, Germantown, Schnitzelburg, Shelby Park, Smoketown, Phoenix Hill and NuLu
- Between 3 – 4:30 p.m.: Central Business District (Main Street), Portland, Shawnee Golf Course, Russell, Parkland and California
- Between 4:45 – 6 p.m.: Shawnee, Chickasaw, Parkland, Park DuValle, Hallmark, Algonquin, Shively and finishing at Zoeller Pump Company at around 6 pm.

The timing of when the parade arrives at each area will be pending traffic and logistics as it moves through the community. It will be traveling at about 15 mph to give residents a chance to see it. A complete list of the streets and areas along the touring parade route is posted online at KDF.org/touringparade.

The touring parade will feature inflatable balloon characters Goldie Pegasus, Caesar, Gobo, and Daniel the Tiger along with specialty units: Kosair Shriner's Calliope and a TARC Design-A-Bus showcasing local student artwork.

The Pegasus Parade is the founding event of the Kentucky Derby Festival. The first parade marched in 1956 to create a way for the community to celebrate before the historic horse race. It was organized by just a handful of volunteers on a budget of $640. Since then, the Festival has become a whirlwind of many events.

While planning a trip to Louisville, guests can download a copy of Louisville Tourism's annual Visitor Guide to see the city's top attractions, culinary hotspots and bourbon distilleries. Visitors also can get additional city attraction, lodging and dining assistance at gotolouisville.com.