Louisville's Sports Success Eclipses March Madness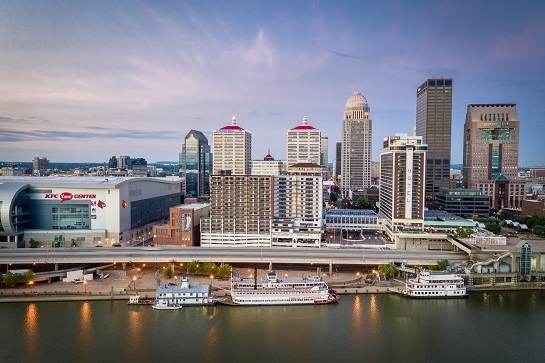 Elite facilities help the city score with high-level youth and collegiate segments
LOUISVILLE, Ky. (March 27, 2023) – Louisville is known as the home of Muhammad Ali, Louisville Slugger baseball bats and the annual Run for the Roses at historic Churchill Downs. However, the city has extended its sports connections beyond boxing, baseball and horse racing to include a myriad of high-profile and renowned sporting events hosted at several key sporting facilities throughout the city.

The Louisville Sports Commission and Louisville Tourism work in tandem to drive sports business to the city, resulting in millions of dollars in economic impact that is realized throughout the community. 2022 was a banner year for sports, eclipsing 2019 with 102 events being hosted that brought 167,201 total hotel room nights and $146 million in estimated economic impact through the 400,000 attendees who visited Louisville for one of these events.

Louisville just saw a $15 million estimated economic impact boost from hosting the NCAA Division I men's basketball Sweet 16 and Elite Eight games.

"The strong economic impact numbers realized from hosting sports events is a direct result of the solid foundation of partnerships we've developed among our local universities, facility operators and Louisville Tourism," said Greg Fante, Louisville Sports Commission President & CEO. "Working together, the future is bright for Louisville to continue to host and produce large-scale, high-profile championships."

Louisville boasts a number of elite sporting facilities that help attract prominent sporting events including a nationally recognized arena, professional soccer stadium and a new, state-of-the-art indoor track and field facility.

"Louisville's build it and they will come approach is working," said Gen Howard, Director of Sports Market Development for Louisville Tourism. "Sporting facilities like Lynn Family Stadium and the $53 million-dollar Norton Healthcare Sports & Learning Center have been instrumental in luring new championship events the city was unable to previously host - or even have the opportunity on which to bid," she said.

Additionally, Louisville has two convention centers – the downtown Kentucky International Convention Center (KICC) and the Kentucky Exposition Center (KEC), which is the sixth largest convention facility in the country and also houses Freedom Hall arena. Both convention centers offer flexible space to create numerous indoor sports frameworks.

The city has or will host an impressive list of high-caliber professional, collegiate and youth sporting events including:

Norton Healthcare Sports & Learning Center
2023 ACC Indoor Track & Field Championships
2023 USA Track & Field Indoor Masters Championships
2023 & 2024 USA Track & Field Indoor Youth National Championships

Lynn Family Stadium
2023 NCAA DI Men's Soccer Championships (Final Four & Championship)

E.P. Tom Sawyer State Park
2023 & 2024 USA Track & Field Youth Cross Country Championships

Joe Creason Park
2023 USA Cycling Cyclocross Championships

KEC
2023 USA Gymnastics Winter Cup

KFC Yum! Center
2023 NCAA DI Men's Basketball Regional (Sweet 16 & Elite 8)
2024 NCAA DI Women's Volleyball Championship (Final Four & Championship)

KICC
2023 & 2024 National Field Archery Association Indoor National Championship
2023 & 2024 USA Fencing North American Cup

Valhalla Golf Course
2024 PGA Championship

Louisville also bids on sporting-related conferences and meetings and is typically awarded these in conjunction with hosting the group's sporting event. KICC will host the National Fastpitch Coaches Association (NFCA) meeting in Louisville for the 40th anniversary of the Annual Convention this December while the American Volleyball Coaches Association is slated for December 2024, bringing 3,000 attendees. This meeting is hosted in combination with the NCAA Division I Final Four and Championships volleyball games taking place in the city.

Sports has historically been a strong driver of tourism in Louisville, even during the height of the coronavirus pandemic with the continuation of youth competitions, meets, games and other sports events. In fact, the two largest inbound travel segments Louisville hosts are youth amateur events and collegiate events, with TFN's Run 4 The Roses girls' basketball tournament as the largest single youth amateur event. SportsTravel Magazine awarded Run 4 The Roses the 'Best Amateur Event' in 2022.