Louisville's Simmons College Attracts Conventions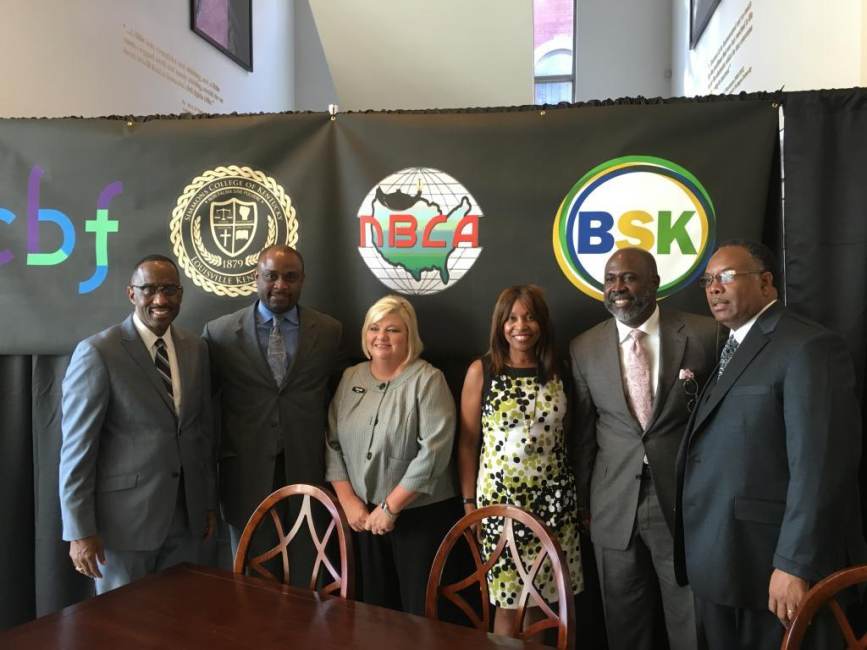 Simmons College forms partnership with leading international African-American religious organization
LOUISVILLE, Ky. (October 5, 2016) – Louisville is gaining a trifecta of conventions due to the work of Simmons College of Kentucky (SCKY). The historic black university has formed a significant partnership with the National Baptist Convention of America International, Inc. (NBCA) that includes relocating NBCA's headquarters and 10 staff members from Dallas, TX to Louisville, SCKY becoming the education provider for the NBCA and the announcement of two annual conventions to meet in Louisville in 2017 and 2020 with potential for others.
"This move is historic as it dates back to 1886 when then president William J. Simmons founded the American Baptist Convention" said SCKY President Dr. Kevin W. Cosby. This convention later merged to other Baptist Conventions and reflects the rich history between SCKY and the Baptist denomination.
Said Reverend Sam Tolbert, NBCA President, "Simmons is our school, Louisville is our home". Rev. Tolbert also announced the 2017 Annual Session will be held in Louisville and signed the contract with the Galt House Hotel as part of the press announcement. This event will attract 1,000 attendees and have an economic impact of nearly $600,000. Also announced was the Family Faith Fest, planned in Louisville for 2020. Last held in the city in 2013, this event attracts 5,000 attendees with an estimated impact of more than $1.2 million. Plans for a national Baptist retreat center near the college were also announced that will attract additional gatherings in Louisville for the future.
Reverend Jesse Jackson was in attendance at the announcement to show his support and noted "something great is happening in this room". Rev. Jackson mentioned his familiarity with Louisville, having come to the city many times to hear the sermons of the late Louisville pastor, Rev. A.D. King and to attend Civil Rights Rallies with he and his brother, the Rev. Martin Luther King, Jr. He said "God continues to come back to this ground (Louisville) made sacred by Dr. King".
Cleo Battle, Executive Vice President of the Louisville Convention & Visitors Bureau said "Louisville has a long history of hosting Baptist groups in our community and a lot of that has to do with the work that's been done at Simmons since 1879 and the great collaboration among our city's religious leadership. With its 3 million members, having one of the top religious organizations in the country choose Louisville, says a lot about what our community has to offer."
About the NBCA
The National Baptist Convention of America International, Inc. is a fellowship of voluntary churches with a membership of over 60% of Black Baptists across the U.S. Currently, NBCA consists of over 3 million members.
About SBCY
Simmons College of Kentucky, is a private, co-educational college located in Louisville, Kentucky. Founded in 1879, it is a historically black college dedicated to educating people in the urban context through strong academic and professional programs in order that they may become productive citizens and agents of change in society.