Louisville's Holiday Gift Shop Hop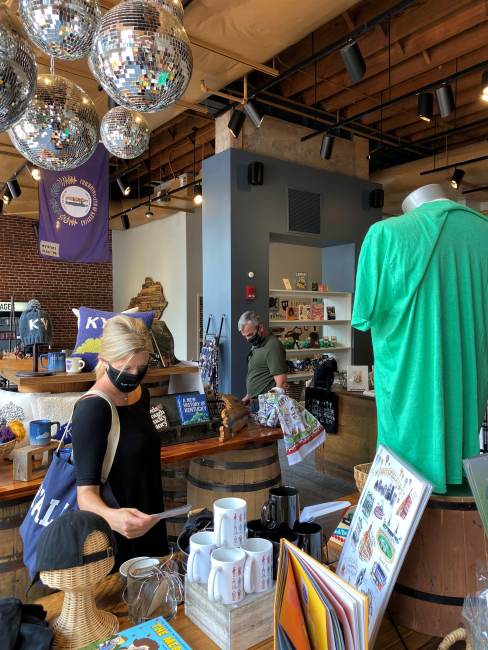 Top 10 finds at local attraction gift shops
LOUISVILLE, Ky. (Dec. 8, 2020) – Down, but not out, Louisville attractions are looking to their retail stores to help carry them over the finish line after COVID crippled the city's visitation this year. From in-person to online, these unique Louisville attractions offer one-of-a-kind gifts you won't find anywhere else this holiday season.

These gifts can be ordered online or over the phone for pick-up, however hours of service may vary, so please check with individual vendors.

Louisville Tourism's Top 10 attraction's gift shop list includes:

Frazier History Museum at 829 W. Main St., downtown has a couple popular one-size fits all winter items including hand-knit hats and hand warmers. These bicolor garments bear the letters "KY," coming in three varieties: blue and white, green and yellow, and grey and red for $22. Additionally, the timeless Heather French Henry's Handcrafted Ornaments are quite the hit. A fashion designer, veterans advocate, and Miss America title holder, Heather French Henry is also a maker of high quality, handcrafted ornaments, many of which celebrate what's great about Kentucky. Guests can purchase a Crown Ornament, a Jr Miss Pageant Ornament, a Colonel Ornament and a Votes for Women Ornament. Each ornament comes with a certificate of authenticity for $15. These products are available for purchase in their pop-up shop.

Louisville Visitors Center, located downtown at 301 S. Fourth St. is a perfect spot to shop for all the Loo-a-ville lovers on your list. Don't miss this year's holiday favorite, the Louisville snow globe featuring city attractions for $29.99 or the Louisville Silipint, a 16 oz., flexible, sturdy and versatile drinking pint glass for $12.50.

Belle of Louisville, riverside at 401 W River Rd has given their paddlewheel wood a new life with these specialty items created by Captain Mike himself. Give the hard to buy for shopper on your list a repurposed Belle paddlewood custom clock or a colorful paddlewood decorative wall art. Both items come in various sizes and costs ranging from $40-$50.

Kentucky Derby Museum, next to Churchill Downs at 704 Central Ave, has a couple standouts in the Kentucky Derby Museum Store including the Limited-Edition Woodford Reserve bottle, commissioned by the museum to celebrate the 125th anniversary of Churchill Downs' Twin Spires. Only 360 bottles were produced, so it's certainly a collector's item, signed by Kevin Flanery, President, Churchill Downs Racetrack, Bob Baffert, winning trainer of 2020 Kentucky Derby Winner Authentic and Elizabeth McCall, Assistant Master Distiller, Woodford Reserve for $146. If you're looking for a deal, the museum store is offering 50% off Derby 146 merchandise, which includes an 8 oz. Derby 146 silver-plated julep cup, etched with the official logo for the 146th running of the Kentucky Derby at Churchill Downs. Now just $30.

KMAC, at 715 W. Main St., has several handmade objects made by KY artists including hand carved Santas by Joe Offerman from Owensboro, ranging in price from $24 to $75, depending on size. Additional options include leather journals from Reimagined by Luna, an artist from Lexington for $55-$65 and delicate bird glass ornaments by Whitney Olsen, a young artist from Louisville for $45. These specialty items are not listed online but can be purchased in-person or over the phone.

Kentucky Science Center, on Museum Row at 727 W Main St has the MakerPlace2Go DoodleBot kit. It is completely unique to KSC as they build them by hand at the museum. This kit contains everything needed to build a custom art robot helping kids design, build and test different variables to create abstract art. Warning: May cause obsession with art and/or Science! Retails for $9.99 online or in the KSC Gift Shop.

Louisville Slugger Museum and Factory, at 800 W. Main St. has gift ideas to bat it out of the park with a new holiday mini-bat for $8.99, crafted by sporty elves. Get your sports lover a truly unique gift by giving them a piece of baseball history with a personalized full-size Louisville Slugger bat, starting at $59.99.

Stoneware & Co. at 731 Brent S. in the Paristown Point neighborhood is one of the oldest stoneware manufacturers in the United States, operating since 1815. Brimming with custom gift options, new this year are embossed ornaments for the holidays. This year's designs include Santa, a snowman, a gingerbread man and a reindeer. Each handmade ornament is hand tied with a coordinating gingham ribbon and ready for immediate hanging. Buy them individually for $26 or in a set of four and save 10%.

Speed Art Museum at 2035 S Third St. has Black Artists Matter merchandise including shirts, stickers, magnets and prints with our design. Additionally, the gift shop is offering books from their Black Artists Matter reading list. Prices vary from $3 to $25.

A full-proof way to give spirited cheer is to visit Angel's Envy, Evan Williams Bourbon Experience and Kentucky Peerless Distilling Co for special distillery treasures including limited release bottles, bourbon balls, apparel and other bourbon-centric gifts.

And a bonus gift that keeps on giving is gifting a museum or Belle of Louisville membership to friends or family so they can enjoy the experience over and over.

View photos of these items here.