Louisville Zoo to Host One of the Largest Lantern Festivals in the U.S.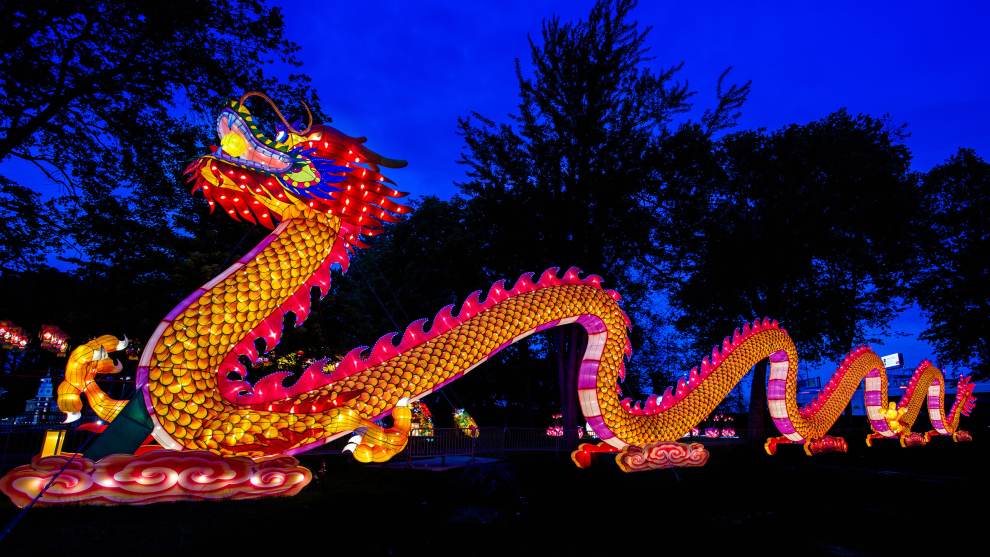 Wild Lights: Asian Lantern Festival opens March 5
LOUISVILLE, Ky. (Dec. 16, 2019) – The Louisville Zoo will play host to one of the largest Chinese lantern festivals in the nation. Wild Lights: Asian Lantern Festival opens March 5 and runs through April 25, 2020.
Wild Lights will be Louisville's first-ever outdoor Chinese Lantern Festival. Tickets are on sale now.
Guests will see the Zoo in an entirely new light as they walk a path featuring 65 larger-than-life illuminated displays made up of more than 2,000 silk-covered lantern pieces lit by more than 50,000 LED lightbulbs.
Wild Lights will include crowd favorites like a 131-foot-long dragon, a color-changing panda tree and an African savanna display. Visitors can also interact with some displays as they stroll through a two-story shark tunnel, take a selfie with glowing angel wings or sway on illuminated swings.
Creating a fully immersive cultural experience, the Festival will be rounded out by live Asian performances, handmade Chinese crafts and Asian cuisine.
Wild Lights is in partnership with Tianyu Arts & Culture, an international event design company. Tianyu has produced 56 lantern events in 38 cities welcoming over 258 million visitors.
Artisans in residence from Zigong city in Sichuan, China — where lantern festivals originated during the Tang dynasty (618-907 AD) — will arrive in Louisville in February 2020 to begin crafting displays using traditional techniques.
The event is wheelchair and stroller friendly on a paved path. It takes place Thursday through Sunday nights from 6:30 to 10 p.m. March 5 through April 25. It will run every night the week of March 30 through April 3 for Spring Break.
Louisville Zoo members can purchase tickets in advance online (until 5 p.m. day of the event) for $15.50 for adults, children and seniors (60+), and $18.50 at the Zoo's admission windows. Non-members can purchase general admission tickets in advance online (until 5 p.m. day of the event) for $18.50 for adults, children and seniors, and $20.50 at the Zoo admission windows. Children 2 and under are free. Family four-pack pricing is available for $50 for members and $60 for non-members in advance online only; family four-pack ticket buyers must enter the event together. There is a $5 parking fee. Group rates are available for 15 or more for $16.
For more information, visit WildLightsLouisville.com.
end