Louisville Wins An "Oscar of Digital Marketing"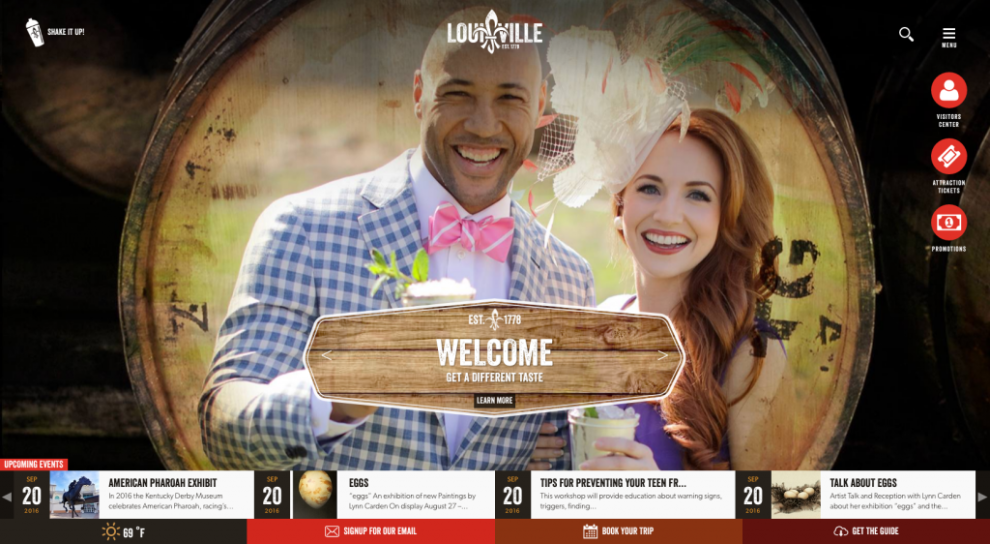 Newly launched tourism website wins international Gold Adrian Award
LOUISVILLE, Ky. (November 22, 2016) – The Louisville Convention & Visitors Bureau was recognized for its excellence in digital marketing by the travel and hospitality industry for its recently re-launched website GoToLouisville.com. The LCVB won a 2016 Gold Adrian Award for Website User Experience from the Hospitality Sales & Marketing Association International (HSMAI).
The website was submitted by Tempest Interactive Media who spent the last year working with the LCVB's staff to craft a new site to support the evolution of the city's brand that was unveiled in July in partnership with local agency Bandy Carroll Hellige.
Tempest was tasked with building a website that served not only the leisure visitor experience, but also conveyed a strong brand image to potential convention clients across several markets. The site also needed to strategically showcase the many different hospitality partners from hotels to attractions to special events.
The new website is fully responsive, delivering an excellent user experience across devices and browsers. Other new features include: large format photography, streaming HTML5 background video, Google AMP and Uber integration. A new "experience builder" tool completely reinvents the itinerary builder experience. Users can "shake it up" by personalizing their travel profile: who they are traveling with, what their interests are, and their chosen dates of travel. The recommendation engine driven by CRM then provides the user with personalized suggestions to help plan their visit integrated with direct booking links to partners.
Said Gregg Shapiro, President & Chief Creative Officer of Tempest Interactive Media, "Louisville is a vibrant, authentic, spirited city with friendly residents, good food, and world-famous bourbon. Over the past several years, Louisville has evolved significantly as a city, and the LCVB wanted to embrace emerging elements of the community's brand such as culinary tourism and bourbonism.
This project was truly a collaborative effort with the teams at the LCVB and Tempest working together to provide a look and web experience that captured Louisville's sophisticated and authentic Southern feel. We are thrilled to see GoToLouisville.com recognized for its cutting-edge design and user experience."
About the HSMAI Adrian Awards
The Adrian Awards began in 1957 and consider entries from every segment of the travel and hospitality marketing industry, including hotels, airlines, cruise lines, car rental companies, destinations and credit card companies, among others. Winners are selected from a field of more than 1,200 entries by senior industry and media experts. For more information, visit adrianawards.com.
About the Louisville Convention & Visitors Bureau
Since 1968, the Louisville Convention & Visitors Bureau's (LCVB) primary goal has been to enhance the city and county's economy through tourism development - to promote and sell Louisville as a destination for conventions, trade shows, corporate meetings and pleasure and business travel on a worldwide basis. The LCVB was one of the first Destination Marketing Organizations to become accredited in 2006, by the independent, international standards program developed by the Washington, D.C. based Destination Marketing Association International. Louisville hosts more than 24 million visits annually for an estimated economic impact of $1.6 billion which supports 36,000 local tourism-related jobs.