Louisville Tourism Emerges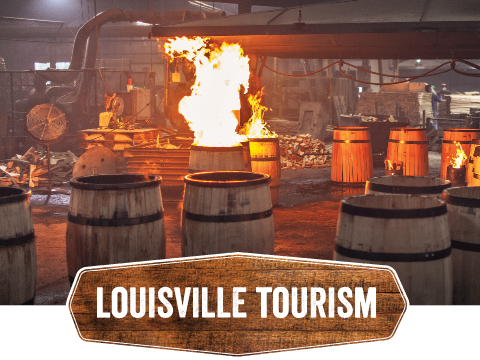 Louisville CVB Celebrates Name Change During Milestone
LOUISVILLE, Ky. (June 28, 2018) — As the Louisville Convention & Visitors Bureau celebrates a 50-year milestone of marketing the city, the organization is also looking towards the future with a name change to Louisville Tourism.
The new name coincides with unprecedented tourism development and reflects the economic growth the hospitality industry generates for the city. An expanded downtown convention center, ongoing hotel development and renovations, a growing bourbon district and new attractions are meeting the demands of the more than 16.4 million visitors coming to Louisville.
On July 8, 1968 the current iteration of Louisville's tourism marketing agency was formed as "commission" with a dedicated funding source by the Kentucky General Assembly. Though previous organizations and booster groups from as early as the 1910 can be traced to promoting visitation to the city in various forms, the "Louisville and Jefferson County Convention and Visitors Bureau" legally began operation on this date under a 7-member board funded by a "hotel and motel room tax to promote convention and tourism business."
Said Louisville Tourism President & CEO Karen Williams, "Though the operating name of our organization has changed several times since 1968, our mission has not. We exist to grow Louisville's economy through tourism in its many forms from conventions and meetings to group and leisure travel."
Williams went on to say that every citizen shares the responsibility of welcoming guests to our home and thus the community plays a part in the success of the destination. "On the occasion of our 50th celebration, we want to recognize the work of our entire industry and our local community by simplifying what we call ourselves."
Louisville Tourism offers several resources for the community to stay engaged and tools for hosting their own guests. In addition to a full-time Louisville Visitor Center open daily at 4th and Jefferson Streets, Louisville Tourism is launching two new website features to enhance local tourism efforts. A new jobs portal will curate hospitality industry openings and career path information for the tourism professional. Another portal will offer complimentary speakers to groups on topics from hosting a family reunion to how to utilize visitor resources. Both are available at www.gotolouisville.com.
Some other 50th milestones this year:
The first U.S. astronauts orbited the moon
Mattel introduced Hot Wheels
The computer mouse debuted
Greg Fischer is currently serving as Louisville's 50th Mayor
###