Louisville Stands Out on Lonely Planet's Top 8 for Fall Colors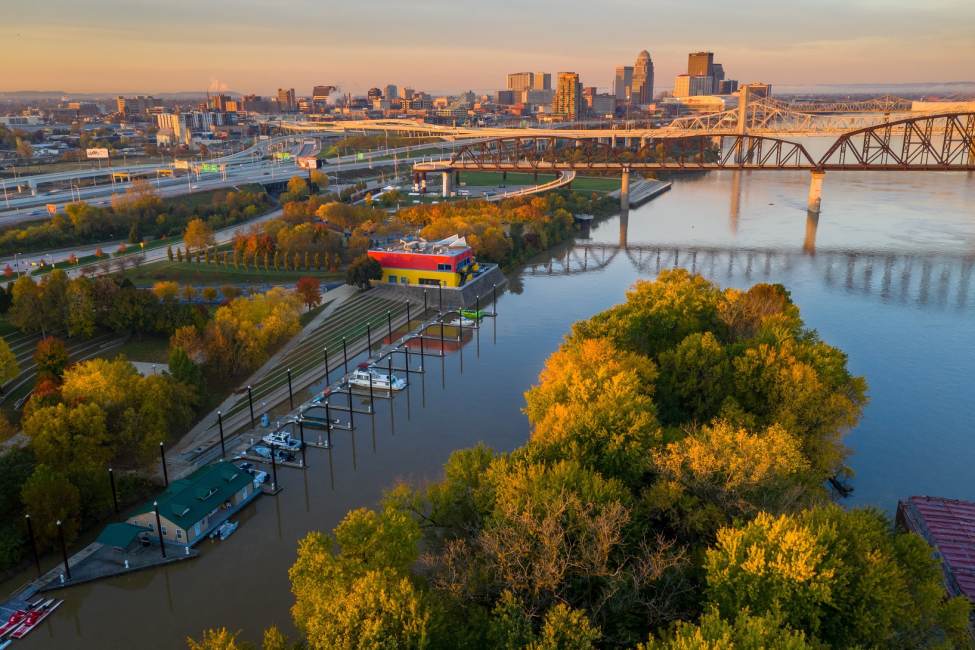 Round-Up of colorful and spooky fun
LOUISVILLE, Ky. (October 2, 2020) – With Lonely Planet listing Louisville in this year's " Top 8 Destinations for Fall Colors in the U.S.," visitors can take in the beauty of fall's colors around Louisville's many parks, pedestrian Big Four Bridge and Old Louisville among other sites. When the sun sets, you can still make plans for Halloween in Louisville this season with a variety of events to scare (or not)- if you dare.

Actor's Theater "Dracula" radio performances (Virtual)
Now through November 1, join the hunt for the world's most infamous vampire. Inspired by master of suspense Orson Welles's innovative broadcast, this electrifying listening experience comes to bloodsucking life with the talents of Actors Theatre's creative team, in collaboration with award-winning radio professionals. Tune in for a spine-chilling trip to Transylvania that you won't soon forget.

Belle of Louisville: Boo Halloween Cruise
Get ready for some Halloween family fun on October 31 aboard the historic Belle of Louisville. Encompassing a 2-hour sightseeing river cruise to enjoy Halloween festivities on the water. Children's activities include a costume parade, games and candy. Advanced tickets for the event are recommended, sightseeing cruise only.

Bernheim Arboretum and Research Forest
With over 16,000 acres of land to roam, there is a Fall adventure waiting for everyone in this stunning arboretum and forest located just south of Louisville. Forty miles of hiking and biking trails are available through the knobs, valleys, ridges and hollows of this Frederick Law Olmsted planned park. However, you only need to walk 2 miles to see the real stars of Bernheim, the Forest Giants created by Danish artist Thomas Dambo. These three larger-than-life sculptures are temporary fixtures at Bernheim, but a must-see when venturing out this Fall. Advanced reservations are required at this time so head to their website to start planning your visit.

Cave Hill Cemetery
A beautiful 296-acre Victorian era arboretum and burial ground that offers beauty, history, and plenty of space to stretch your legs. As the city's only accredited arboretum, visitors will be amazed by the estimated 6,000 trees throughout the cemetery. No bikes are allowed in Cave Hill, but self-guided tours are available 7-days a week, 8am – 4:45pm. Among the vast canopy of fall foliage, you will also the final resting place of many Kentucky icons, including Colonel Sanders, Muhammad Ali, George Rogers Clark, and Pappy Van Winkle.

The Conrad-Caldwell House Museum
Haunting: A Lamplit Tour of Victorian Mourning - as the sun begins to fade, and the shadows grow longer, the staff of the Conrad-Caldwell House invite you to tour the home, guided only by the soft glow of lamps that illuminate the 10,000 sq. ft. home. The veil has lifted, and the home is draped in traditional Victorian mourning. Learn of mourning traditions practiced during Louisville's gilded age, the many deaths that occurred throughout the home's history, as well as the lingering spirits who refuse to leave Louisville's castle.

Old Louisville's haunted scavenger hunt - starting October 16, grab your friends and family and explore the historic Old Louisville neighborhood and the stories hidden within. This go-at-your-own hunt starts at the museum Friday-Sunday between noon and 4pm. Participants who finish the hunt will receive a t-shirt and water bottle while supplies last.

Frazier History Museum: Poe 2.0 – a Fall Fun Experience at the Frazier (Virtual)
Learn about the life and times of Edgar Allan Poe, the reigning sovereign of all things spine-chilling, and how he became an icon in American literature and an icon in popular culture along the way. Experience a virtual tour of the Frazier's spookiest artifacts and make connections to Poe's life and legacy. Watch a brief dramatic reading of some of Poe's most iconic poetry by one of our talented teaching artists and participate in a Q&A about Poe, the Frazier's theatre program and the experience of working with Poe's family to curate last year's Beyond the Raven: the Poe You Don't Know exhibit. Held October 22 at 2:30pm, this special virtual educational program is recommended for students in grades 5-12.

Jack O'Lantern Spectacular
Once the sun sets, one of the city's most lauded attractions comes alive, the ever-popular Jack O' Lantern Spectacular, returning this year as a drivable attraction to keep with public health safety guidelines. Returning for the eighth year, light up your night at Iroquois Park featuring over 5,000 of professionally carved jack-o-lantern grouped in themed scenes and set to music. Runs October 1-November 1.

Kentucky Derby Museum: Horses & Haunts Tour
Get into the spirit of fall on this 75-minute evening tour. Go back in time while hearing stories of legends and lore as you are guided from the Kentucky Derby Museum to the sixth floor of Churchill Downs Racetrack. Horses & Haunts tours will be held on Wednesdays in October, not recommended for children under 13.

Louisville Slugger Museum & Factory
The 5th Annual Home Run Halloween returns with special candy treats and half-off admission for kids on Sundays in October. The world's largest vampire stake re-emerges for the fun as the 8-foot-tall stake was crafted at the factory. Though the stake will have vampires shaking in fright, guests can pose with this marvel for a delightfully frightful photo-op. Guests can also learn about the spooky history of the building and hear about spine-tingling paranormal encounters employees have had in the museum during Ghost Stories of Louisville Slugger Museum & Factory.

Louisville Zoo: Boo at the Zoo
If scary is no fun for your little ones, then don't miss the sweetest party in town. Experience the Zoo magically transformed into a living storybook with costumed characters and trick-or-treating for kids 11 and under. Held October 1–4, 8–11, 15–18, 23-25 & 29-30

Waverly Hills Sanitorium: Haunted Halloween Guided Tours
A former sanatorium from the early 1900's used to house tuberculosis patients, now a historic building for curious guests and ghost tours. This year visit this haunted thriller not for the faint of heart. You've heard all the stories, now watch them come to life and hear them for yourself. Halloween tours held October 2-31 on Fridays and Saturdays.