Louisville Leads U.S. in Yelp's List of Top Drag Brunches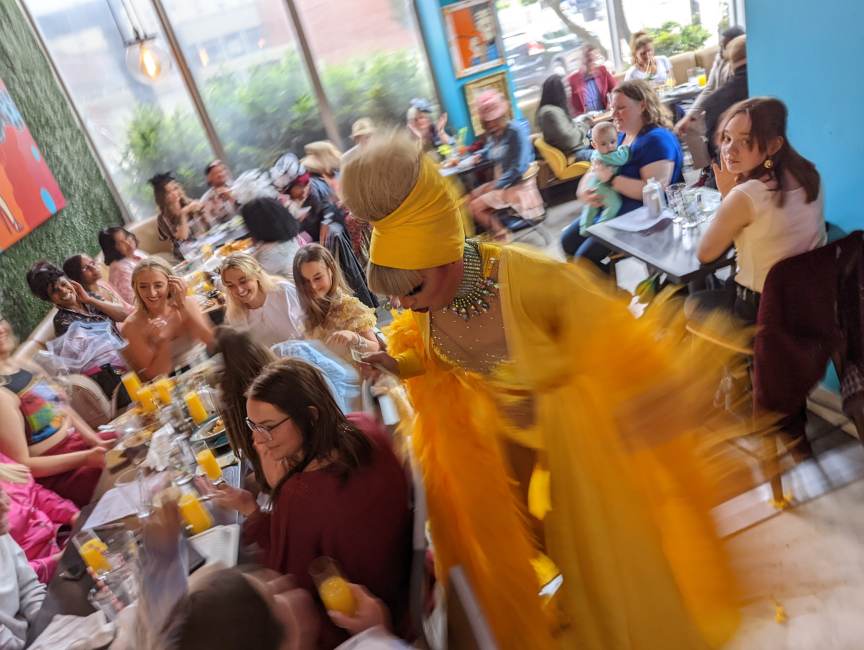 Three Louisville Restaurants named to list of Top Drag Brunches Across the U.S.
LOUISVILLE, Ky. (June 9, 2022) – Just in time for National LGBTQ Pride Month, three Louisville restaurants have been named to Yelp's 2022 list of "Top Drag Brunches Across the U.S." As the only city in the top 25 with three mentions, Louisville leads the pack, edging out prominent LGBTQ destinations like New York City, Miami, and Chicago.

Yelp curated the list by identifying businesses in their restaurants category with a large concentration of reviews mentioning "drag brunch", then ranked those spots using a number of factors including the total volume and ratings of reviews. Louisville's mentions include CC's Kitchen squeezing in to the top 10 at #9, The Hub Louisville coming in at #12, and Le Moo ranking #14.

Opening in early 2020, CC's Kitchen is known for its over-the-top food dishes, and now its stellar line-up of performances and entertainment. "Drag brunches at CC's are a natural extension of what we try to do every time we open our doors," says CC's owner and Chef Corey Milliman. "Creating a safe space for anyone who walks in, making them feel welcome and a part of something, is a way to embrace what makes me, my staff and our food so unique."

Daniel Cole, who is the Event Producer of Hard Candy Productions and Le Moo Drag Brunch has been producing drag events at Le Moo since its inception in 2017. The weekly events include a buffet brunch and are often themed around popular artists, movies, or musical genres. Special guests from television's RuPaul's Drag Race and Dragula are also mainstays in the entertainment offered.

"We started as a monthly event, quickly became bimonthly, then weekly. Currently, we do two shows every Saturday and Sunday. We have an incredible cast of regular performers who contribute so much talent and creativity to the shows," says Cole. Performances from the events have also become a social media sensation, receiving 1 million+ views on social platforms like TikTok.

Louisville was the first city in Kentucky, and one of the first cities in the South to pass LGBTQ anti-legislation laws when enacting its LGBTQ Fairness Ordinance in 1999. The city has also received a perfect score of 100% on the Human Rights Campaign's Municipal Equality Index every year since 2015.

"Louisville has always been known for amazing drag shows and now our city is getting the recognition it deserves," says Talmage Collins co-owner of The Hub Louisville. "We started hosting drag brunches in 2018, but recently partnered with one of Louisville's favorite drag queens, Aubrey Jae, and that has been a game changer." The Hub's drag shows aim to benefit the University of Louisville's LGBT Center.

The three restaurants join other Yelp standouts, Big Bar and Chill Bar, who both made the online review company's 2021 list of "Top 100 LGBTQ+ bars across the US." You can find Yelp's full list of the Top Drag Brunches in the U.S., here.

Visitors can learn more about Louisville's LGBTQ scene by visiting www.gotolouisville.com/lgbtq. For additional information on restaurants, attractions, and places to stay, use Louisville Tourism's annual Visitor Guide to help plan an itinerary around Louisville's top experiences.