Louisville Hosts 6th Largest U.S. Tradeshow This Week More Than 15,000 Expected to Attend GIE+EXPO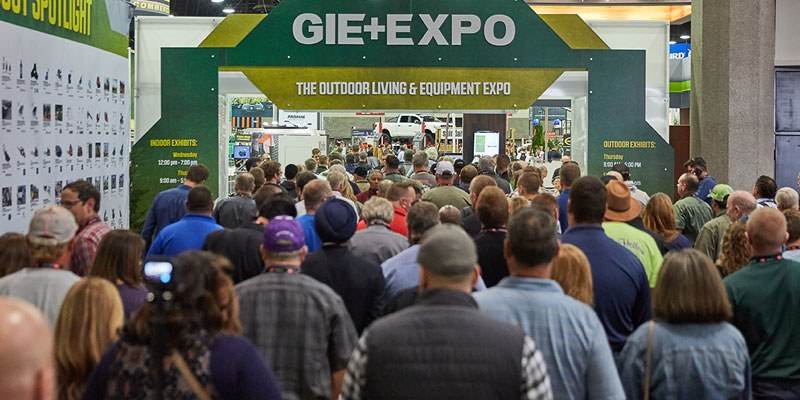 Attendee registration numbers are trending well with over 15,000 participants hailing from all 50 U.S. states and 54 countries expected to attend this year's event.
LOUISVILLE, Ky. (October 18, 2021) – The annual Green Industry and Equipment Expo (GIE+EXPO), along with the co-located Hardscape North America (HNA), will make its return to the Kentucky Exposition Center on October 20 – 22. This is the largest tradeshow for outdoor power equipment, lawn and garden equipment, light construction and landscape equipment.

Attendee registration numbers are trending well with over 15,000 participants hailing from all 50 U.S. states and 54 countries expected to attend this year's event. Nearly $17 million ($16, 574, 378) in estimated economic impact is expected from this show.

Louisville's hotel occupancy is seeing the benefits of the trade show with an estimated 74% overall city occupancy projected for October 20 and 21 - with the highest penetration at downtown properties as nearly 100% of hotel inventory is being reported as sold over those two nights.

Returning after a year's hiatus due the coronavirus pandemic, the 2021 show is making a roaring comeback with more than 1,000 exhibitors expected, covering more than 675,000 sq. ft. inside the Kentucky Exposition Center, as well as the 20-acre outdoor demonstration area, which is a popular feature of the show that offers attendees an opportunity to compare products and try them before buying them.

The show also will feature live drone training, a UTV test track and a 70 foot tree erected in the Freedom Hall arena for tree training. The tree is being donated by Louisville's historic Cave Hill Cemetery and Arboretum for the purpose of education.

As an active cemetery, and a level II accredited arboretum, Cave Hill constantly monitors and cares for their canopy, identifying trees that have died, are in decline or pose a risk to persons or property to be removed. This year, a green ash tree from the cemetery's property will be moved into Freedom Hall arena providing the unique opportunity to offer the climbing demonstrations indoors. The arena's ceiling height is over 60 feet tall and stadium-like seating, coupled with a Jumbotron video display, gives spectators an up-close view of demonstrations with the tree and climbers in action.

OPEI and its education arm, The TurfMutt Foundation, is proud to announce once again they are hosting Lucky's Mutt Madness, a national dog adoption event at the expo to benefit the Kentucky Humane Society (KHS). At the last Lucky's Mutt Madness, nearly every dog available found a home. During this week's event, the TurfMutt Foundation will donate a $10,000 check to KHS to support their good work in animal rehabilitation, rescue and adoption.

Attendees will get the opportunity to experience Louisville's attractions and entertainment scene with a sponsored evening at the Kentucky Derby Museum and several free concerts at Fourth Street Live! throughout the week.

"Louisville is ready to safely welcome back GIE+EXPO attendees to meet at our GBAC certified Kentucky Exposition Center, one of the first in the state to receive this gold standard in disinfection and cleaning procedures. We're excited to showcase the city's updated hotels, restaurants and bourbon tourism destinations to new and returning attendees," said Cleo Battle, President & CEO of Louisville Tourism.

Press note: GIE+EXPO is hosting a ribbon cutting and open house Tuesday, October 19 from 5-6:30pm at 209 East Main Street. OPEI will unveil a trade show rebrand and retool for the 2022 tradeshow, along with the commitment to Louisville by opening a new trade show and association office in downtown Louisville.

Media RSVPs are requested to Ami Neiberger-Miller at 703-887-4877 or Debbi Mayster at 240-988-6243.