Louisville Celebrates Major Sports Industry Award Presented to Largest U.S. Girls' Youth Basketball Tourney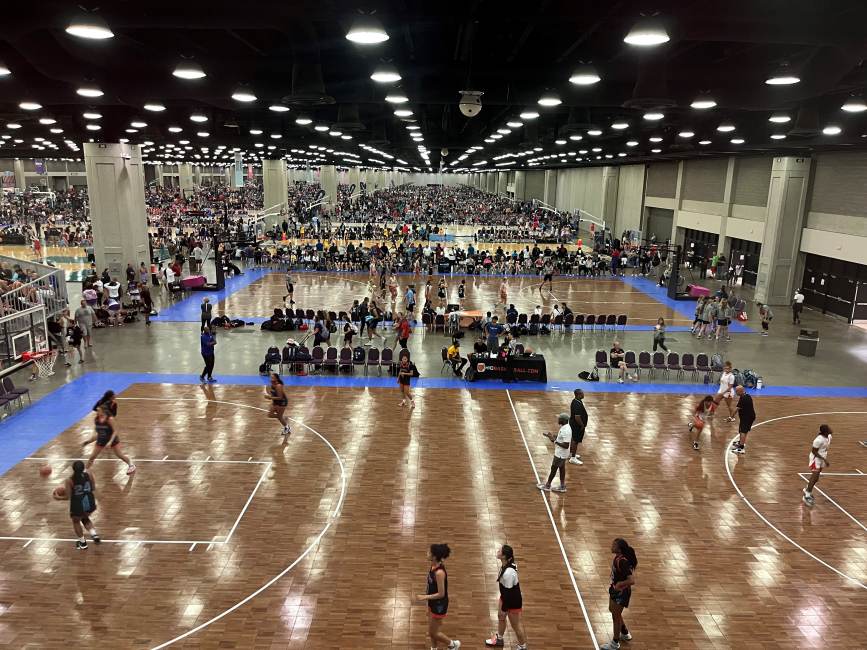 World's largest gathering of sports travel planners recognizes TFN Run 4 The Roses
LOUISVILLE, Ky. (November 1, 2022) – TFN's Run 4 The Roses, the largest girls' youth basketball tournament in the country was recognized by SportsTravel Magazine as the 'Best Amateur Event' in 2022. Hosted at the Kentucky Exposition Center (KEC), the July 5 -8, 2022 tournament smashed attendance records, with more than 40,000 female athletes, spectators and coaches representing 1,400 teams hailing from 48 states and four international countries.

As the host site, KEC utilized 84 courts, which officially cemented this year's Run 4 The Roses as the largest youth basketball tournament in history.

"We are so proud that Run 4 The Roses has become the cultural highlight of the girls' grassroots travel season. We're always looking for ways to grow and enhance the event in order to provide the best experience possible for our athletes and families," said Tucker Neale, Ohiobasketball President & CEO. "I want to thank our Louisville support system - the Louisville Sports Commission and Louisville Tourism team along with the Kentucky Exposition Center as they are all a huge part of our success."

Originally established in 2009 with only 29 teams, the tournament has experienced 13 years of growth and is a huge economic boon for Louisville's local economy. In 2022, the tournament resulted in $22.3 million in estimated economic impact (EEI) for the city. This past July, youth basketball events alone generated nearly $30 million and brought over 57,000 visitors to Louisville.

"Louisville has become an affordable and central hub for hosting youth amateur sporting events and we are especially proud to host the largest girls' youth basketball tournament in the country. KEC's ability to provide more than 80 basketball courts all under one roof is unparalleled and affords us the opportunity to host large-scale tournaments like Run 4 The Roses," said Cleo Battle, President & CEO of Louisville Tourism. "We are thrilled to be a part of growing this exposure tournament and congratulate Tucker and his team for this outstanding recognition."

"For several years, the Run 4 The Roses tournament has had a tremendous impact on our local economy and continues to provide an outstanding opportunity for girls to participate in a high-level exposure basketball tournament," said Karl F. Schmitt Jr., Louisville Sports Commission president & CEO. "We applaud Tucker on the well-deserved recognition and our team looks forward to working with Tucker and his team on future tournaments."

Sports media has taken notice of the rising popularity of girls' youth basketball with ESPN carrying Run 4 The Roses championship games live on ESPNU and ESPN+. However, Neale is outspoken about the inequities between girls' and boys' basketball, saying "we strive to break down barriers and explore what is possible for these girls while playing the game of basketball."

SportsTravel Magazine announced the winners of the 2022 SportsTravel Awards during the TEAMS '22 Conference & Expo honoring the best events, venue and host cities in the sports-event industry.