Local Discounts on Museum Row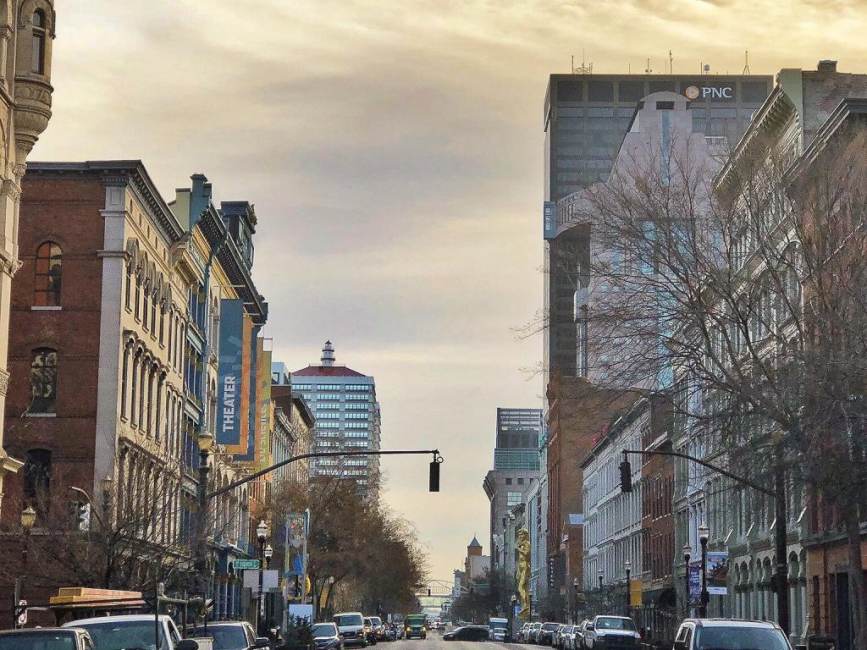 $5 February Returns for Four "Museum Row" Attractions
LOUISVILLE, Kentucky (January 25, 2018) — The Muhammad Ali Center, Louisville Slugger Museum & Factory, Frazier History Museum, and the Kentucky Center for the Performing Arts – all partners in downtown Louisville's Museum Row on Main -- are teaming up to offer $5 deals for Kentucky and Indiana residents throughout February. The Ali Center, Slugger, and Frazier museums will be offering $5 admission rates to locals throughout the month, and patrons of the Kentucky Center's SCENE at the Center will receive a $5 off restaurant orders of $50 or more.
To take advantage of the museum offer, guests must show proof of residency in Kentucky or Indiana, such as a driver's license or alternate I.D. while purchasing tickets. Others in the party will also receive the $5 admission, a substantial savings over $12 - $15 regular ticket prices. The offer cannot be combined with other discounts, and does not apply to special tours or events.
Frazier History Museum: The Frazier History Museum is where the world meets Kentucky and in February it's through outstanding exhibits and exciting programs. Family Gathering: Linda Bruckheimer's Kentucky celebrates the beautiful, heartbreaking, sometimes funny and always authentic photography of acclaimed photographer and native Kentuckian, Linda Bruckheimer. The Lewis & Clark Experience takes guests on an immersive and educational journey with the Corp of Discovery. A Valentine's Day themed Second Saturday program on February 10th tackles candy, cards and other crazy Feb' 14 traditions and on February 23rd our 25,000 Toy Soldiers come alive with a curated conversation and cocktail event celebrating W.Britain's 125 years in the Toy Soldier business.
Muhammad Ali Center: In January, the Ali Center began major renovations on its Lobby and Retail Store, both of which will provide the Center the opportunity to deliver a better overall visitor experience and more contemporary private event space. Additionally, the much needed upgrades will offer a fresh and modern appearance to its retail store, while also supplying better functionality. A major part of the overall improvements will be a custom designed terrazzo floor in the Main Lobby, which will present a striking and welcoming impression upon entering the Center, and providing better durability for this high traffic area. During this estimated 3-month renovation period, guests must enter and exit the Center at the street-level Group Entrance. Visitors will still have access to the Center's award-winning exhibits and can still expect an excellent museum experience during Black History Month and beyond.
Louisville Slugger Museum & Factory: February marks the final month of Louisville Slugger Museum & Factory's exhibit, Ali & Aaron: United in The Fight. Muhammad Ali and Hank Aaron were both titans of the American sports scene, and have much in common as heroes who endured racism and faced down challenges with conviction. The original art installation explores the historic role both played in the fight for civil rights, and inspires guests to examine their own convictions and beliefs.
All three attractions are also members of Museum Row on Main, which offers seven exciting attractions within four blocks of Downtown Louisville's historic Main Street. In addition to the $5 February promotion, Museum Row on Main partners offer $1 off admission to guests who show a ticket stub from another member museum that charges admission. A deeply discounted combo admission called The Main Ticket is also available. For more information about the Main Ticket, click here.
The Kentucky Center for the Performing Arts: Before enjoying a performance at The Kentucky Center, celebrate the culinary arts at SCENE at the Center! The Kentucky Center's small plates eatery offers bar and food service two hours prior to most performances in Whitney Hall and the Bomhard Theater. Throughout February, just mention "Museum Row on Main" and receive $5 off orders of $50 or more. Take a look at SCENE's menu here.
About Museum Row on Main:
Museum Row on Main (MROM) is a partnership of unique attractions located within a four-block area surrounding historic West Main Street in downtown Louisville, Kentucky. MROM's partners are: Evan Williams Bourbon Experience, Frazier History Museum, Kentucky Center for the Performing Arts, Kentucky Museum of Art & Craft, Kentucky Science Center, Louisville Slugger Museum & Factory and Muhammad Ali Center. For more information and links to partner websites, visit museumrowonmain.com.