Learn About Farm Distilling at Historic Locust Grove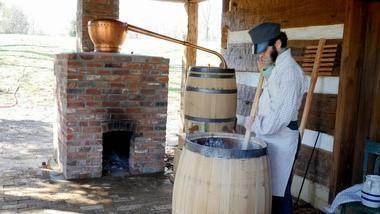 Opening Weekend is May 20-21
Experience the new hands-on exhibit for the first time and learn about the role of whiskey and brandy production in the early 19th century farm economy in the days before bourbon. Visitors will get to see a full-scale recreation of an early 19th-century small farm distillery up close. Steve Bashore, head distiller and director of historic trades at Mount Vernon, will be on hand to share his experiences and insights from his years immersed in real life recreation of early distilling techniques. Mr. Bashore will speak at 2:00pm on Sunday, May 21. Other historic trades demonstrations throughout the grounds; the historic house will be open for tours. Admission is $6. Ages 12 and under are free.
This facility does not produce alcohol or spirits.
Other upcoming events include Music in the Gardens featuring Lance Minnis
Thursday, May 25 6:30-8:30pm
Kick off the Summer Thursday Concert Series with a local favorite! Lance Minnis' love of music was rekindled in 2004 by the performances of The Clancy Brothers, and swiftly he started sharing music with friends around the campfire. Since then, Lance has delved into the heritage music of England, Scotland, Ireland, Canada, and America, from African American influences in mountain ballads to the English sea chanteys of New Orleans. Lance's show is an eclectic mix of music spanning continents and centuries, with a modern flair that reflects the musical tradition of collaboration. Admission: $5; $4 for Locust Grove members. Food, beer and wine available for sale.
The Summer Thursday Concert Series is held on the last Thursday of the months of May, June, July, and August. Enjoy music and camaraderie outdoors in a tranquil, historic setting. Individual concerts $5 or $4 for Locust Grove members. Season tickets $17 or $14 for Locust Grove members. Call 502-897-9845 for season tickets only; Tickets for individual concerts may be purchased at the door. Food, beer and wine available for sale at all concerts. Bring your own blankets and chairs!
Locust Grove
561 Blankenbaker Lane, Louisville, Kentucky 40207
502-897-9845 lghh@locustgrove.org