Kentucky Derby Festival 2022 Poster Unveiled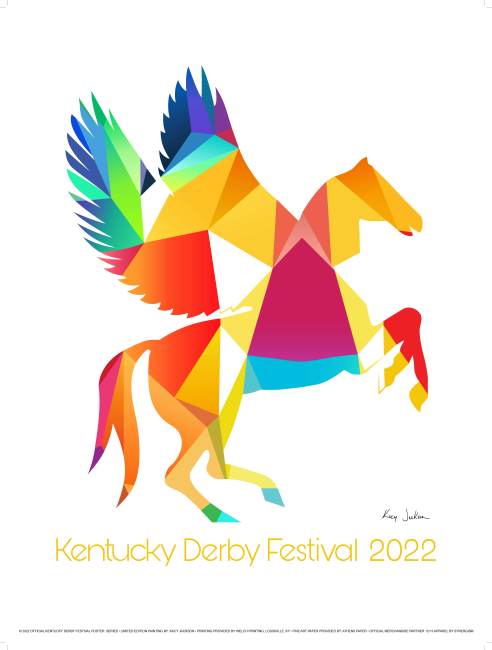 Annual pre-spring tradition returns showcasing local artist
LOUISVILLE, Ky. (February 7, 2022) – The Kentucky Derby Festival's official 2022 poster unveiling, an annual pre-spring tradition, is now available for purchase. This year's poster called "Together" was designed by Louisville artist Kacy Jackson, whose mission is to impact and inspire others through his art. It's the 42nd poster in the Festival's iconic poster series, which was launched in 1981.

"I wanted this year's poster design to represent the unity that stems from Derby Festival events," said Kacy Jackson. "The geometrical shapes and multicolored scheme overlaying the city of Louisville represent the diversity of people brought together by the Festival and the harmony it creates in our community."

Jackson is a Louisville native who became an internationally recognized artist driven by his passion and dedication. Founder of The Art of Kacy, established in 2017, he has made creative contributions to charitable organizations and public art. From small-scale paintings to large-scale murals, his many styles can be found in nearly every community throughout Louisville, as well as around the country.

The Festival's 2022 Official Poster and the 2022 Limited Edition are both available for pre-order. The Limited Edition of 500 signed and numbered posters retails for $50 and the Official poster is $30. Both versions can be pre-ordered and will be shipped after the public release on March 16.

More about Jackson can be found online at theartofkacy.com, as well as @theartofkacy on Facebook and Instagram. Fans can still purchase most of the previous artwork through the Festival's website at KDF.org.

Planning a trip to Louisville? Guests can use Louisville Tourism's annual Visitor Guide to help plan an itinerary around Louisville's top experiences. Travelers also can get attraction, lodging and dining assistance at www.gotolouisville.com along with information on the state's current covid-mitigation guidelines.