I Am Ali Festival Kicks Off On June 3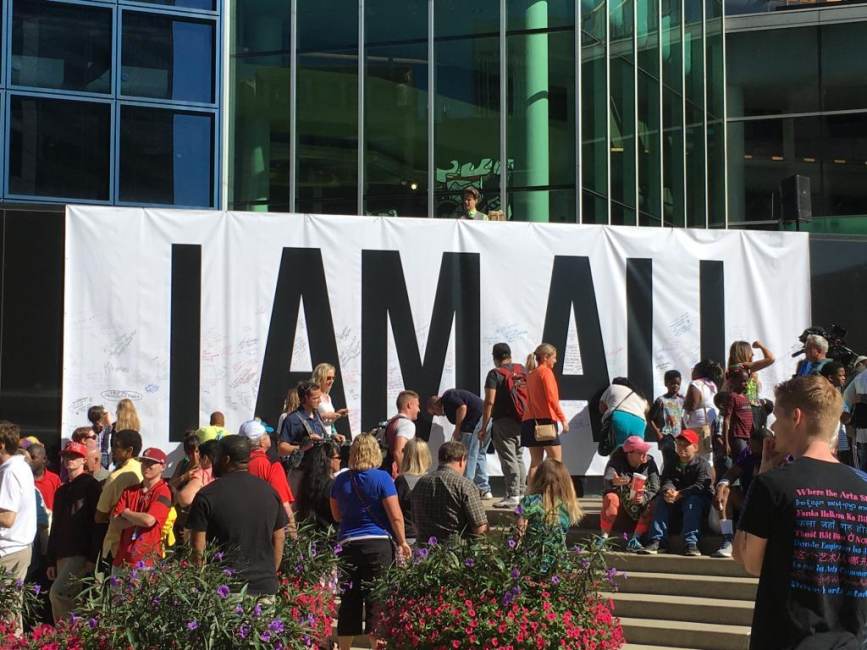 LOUISVILLE, Kentucky (June 1, 2017) — A six-week, community-wide "I Am Ali" Festival kicks off on Saturday, June 3rd, the one year anniversary of Muhammad Ali's passing, in Ali's hometown of Louisville, Ky. Throughout the festival, events will take place at the Muhammad Ali Center and around the city, and each week will highlight one of Muhammad Ali's "six core principles" of Confidence, Conviction, Dedication, Respect, Giving, and Spirituality.
In addition to the almost 70 different events and activities during the festival, the Muhammad Ali Center will host events each week during the festival. By week, these are:
Spirituality: June 3-10
Saturday, June 3 8:00 - 9:00 am: Multi-denominational memorial service on the Ali Center Plaza directly followed by a community bike ride to local Ali landmarks.
Friday, June 9 11:00 am - 3:00 pm: Working with local partners, the Ali Center will host a Youth Festival in celebration of Ali's life journey and fierce determination as an example to all children. Local arts and education organizations will provide booths and entertainment.
Saturday, June 10 10:00 am - 1:00 pm: The Ali Center will show Ali's memorial service video in its entirety in the Center's Auditorium. Limited seating available.
Giving: June 11-17
Thursday, June 15 8:30 – 10:00 am: Daughters of Greatness featuring Sportscaster Lesley Visser. Tickets available here.
Friday, June 16 11:00 am - 3:00 pm: The Ali Center will host a "Giving Festival" to celebrate Muhammad Ali's legacy of service to others. Visitors of all ages are invited to give back by participating in fun and inspiring service projects with local organizations. Visitors who participate in all service activities will receive discounted admission to the Center's exhibits. Details to come.
Respect: June 18-24
Friday, June 23 11:00 am - 3:00 pm: The Ali Center will host a Health and Fitness Festival, featuring fitness demonstrations, free health screenings, and healthy eating tips.
Saturday, June 24 7:00 pm at Freedom Hall: Real Deal Championship Boxing Series: Evander's Tribute to Ali. Tickets available for purchase here.
Conviction: June 25 - July 1
Monday, June 26 11:00 am - 1:00 pm: Network luncheon and discussion with Charles Dew, author of "The Making of a Racist"
Friday, June 30 5:15 - 8:00 pm: Visit the Ali Center for a special double-feature of two iconic films on the life and legacy of Muhammad Ali. For the first time ever, experience the "Double-Header" Film Screenings of "When We Were Kings" and "The Trials of Muhammad Ali."
Evening includes a small reception between screenings, and a Meet'n'Greet and Q&A with the film's directors:
Leon Gast, Director and Producer of the Academy Award-Winning Film, "When We Were Kings" (1996) and Bill Siegel, Director of Emmy Award-Winning Film, "The Trials of Muhammad" (2014). Tickets available for purchase here.
Dedication: July 2-8
Wednesday, July 5 5:00-8:00 pm: "Night at the Museum" Visitors can enjoy touring the Ali Center's 3 levels of award-winning exhibits at a discounted rate. Other details to come.
Confidence Week: July 9-15
Thursday, July 13, 7:30pm: The Ali Center, in partnership with Louisville Public Media's 90.5 WUOL, presents the modern-day premiere of a recently discovered string quartet by Florence Price. Price is generally considered the first African-American woman to be recognized as a symphonic composer. This free family event will feature both music and historical context, with musicians from the Louisville Orchestra, singers from Black Classical Artists of Louisville, and speakers Douglas Shadle (Vanderbilt University) and Eleanor McClellan (University of Northern Alabama).
The performance will also be broadcast live on 90.5 WUOL.
Ongoing Exhibits:
Breaking Barriers: Sports for Change: Temporary exhibit. Details available here.
Where Inspiration Takes Flight: Community Art Project in the lobby. Details available here.
A complete list of all "I Am Ali" festival events is available at www.gotolouisville.com/ali/.