Hosting the Largest U.S. Girls' Youth Basketball Tournament is a Slam Dunk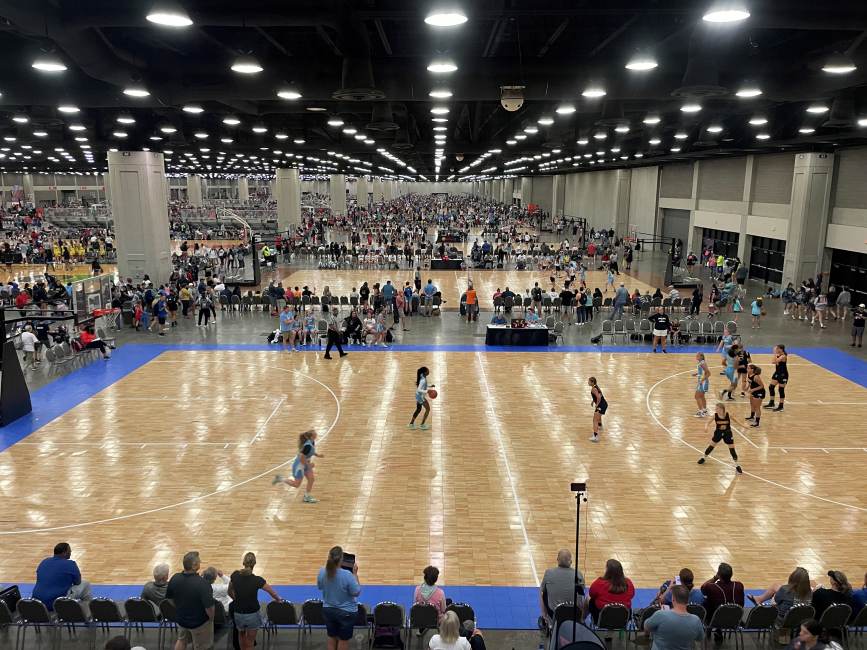 Louisville's six July basketball events generate $34M+ in estimated economic impact
LOUISVILLE, Ky. (June 29, 2022) – The largest girls' youth basketball tournament in the country is taking over the Kentucky Exposition Center (KEC) July 5 through July 8 when Run 4 the Roses returns to Louisville. This year's tournament is smashing attendance records, bringing together more than 40,000 female athletes, spectators and coaches representing 1,500 teams teams hailing from 48 states and four international countries. KEC will host the tournament utilizing 84 courts- officially cementing this year's Run 4 the Roses as the largest youth basketball tournament in history.

Originally established in 2009 with only 29 teams, the tournament has experienced 13 years of growth and is a huge economic boon for the local economy, resulting in $17.72 million estimated economic impact (EEI) for Louisville, with the potential for even more to be realized once the post-event attendance numbers are tallied.

Run 4 the Roses is fourth on Louisville Tourism's list for the year's top events by EEI and KEC is also hosting the July 10-12 Battle in the Boro, the corresponding male youth basketball tournament which is eighth on Louisville Tourism's 2022 top events list with $12.9M in EEI.
Sports media has taken notice of the rising popularity of girls' youth basketball with ESPN scheduled to broadcast the Run 4 the Roses championship games live on ESPNU and ESPN+ on Friday, July 8.

Run 4 the Roses isn't the only basketball tournament taking over the Kentucky Exposition Center in July. There are six tournaments scheduled, including:

- July 4-6 - Roses Rising Stars

- July 5-8 - Run 4 the Roses

- July 8-10 - Ballin' Under 1 Roof

- July 9 - Sneaker Wars

- July 10-12 - Battle in the Boro

- July 22-24 - Grassroots Showcase

During the course of July, basketball events alone will generate more than $34 million and bring 57,000 visitors to Louisville.

"Run 4 Roses has become the cultural highlight of the girls' grassroots travel season. With the addition of Rosesfest and The ESPN Family of stations now covering 3 of the championships live for the first time in the history of grassroots girls' basketball, this year will be unlike any other. We strive to break down barriers and explore what is possible for the girls playing the game of basketball." said Tucker Neale, Ohiobasketball President & CEO. "We're always looking for ways to grow and enhance the event in order to provide the best experience possible for our athletes and families."

The Kentucky Exposition Center hosts more than 30 sporting events annually – including volleyball, archery, cheer and dance, and martial arts– and continues to grow as a sports destination. To learn more about the facility or check its calendar of events, visit www.kyexpo.org.

"Our exhibit halls offer unparalleled space for full-size courts, which is why the Kentucky Exposition Center is known as the premier location for youth sporting events. In other locations, teams are forced to navigate between different venues scattered throughout the city but in Louisville and at the Kentucky Exposition Center, we can fit a record-breaking basketball tournament under one single roof," said David S. Beck, President and CEO of Kentucky Venues.

Looking to enjoy a sports-themed weekend in Louisville? Guests can use Louisville Tourism's annual Visitor Guide and to plan an itinerary around Louisville's top sports experiences including the Kentucky Derby Museum, Louisville Slugger Museum & Factory as well as the Muhammed Ali Center. Travelers also can get attraction, lodging and dining assistance at www.gotolouisville.com as well as catch Louisville's top things to do in July.