Horseracing's Black Heritage Showcased in Derby City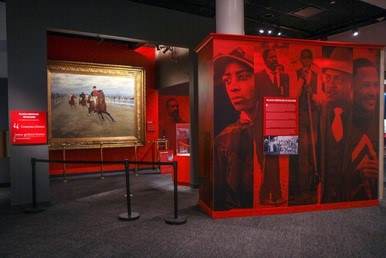 Black Heritage in Racing exhibit at Kentucky Derby Museum opens to the public March 29
LOUISVILLE, Ky. (March 26, 2021) – The Black Heritage in Racing exhibit at Kentucky Derby Museum opens to the public Monday, March 29.

The exhibit, a permanent display inside the Museum since 1993, documents the stories and contributions of Black horsemen in the sport of Thoroughbred racing. The Black Heritage in Racing exhibit has moved from the second floor to a larger and more prominent location on the first floor of the Museum. The new exhibit space is just under 930 square feet, which is more than 20 times larger than the previous exhibit space. This increased footprint allows the Museum to display more of its collection of artifacts pertaining to Black History in the sport, add new components such as oral history interviews and artwork, and provide visitors the best experience possible. The exhibit walks guests through Black Heritage in horse racing history, from the early days when Black horsemen dominated the sport, to the Jim Crow era that led to the exclusion of Black jockeys, and to modern times.

Guests can explore the stories of history-makers like Oliver Lewis, the first jockey to win the Kentucky Derby aboard Aristides in 1875. The story of Ansel Williamson, the trainer of Aristides, is also featured. Visitors can also learn about the career of one of the greatest jockeys of all time, Isaac Murphy. Born an enslaved person, he went on to win three Kentucky Derbys, and won an estimated 44% of his races, compared to the average jockey today winning around 20%. Many more stories are shared, including names from the modern era, like hip-hop star MC Hammer, who had a 3rd place finisher in the 1992 Kentucky Derby and won the Kentucky Oaks in 1991 with Lite Light. Additionally, guests will learn about Greg Harbut and Ray Daniels, the owners of Necker Island, a horse who contended for Kentucky Derby 146. Harbut's great-grandfather was the groom to the legendary horse Man o' War.

Black Heritage in Racing Collection

The Black Heritage in Racing Collection at the Museum features several components, including the expanded exhibit, a new tour that launched in December, and Proud of My Calling, a monthly, 60-minute live acting performance that brings the stories of Black horsemen to life. Proud of My Calling launches Saturday, March 27 and is part Louisville's Unfiltered Truth Collection.