Hip Louisville Neighborhood Welcomes New European-Inspired Hotel Eatery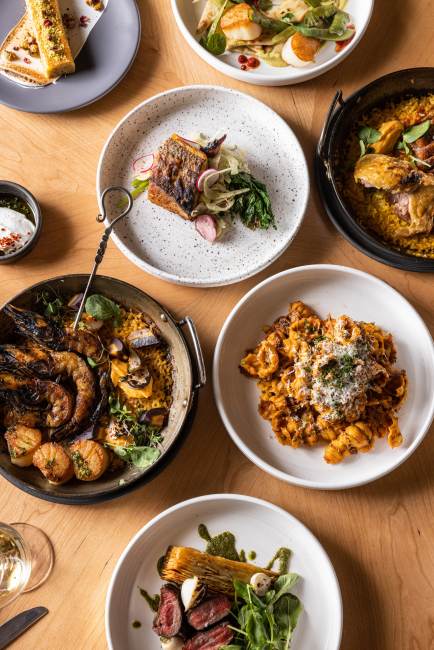 Paseo has strolled into the Louisville Highlands neighborhood
LOUISVILLE, Ky. (June 29, 2023) — Paseo has strolled into Louisville's Highlands neighborhood, well-known for its eclectic vibe and Restaurant Row. Paseo, which describes a leisure or social walk, is a wood-fired cookery featuring thoughtfully sourced dishes from local purveyors inspired by the flavor profiles of Southern Europe. The hotel is the first phase of the highly anticipated Myriad Hotel project opening later this summer with 65 guest rooms alongside an outdoor pool, poolside bar and a café that will moonlight as a bar in the evenings.

The 154-seat metropolitan-styled restaurant is set in an indoor/outdoor environment with a culinary team led by Jeremy Frederiksen, who serves as Executive Chef, and is supported by Chef Mike Wajda, the Director of Culinary at the Common Bond Hotel Collection. The restaurant is open serving dinner Tuesday – Saturday until the Myriad Hotel opens in August 2023 and will then offer lunch and dinner daily.

Guests will be able to choose from a variety of seating options including indoor bar seating of up to 20, indoor/outdoor lounge seating of up to 34, poolside chef's lounge seating of up to 46 and indoor table dining up to 54.

Inspired by the opulent flavors of Middle Eastern and Mediterranean cuisine, plates feature fresh ingredients sourced from over 25 different local purveyors with homemade pasta, land and sea paella dishes, traditional entrées and sharable sides.

The cocktail program at Paseo pays homage to European drinking trends and traditions while exploring new techniques to facilitate new experiences and will feature partnerships with many local distilleries, including a private select from Makers Mark.

Beginning in August, Paseo will open daily for dinner and offer lunch service from 11 a.m. to 2 p.m. Monday – Friday, and brunch from 9 a.m. – 2 p.m. Saturday and Sunday. To make a reservation, please call (502) 632-7935 or book online with Open Table.

Paseo is located at 900 Baxter Avenue. To view menus or learn more about their offerings, please visit their website or follow on Instagram and Facebook.

Planning a visit to Bourbon City? Guests can use Louisville Tourism's annual Visitor Guide to see the city's top attractions, culinary hotspots and bourbon distilleries. Travelers also can get attraction, lodging and dining assistance at gotolouisville.com.