Fan Festival a Highlight of Breeders' Cup Championship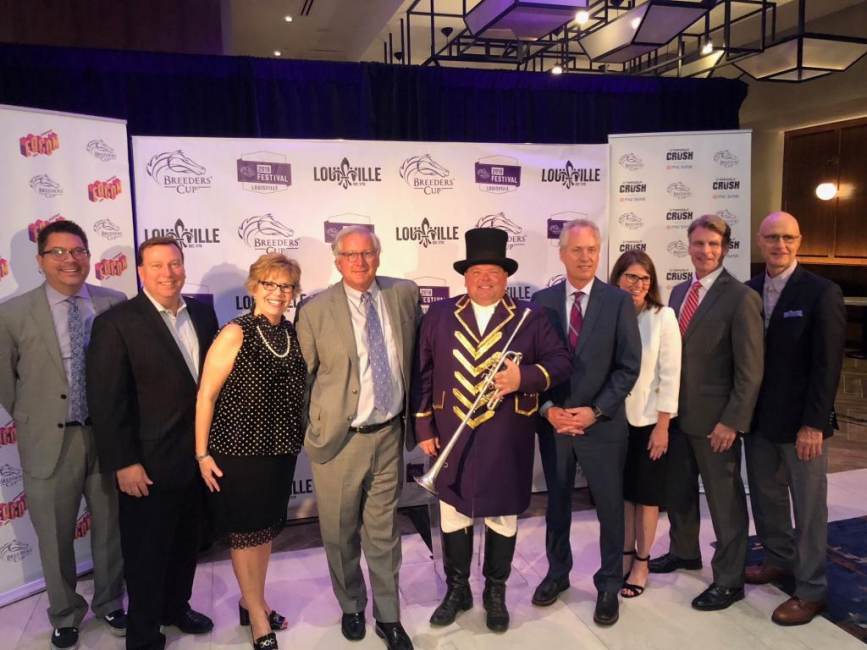 Marking approximately 70 days from the 35th Breeders' Cup, the Louisville Breeders' Cup Festival officially announced their lineup of events set for October 28-November 10.
LOUISVILLE, Ky. (August 23, 2018) – Marking approximately 70 days from the 35th Breeders' Cup, the Louisville Breeders' Cup Festival officially announced their lineup of events set for October 28-November 10. The events corelate with the week-long celebration of the Breeders' Cup World Championships at Churchill Downs, November 2-3. In conjunction with this announcement, the Festival also launched its official website, which includes a comprehensive listing of all Festival activities.
This is Louisville's 9th time hosting Breeders' Cup, with 2011 being the most recent. During the press conference, Craig Fravel, President & CEO of Breeders' Cup said, "the hospitality and enthusiasm of the city and state of Kentucky for horses is what I'm looking for from our partner cities."
Karen Williams, President and CEO of Louisville Tourism said, "Louisville has a long tradition of being one of the most hospitable communities in the world and this November, partly because of the partnerships and events created by the Louisville Breeders' Cup Festival, we'll be ready to roll out the 'purple carpet' and celebrate this terrific international event."
Highlights of the festival include Equestricon, Topgolf Crush and Fourth Street Live! concerts. Many festival events are free to the public while others will require tickets. Fans are encouraged visit the Festival website often, as additional events will be added as it gets closer to Breeders' Cup Week.
Equestricon kicks off the Festival on Oct. 29 at the newly-renovated Kentucky International Convention Center. This two-day conclave is a premiere horse racing lifestyle event designed to celebrate the sport of racing with its fans. It's an international horse racing convention, fan festival and trade show all rolled into one.
Topgolf is bringing its iconic experience, Topgolf Crush to University of Louisville's Cardinal Stadium October 31-November 10. Topgolf Crush will light up the night with glowing targets on the field, using Toptracer technology to track and score golf shots.
In addition to these two anchor events, the Festival will welcome the Spazmatics and Burning Las Vegas to the stage at Fourth Street Live! Friday and Saturday night of Breeders' Cup Week. A Thursday evening concert at Fourth Street Live is also being arranged.
Honoring one of the most successful trainers in Breeders' Cup history, D. Wayne Lukas will be presented with the Breeders' Cup Sports & Racing Excellence Award and the Kentucky Derby Museum will unveil their completed renovations at a grand re-opening party on October 31.
The Festival also will host a youth photo contest for area middle school and high school students, called Hoof Prints, and a Breeders' Cup Pastry Challenge for the Baking, Pastry and Culinary Students at Sullivan University.
Fans can view the Breeders' Cup Festival events and purchase tickets for selected activities at www.breederscupfestival.com. Overnight rooms can be booked at various hotels including the Marriott Louisville Downtown, the official fan hotel of the 2018 Breeders' Cup World Championships.
For those planning a visit to Louisville for Breeders' Cup, Louisville Tourism provides several planning resources, including suggested itineraries at GoToLouisville.com/myexperience, the monthly Lookin' at Louisville video series, a searchable list of events at www.gotolouisville.com, a free Louisville Visitors Guide and complimentary hotel booking service via 1-888-LOUISVILLE.