Experience Louisville's 'Wonderful World of Thunder'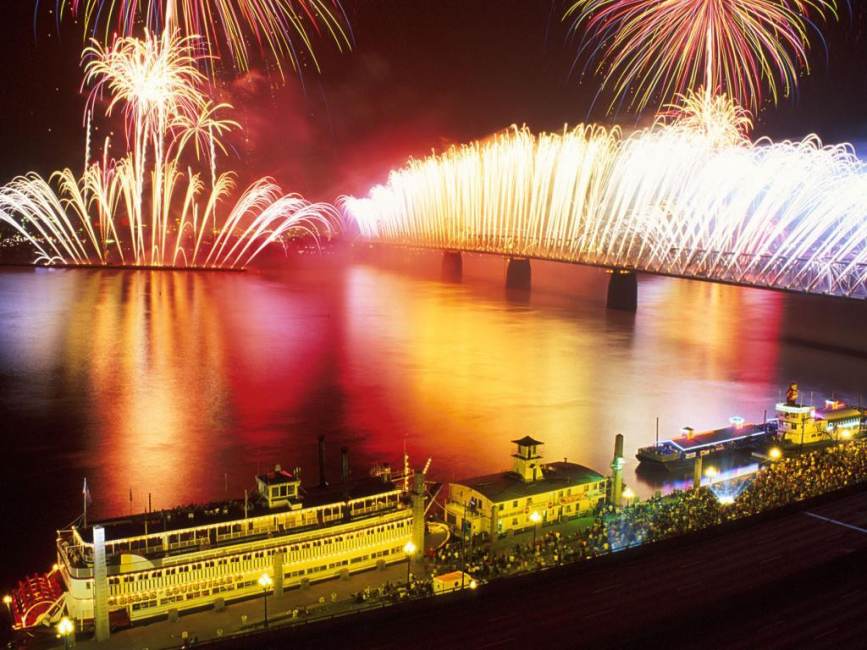 Family friendly airshow & largest fireworks show in North America is just 50 days out
The magic that lights up Thunder Over Louisville celebrates 30 years of adding color to the city's Ohio River banks. The upcoming festivities, marking the kick-off to the Kentucky Derby season, are just 50 days away.
The April 13 show is a family-friendly event, drawing several hundreds of thousands of spectators to watch not only the largest fireworks display in North America, but also a packed airshow featuring the U.S. Army Golden Knights, the KC Flight Formation Team, the 6-ship Trojan Thunder Team, Younkin Airshows and many more. The evening fireworks show, themed The Wonderful World of Thunder, will be set to a melody of musical scores, including soundtracks from various fairytale and animated movies.
Downtown Louisville has many options to see both shows. Some of the best bets to get a front row seat include:
Kentucky Derby Festival's Thunder Rooftop Party featuring a VIP tent, catered meals, open bar and private amenities. Information and tickets: www.ThunderOverLouisville.org.
Kentucky Science Center's ThunderBlast with exclusive food trucks and indoor restrooms. Visit https://kysciencecenter.org/news/thunderblast for additional information.
Thunder Fun-der at KFC Yum! Center offers an indoor home base with access to restrooms, buffet, cash bar and a DJ. Parking passes are available for purchase. For tickets visit: https://www.kfcyumcenter.com/events/detail/funder-viewing-party
Louisville's Waterfront Park is completely free, providing expansive views within the 85-acre public park. As long as you have a view of the city's 2nd Street Bridge, then you have a great view of Thunder's signature one-mile "waterfall" effect off the bridge.
Louisville offers nearly 6,000 hotel rooms downtown, most within walking distance of the Thunder action. In addition to the air and firework shows, Louisville's Museum Row on Main offers several iconic city attractions including the Louisville Slugger Museum & Bat Factory, Kentucky Science Center, Frazier History Museum, Muhammad Ali Center and several distilleries such as the Evan Williams Bourbon Experience, Old Forester Distillery and Michter's Fort Nelson Distillery.
A convenient pass available for purchase is the Main Ticket, which admits you to a several of these attractions up to one year from date of purchase. Pick up tour brochures at the Louisville Visitor Center located at 301 S. Fourth Street.
Louisville Tourism provides several planning resources, including suggested itineraries at https://www.gotolouisville.com/myexperience as well as a monthly Lookin' at Louisville video series, a searchable list events at www.gotolouisville.com, a free Louisville Visitors Guide and complimentary hotel booking service via 1-888-LOUISVILLE.