Experience Breeders' Cup at the Kentucky Derby Museum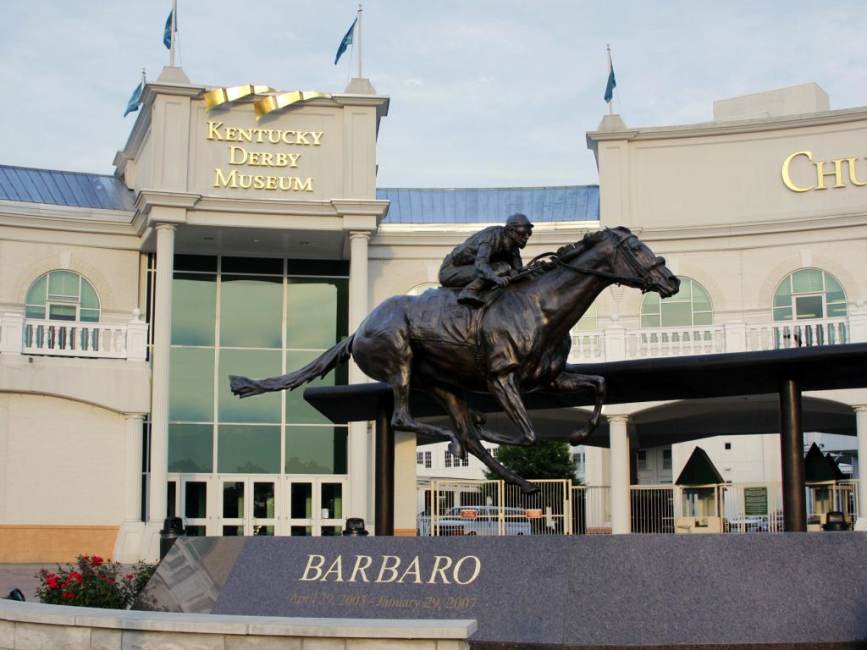 The Kentucky Derby Museum is racing out of the starting gate strong by offering a variety of exclusive tours leading up to Breeders
LOUISVILLE, Ky. (October 4, 2018) – The 35th Annual Breeders' Cup coming to Louisville's Churchill Downs November 2-3. Below is a list of special Breeders' Cup week festivities open to the public from October 29 through November 1.
30-minute Historic Walking Tour
Included with the Museum's general admission experience, will take on a Breeders' Cup twist. Guests will not only take in the beauty of Churchill Downs and learn about past Derby winners, but they'll also learn all about the Breeders' Cup and the legendary horses that have competed in the world championship races. Historic walking tours of Churchill Downs will operate October 29 through November 1, from 8:00a.m. until 5:00p.m. daily (half past every hour).
Breeders' Cup Workout Golf Cart & Walking Tour
Get up early and see the contenders during their morning workout. The tour starts at 6:30 a.m. and takes you through the history, pageantry and legacy of the Churchill Downs Racetrack, the Kentucky Derby and of course, the 2018 Breeders' Cup World Championships. Guests will travel to the backside of Churchill Downs to enjoy an up close and personal view of the Breeders' Cup contenders during their early morning workout, over a cup of coffee from the Trackside Kitchen. See jockeys, trainers and others at work as well as the famous barns that once were home to Thoroughbred legends like Secretariat, Barbaro and American Pharoah. Guests will also visit other exclusive areas inside historic Churchill Downs not generally open to the public. After this tour, the tour returns to the Kentucky Derby Museum, where guests will enjoy two floors of interactive exhibits that bring the extraordinary experience that is the Kentucky Derby right to you! This tour lasts two hours and includes Museum admission. It is limited to six guests and is for guests ages 10 years and up. This limited-time tour is $75 per person and runs from Monday, October 29th through Wednesday, October 31st only
Breeders' Cup Week Barn and Backside Tour
Experience the hustle and bustle of the backside firsthand in this exclusive van and walking tour. Visitors will take a ride to the backside of the track and will head right into the action of the barn area. This exclusive tour is offered only to guests of the Museum. Tour guides, when possible, will point out and visit the barns where the Breeders' Cup contenders are housed in preparation for world championship races. Seats are limited as guests ride in the Museum's tour van. This tour is available the Monday, October 29th through Saturday, November 3rd of Breeders' Cup week. Tours depart at 7am, 8:30am, 10am, 11:30am, 1pm, 2:30pm, 3:30pm.
Breeders' Cup Exclusive VIP Tour
Guests of this 45-minute VIP tour will learn about the history of the Breeders' Cup and its impact on the racing industry. Led by a knowledgeable Museum curator, guests will also see artifacts and hear the stories of some the most famous Breeders' Cup horses, including Winning Colors, Lady's Secret and Cat Thief. Tours will be conducted at the Kentucky Derby Museum Monday, October 29 and Tuesday, October 30 at 10:00am and 12pm as well as Wednesday, October 31 at 10:00am.
Grand Exhibit Reveal: An evening featuring racing icon D. Wayne Lukas & Presentation of the Breeders' Cup Sports & Racing Excellence Award Presentation
The Kentucky Derby Museum will unveil its brand-new $6.5 million-dollar expansion and pay tribute to Hall of Fame alumni D. Wayne Lukas for his legendary impact on the sport of thoroughbred racing. New to the museum is a D. Wayne Lukas exhibit, featuring many exquisite racing and personal artifacts from his racing career and the exhibit featuring items from Hall of Fame Jockey Bill Shoemaker. This event is Wednesday, October 31 5-8pm with a limited number of tickets are available to the public.
For more information and to purchase tickets for any of the visitor experiences, visit DerbyMuseum.org. For those planning a visit to Louisville for Breeders' Cup, Louisville Tourism provides several planning resources, including suggested itineraries at GoToLouisville.com/myexperience, the monthly Lookin' at Louisville video series, a searchable list of events at www.gotolouisville.com, a free Louisville Visitors Guide and complimentary hotel booking service via 1-888-LOUISVILLE.