Equestricon to Host 2018 Rood and Riddle Breeders' Cup Post-Position Draw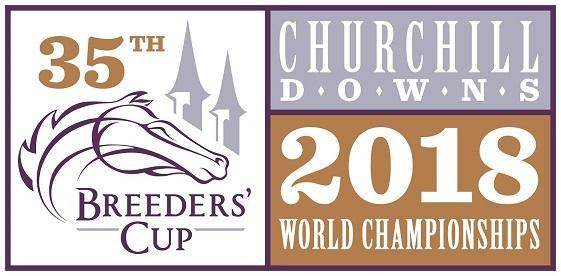 Breeders' Cup 2018 will feature the live drawing of the post positions for the 14 Breeders' Cup World Championship races during Equestricon
LOUISVILLE, Ky. (July 12, 2018) – Breeders' Cup 2018 will feature the live drawing of the post positions for the 14 Breeders' Cup World Championship races during Equestricon on Monday,
October 29 at the renovated Kentucky International Convention Center (KICC).
Dan Tordjman, Co-Founder of Equestricon, explained the event as "a conference, a fan fest and an equestrian industry trade show all in one." The 2018 Rood and Riddle Breeders' Cup post- position draw is open to all Equestricon attendees.
Breeders' Cup connections and special guests will enjoy enhanced hospitality during the post-position draw in the newly-designed VIP Breeders' Cup Lounge immediately in front of the expanded main stage, while convention attendees will be able to take in the draw and surrounding festivities from within the convention hall, including two themed bars.
"Breeders' Cup and its Board are so pleased to share the excitement of the live drawing of post positions for the 14 Breeders' Cup World Championship races with the many fans and industry participants attending Equestricon," said Dora Delgado, Breeders' Cup Senior Vice President of Racing and Nominations. "Participating owners, trainers and guests will enjoy a totally new experience combining the anticipation of the post-position draw with the enthusiasm of thoroughbred racing's biggest fans."
The Draw will highlight day one of Equestricon, which continues at KICC on Tuesday, October 30. Events at Equestricon on Monday and Tuesday of Breeders' Cup week include dozens of panels, workshops, seminars, storytelling sessions and appearances by racing's biggest names.
"We're so excited to partner with Breeders' Cup to bring owners, trainers, horseplayers, fans and more all under one roof to celebrate a hallmark event of Breeders' Cup Festival Week," said Kathryn Sharp, co-founder of Equestricon. "The building is going to be buzzing with excitement and live reactions to the Draw. It's going to be a party and anyone with an interest in racing won't want to miss it."
Equestricon is open to the public and tickets are on sale. A single day trade show ticket is $10 while a two-day all-access convention pass is $65. In addition to the trade show exhibits that the single day ticket allows, the convention pass also includes Track Talks Speaker Series with panels and dozens of workshops. The trade show ticket is free for kids. The website to purchase tickets is https://equestricon.com/ticket-packages.
For those planning a visit to Louisville for Equestricon and Breeders' Cup, the Louisville CVB provides several planning resources, including suggested itineraries at GoToLouisville.com/myexperience, the monthly Lookin' at Louisville video series, a searchable list of events at www.gotolouisville.com, a free Louisville Visitors Guide and complimentary hotel booking service via 1-888-LOUISVILLE.