City Celebrating Summer Solstice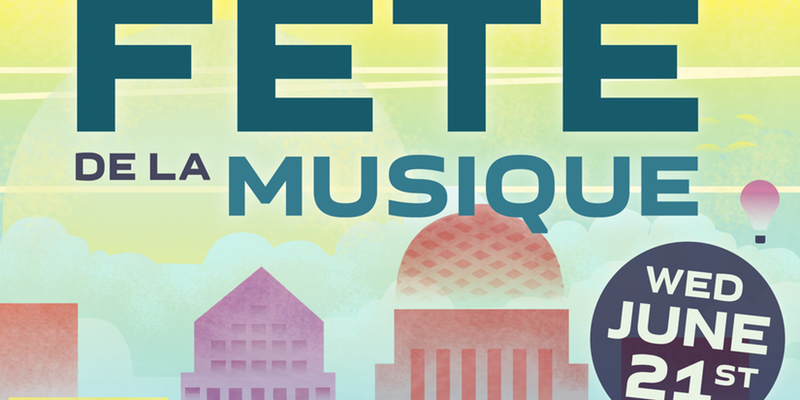 Musical entertainment, live streams from France and more fun at inaugural event
(Louisville, Ky.) June 14, 2017 – A little taste of Paris is coming to downtown Louisville on the summer solstice on Wednesday, June 21 when Fête de la Musique Louisville makes its debut.
The event, which means "celebration of music" in French, has been under way in Paris on the summer solstice since 1982. Musicians perform day and night on street corners, park squares, and in cafes and restaurants around Paris.
Downtown Louisville's inaugural event is presented by Alliance Francaise de Louisville in conjunction with the Louisville Downtown Partnership (LDP).
"We are thrilled to welcome the first Downtown Louisville-based Fête de la Musique, celebrating our city as a music venue," says Mayor Greg Fischer. "I believe that arts and cultural experiences are a powerful way to bring our community together and to sustain a thriving, urban city."
Downtown Louisville will be the site of five, free live music performances from 11:30 a.m. to 1:30 p.m.
Whiskey Bent Valley at Merle's Whiskey Kitchen (122 W. Main St.)
Louisville Youth Choir at the Humana Building (500 W. Main St.)
Frenchaxe at National City Plaza (101 S. Fifth St.)
90.5 WUOL Young Artist Competition winners and the NouLou Chamber Players will perform at 4th Street Live!
Hewn From the Mountain, an Irish band, will perform at South Fourth Street (607 S. Fourth St., located between Cellar Door Chocolates and the Mercury Ballroom)
Two Happy Hour performances will be under way from 5:30 to 7:30 p.m. Your Friendly Neighborhood Big Band, a 17-piece ensemble, will perform on the steps in front of The Kentucky Center for the Performing Arts. The Brown Hotel rooftop will feature local music sensation Carly Johnson, along with a jazz ensemble. Although the event is free, space is limited and registration is required. Register HERE
In addition to musical performances, Fête de la Musique Louisville will also celebrate the city's historical connection to France. A live stream from Louisville's sister city, Montpellier, France, will be shown on the big scream outside of the Kentucky Center for the Performing Arts, 4th Street Live! and the KFC YUM! Center.
Fête de la Musique Louisville is free and open to the public and will take place rain or shine. For more info, visit www.louisvilledowntown.org.