Celebrating 50 Years of Secretariat's Stardom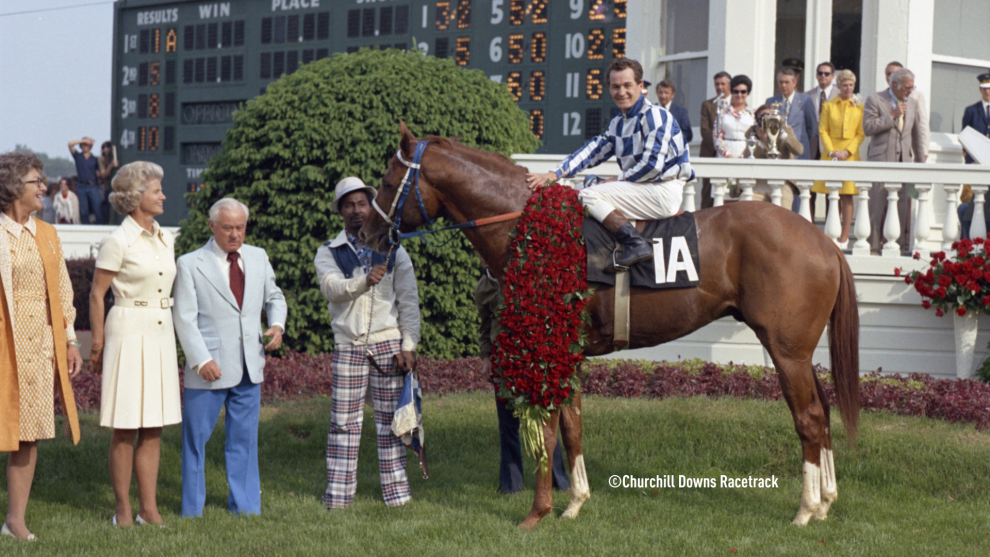 Kentucky Derby Museum to showcase new state-of-the-art exhibit for 'America's Horse'
Louisville, KY (March 13, 2023) – The Kentucky Derby Museum is opening a brand new exhibit dedicated to Secretariat, which will open to the public on April 21, just ahead of the 149th running of the Kentucky Derby.

This year marks the 50th anniversary of Secretariat's historic Derby win and Triple Crown sweep. After a year and a half of planning and preparation, the Museum is finishing a construction project that will result in a state-of-the-art exhibit titled Secretariat: America's Horse. The exhibit is designed to showcase Secretariat's life, stardom, and incomparable impact on horse racing, America and the world.

"Kentucky Derby Museum is thrilled to honor Secretariat in such a unique way with this brand new exhibit," said Pat Armstrong, Kentucky Derby Museum President and CEO. "The Museum has been working diligently for well over a year to build an exhibit that is worthy of America's Horse and to create a truly memorable experience for all our guests -- from the bucket list tourists to the Secretariat super fans."

The 1,000 square-foot exhibit will be permanently located on the second floor of the Museum, and it will be more than seven times larger than the current display on the first floor. Local design company, Solid Light is designing the exhibit to incorporate unique technology, visuals, and video that will create an immersive experience for guests.

"It is rare that the Kentucky Derby Museum dedicates a permanent exhibit to a singular Thoroughbred racehorse, but Secretariat merits that," said Chris Goodlett, Kentucky Derby Museum Senior Director of Curatorial and Educational Affairs. "It will show our guests exactly why Secretariat has endured as a celebrity to this day. From the new artifacts to the advanced visual projections, we're excited for the amazing story we get to tell and also the exciting new methods we're using to tell it."

The Museum will host a ticketed event for the grand opening celebration and ribbon cutting.

To celebrate the 50th anniversary, the Kentucky Derby Museum collaborated with Woodford Reserve to handpick a commemorative bottle of Woodford Reserve Double Oaked Personal Selection packaged in a custom display box with a custom medallion, tac pin, Mint Julep cup and a brief history of Secretariat.

The Museum will also have new Derby edition tours, specialty souvenirs, and Secretariat-themed gifts that will be released in the coming weeks and months. Details will be updated on the Museum's website.

While planning a trip to Louisville, guests can download a copy of Louisville Tourism's annual Visitor Guide to see the city's top attractions and bourbon distilleries. Visitors also can get additional city attraction, lodging and dining assistance at gotolouisville.com.

Media Note:
Renderings, Bourbon images, and archive photographs of Secretariat can be downloaded from the Museum's Dropbox: All renderings, images, and pictures are marked with the appropriate courtesy. Any images used must have the full courtesy visibly showing.