Buskers Are Coming!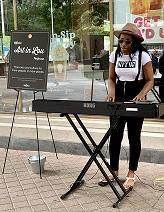 Fund for the Arts and Louisville Tourism announce pilot "Art in Lou" project to bring Louisville streets and public space to life with the arts.
LOUISVILLE, Ky. (July 31, 2019) - Fund for the Arts in partnership with Louisville Tourism announced the creation of the Art in Lou pilot program. For the months of July through November 2019, Art in Lou will provide artists ("buskers") with paid opportunities to perform for the community in public spaces (i.e., street corners, sidewalks, plazas, etc.) providing a welcoming, lively atmosphere for visitors and residents. Art in Lou performances are curated by the Fund for the Arts and are made possible by the support of Louisville Tourism.
"We're lucky to live in a vibrant and creative community with a long- standing and demonstrated appreciation for the arts," said Christen Boone, Fund for the Arts President & CEO. "The buskers will be visible examples of that creative energy. They'll not only be sharing their talents, they'll be helping to increase arts access and opportunity throughout our community.
As part of Imagine Greater Louisville 2020: An Arts and Cultural Vision to Transform the Region, Art in Lou will create arts events and opportunities across the community that are open and accessible. Art in Lou will promote the arts and culture sector in our city to authentically share the creativity, talent, energy, and character of our city to visitors and residents alike.
"We recognize the critical economic role Louisville's arts and culture sector plays in our efforts to draw people to our beautiful community for business and leisure," said Karen Williams, President & CEO of Louisville Tourism. "We are excited to be making this investment with the Fund for the Arts as we work collectively to appreciate and highlight the diversity, creativity, and talents of our local artists- while providing a dynamic and lively atmosphere for both visitors and residents."
Artist from Greater Louisville (Jefferson, Shelby, Oldham, Bullitt, and Spencer counties in Kentucky and Clark, Floyd, and Harrison counties) may apply. Many of the performers selected for Art in Lou will be musicians: however, Art in Lou is not limited to music. Artists of any art form may apply.
Artists are encouraged to apply for specific dates and locations. Applications may be submitted any time between now and November 15, 2019. To learn more about when and where performances are needed, and to apply, artists should visit https://fundforthearts.org/art-in-lou-busker-program/.
To learn more about Imagine Greater Louisville, visit http://imaginegreaterlou.org/