Bourbon Event at KFC Yum! Center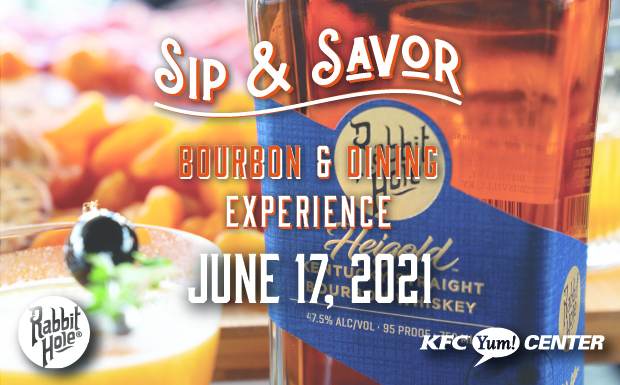 KFC Yum! Center Hosts Bourbon & Dining Experience
Louisville, KY (May 17, 2021) – The KFC Yum! Center and Rabbit Hole are partnering to offer the venue's first ever Sip & Savor: Bourbon and Dining Experience at the arena on June 17, 2021.

Guests will enjoy a one-of-a-kind experience with this unique tasting event that features Rabbit Hole Bourbon and a savory dinner and dessert menu. The evening begins with an inviting cocktail in the Rabbit Hole Lounge followed by the bourbon tasting event. Guests can indulge in delightful food and bourbon pairings, led by Rabbit Hole Ambassador Adam Edwards, from the top floor, KFC Yum! Center Spirit Room which offers stunning Ohio River views. A full menu can be found on the KFC Yum! Center's website. KFC Yum! Center chefs will create decadent dessert and bourbon pairings and guests will be offered guided, behind-the-scenes tours of the KFC Yum! Center to cap off the evening.

Rabbit Hole's Founder and--Whiskey Maker Kaveh Zamanian--will share the fascinating story about how he created Rabbit Hole and will talk about the brand's meteoric growth at the event. Rabbit Hole will also have a pop-up shop on-site for those who wish to purchase the brand's top-rated, one-of-a-kind bourbon. All guests will have the opportunity to win bourbon and other prizes at the event.

Limited tickets are available at the KFC Yum! Center box office and ticketmaster.com. Must be 21 or older to attend.

"We are excited to offer an authentic Kentucky bourbon experience at the KFC Yum! Center that gives guests a chance to enjoy the arena's premium lounges and unique food and bourbon options," KFC Yum! Center General Manager Eric Granger said. "The community has made it clear to us that they are eager to get out and experience live events again and we are delighted to provide this unique entertainment option."

The event will follow state and local Covid-19 related guidelines. More details will be announced closer to the event date.

For more information, visit kfcyumcenter.com.

IMPORTANT EVENT INFORMATION

Show Name: Sip & Savor: Bourbon and Dining Experience
Show Date/Time: Thursday, June 17, 2021 at 6 PM
Location: KFC Yum! Center | 1 Arena Plaza | Louisville, KY 40202
Ticket Prices: $125
How to Purchase Tickets: Tickets on sale now at the KFC Yum! Center Box Office and online at Ticketmaster.com. The box office is open Monday's and Friday's from 10 am to 4 pm.