Bourbon City Toasts Boom in Hotel Development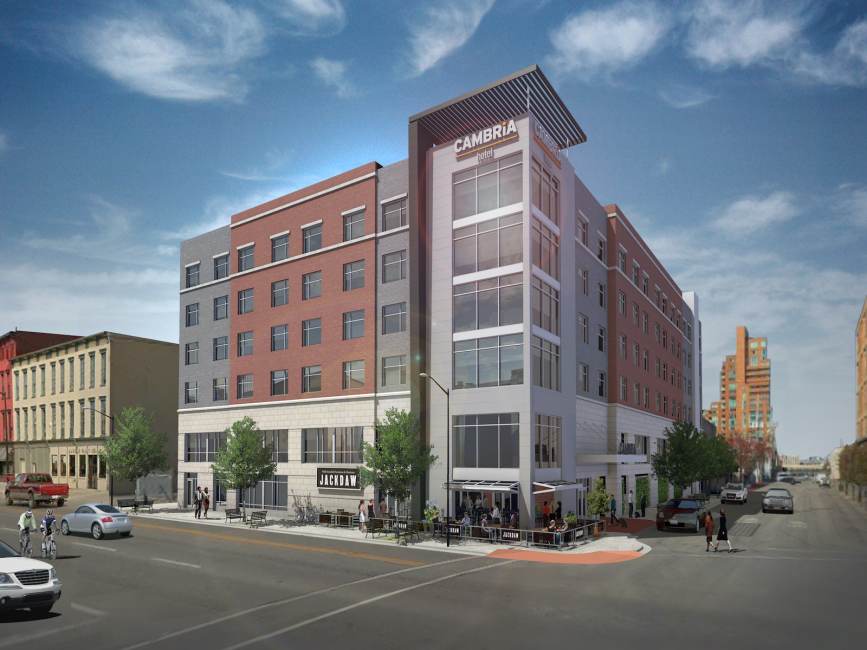 1,600 guest rooms under construction with an additional 3,000 proposed
LOUISVILLE, Ky. (Dec. 21, 2020) – Despite a tumultuous year, hotel room inventory in Louisville's MSA is making significant growth headway with 6,000 new hotel rooms coming online, proposed or added in the past 18 months.

In the past year and a half, 1,500 hotel rooms were added to the city's inventory, led by downtown's Hotel Distil, Moxy and the Hancock House, along with another 1,600 under construction, such as downtown's Cambria Hotel, TownPlace Suites and the planned Churchill Downs hotel with another 3,000 proposed including a Hyatt Place & Hyatt House, Tempo by Hilton in NuLu and an unnamed boutique hotel in historic Landmark Building.

Currently 100% of Louisville's hotels are open, taking state guidelines into account for guest safely amid the coronavirus. To add extra focus to sanitation, many of these hotels have stringent standardized cleaning protocols in place to ensure guests safety. Additionally, both Louisville's convention centers, the Kentucky International Convention Center and Kentucky Exposition Center are the first centers in Kentucky to have received the Global Biorisk Advisory Council (GBAC) STAR accreditation, the gold standard on outbreak prevention, response and recovery to ensure they are safe for attendees.

Some of new hotels under construction include:

Downtown

Holiday Inn at 101 W. Muhammad Ali Blvd. is expected to be a 91-room, 45,000 square foot hotel with a restaurant on the ground floor and is likely to open early 2021.

Cambria Hotel Louisville Downtown-Whiskey Row, a choice hotels brand, at 120 S Floyd St. is slated to have 128 guest rooms along with nearly 2,000 square-feet of meeting space. The hotel houses two full-service restaurants, Jackdaw which will have Irish inspired dishes or an American style menu at Social Circle. Local beers, along with spirited cocktails will be served at the bar. The hotel plans to have an indoor heated pool along with a grab-and-go market and sundry shop. Cambria Hotel is expected to open by mid-2021.

TownePlace Suites by Marriott, located at 801 W Jefferson St. will include 120 hotel rooms in a 5-story extended stay property. The hotel is expected to be about 69,000 square-feet with valet parking in an adjacent parking lot, an indoor pool, a fitness center and a boardroom. The hotel is in hiring phases and is planning to open March 2021.

Airport area

Churchill Downs is developing an unnamed property which will be a 7-story, 156-room hotel offering trackside suites, all of which will offer private balconies and covered panoramic views of the entire track, as well as non-track facing rooms that will offer access to a 2nd floor party deck to watch racing. A Penthouse banquet room, 27,000 square-feet ballroom and meeting rooms and event space will be available throughout the year and will likely include exclusive Derby package offerings that will offer track views. Slated for a late 2022 opening.

Fairfield Inn to join the airport corridor at 653 Phillips Lane will be a 95-room hotel in the space that formerly housed a Comfort Inn & Suites. The hotel is renovating the existing structure and plans to open as early March 2021.

Staybridge Suites will offer 99 rooms near Crittenden Drive at 380 Farmington Ave. The extended-stay property is expected to be about 65,000 square-feet. The hotel is planning for a first quarter 2021 opening.

A few other notable open or proposed hotel properties around Louisville include:

Hancock House, open since March as a 16-room hotel at 601 E. Jefferson in the hip NuLu neighborhood. The building was originally built in 1865 as the home of Herman Schroeder's Grocery. The Hancock House is a micro-boutique hotel that feels more like an Airbnb with mobile check-in and virtual hotel attendants. Each unit also has a kitchen with full-sized appliances and cookware, allowing for extended stays. A Louisville culinary favorite, the Seafood Lady is expected to relocate its restaurant into the Hancock House.

Galt House Hotel, Louisville's only riverfront hotel, recently underwent an $80 million-dollar renovation to update guest rooms, ballrooms and meeting space as well as re-tooling three restaurants including the new Walker's Exchange, rotating restaurant Swizzle and Jockey Silks, a popular bourbon centric lounge.

Proposed (not broken ground) hotel projects vary from the 51-room Grady Hotel at 601 W. Main St. and the Hyatt Place & Hyatt House at 133 W Market projecting 273 rooms to the newly announced 144-room Boutique Hotel housed in The Landmark Building, along with NuLu House in the Joe Ley building, which previously held a large well-known antique store. The Highlands neighborhood could see the addition of a couple new hotels including Hotel Louie, slated for 52 rooms as well as an unnamed hotel in the 900 block of Baxter Avenue with approximately 69 guest rooms.

Prior to the pandemic, Louisville's tourism industry had been producing a decade of growth in visitation and infrastructure from the expansion of the downtown convention center to the opening of a dozen Bourbon attractions. The hotel inventory in 2018, prior to the re-opening of the Kentucky International Convention Center was 20,410. As of the end of 2020, it is 21,240 and projected to be at 22,869 by 2022.

A majority of attractions are open in Bourbon City, along with the return of the popular Miracle Bar in NuLu as well as the winter season themed igloos atop 8UP Elevated Kitchen & Drinkery. To encourage residents to explore their own backyard, Louisville Tourism is offering a hotel promotion to area residents to save up to 50% off an overnight stay in a participating hotel, along with a $25 Visa gift card for dining at a local restaurant by booking at lou.ly/hotel. This promotion is for Kentucky and Southern Indiana residents and will run through the end of 2020.