Bourbon City Cruises Coming to Downtown Louisville in 2019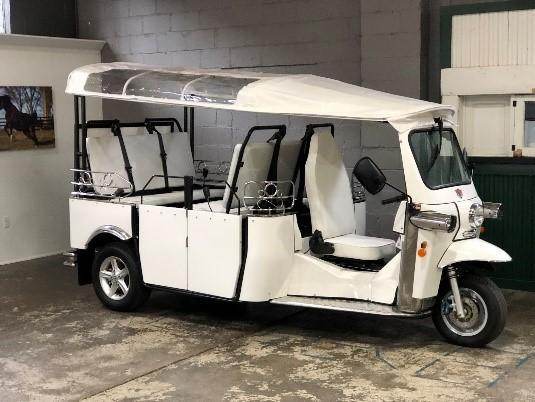 Six-passenger electric vehicle tours launched by owners of Mint Julep Experiences
LOUISVILLE, Ky. (Nov. 16, 2018) – A fleet of electric-powered Bourbon City Cruisers will hit the streets of Louisville in the spring of 2019. New city tours connecting travelers with distillery, culinary and entertainment destinations downtown in these unique eco-friendly vehicles are in development from the owners of Mint Julep Experiences. Each three-wheeled cruiser will accommodate up to six passengers driven by an expert guide.
Images here: Bourbon City Cruisers
The all-weather, zero-emission vehicles are equipped with heated seats and rain covers for use year-round. With a top speed of 25 mph, Bourbon City Cruisers will offer a relaxed and fun way to explore Kentucky's finest attractions. By using e-Tuk vehicles, Bourbon City Cruisers provide an eco-friendly way to grow safe, responsible and fun adventures incorporating urban distilleries, culinary experiences and Louisville's eclectic neighborhoods. Adding to Louisville's growing "Bourbonism" draw, we now offer "transportainment" to create those unrepeatable moments for all to enjoy and remember.
Inspired by a city sightseeing tour in Denver, Co., Mint Julep Experiences owner Sean Higgins experienced the most fun he could imagine on three wheels. His desire to bring a safe, eco-friendly, affordable and fun transportation and tour option to downtown Louisville, for all who wish to enjoy the Urban Bourbon Trail® and distilleries, has been a two-year venture. Bourbon City Cruisers is the outcome of brainstorming with several distillery partners as well as Louisville Forward.
e-Tuk USA first launched its line of street legal, rickshaw-inspired vehicles in 2015. Tuk tuks in Denver, Co., Portland, Ore. and Napa Valley, Ca. have delighted tour guests with their quirky design and high-quality urban mobility.
"You shouldn't rush anything when enjoying Louisville," said Higgins. "Good bourbon takes time and patience, that's why we want to cruise! Our new Bourbon City Cruisers will allow guests to take a leisurely ride soaking in everything our city has to offer. We will be working with several local signature brands who are interested in customizing the look of our fleet so get ready to see some unique, one of a kind, head-turning cruisers from Portland to Butchertown to Nulu to Old Louisville, Broadway and Churchill Downs."
Since 2008, Mint Julep has been Kentucky's leading bourbon tour operator with an array of experiences across the Bluegrass State. Tour development is currently underway utilizing Mint Julep's strong partnerships with Kentucky Bourbon Trail® and Urban Bourbon Trail® destinations. Booking for Bourbon City Cruisers will launch in early 2019. Individual seat and full-vehicle buyouts will be available for a variety of city tour routes.

###
ABOUT MINT JULEP EXPERIENCES – Mint Julep Experiences is changing the way you experience Kentucky and Tennessee. Since 2008, Mint Julep has created handcrafted, premium adventures to the Kentucky Bourbon Trail®, Tennessee Whiskey Trail®, legendary horse farms, historic landmarks and rich culinary destinations. With offices in Louisville, Kentucky and Nashville, Tennessee, Mint Julep plans authentic getaways discovering the living history of the South in comfort, luxury and style. Named one of Condé Nast Traveler's "Best Guided Drinking Tours in America," the family-owned experiential tour company utilizes deep expertise, long-term partnerships, and complete hospitality services for hassle-free ventures for any size group. For more information, visit mintjuleptours.com.
Since 1968, LOUISVILLE TOURISM's primary goal has been to enhance the area's economy through tourism development - to promote and sell Louisville as a world-class destination. Tourism is the third largest industry in Louisville generating an estimated economic impact of $3.5 billion which supports over 27,000 local tourism-related jobs. Guests are coming from around the globe to attend a meeting, convention, special event, as a leisure guest or a combination. More than 16.4 million visitors are experiencing Louisville's authenticity, bourbon and culinary scenes and our unique brand of Southerness.
CONTACT
Rachel Nix
Director of Marketing for Mint Julep Experiences
rachel@mintjuleptours.com
office: 502-251-7095
mintjuleptours.com